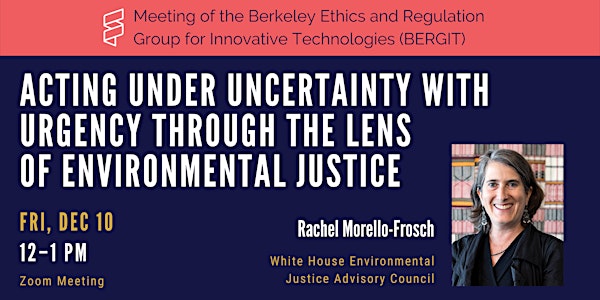 Acting under uncertainty with urgency: the lens of environmental justice
Considering emerging, high impact, high uncertainty interventions for climate crisis: lessons from the field of environmental justice
About this event
This meeting continues a series on "Innovative Technologies to Combat Global Crises: Ethical decision-making when the stakes are massive and there is significant uncertainty".
Who's affected most by climate change, who bears the risks of the intervention, who benefits? Who is responsible; Who decides? How can we be inclusive in decision-making? In this meeting, we will expand the lens through which we look at innovative technologies to address climate change by focusing on lessons from the field of environmental justice. We will hear from the Biden Administration's Rachel Morello-Frosch about her work on environmental justice.
You will receive a Zoom link in your Eventbrite confirmation email.
*Note: This session will be recorded for the purposes of writing a blog post and the recording will not be shared. All attendee comments will be anonymous and no quotes will be attributed to any attendees.
Guest
Rachel Morello-Frosch PhD, MPH: White House Environmental Justice Advisory Council; Professor of Environmental Science, Policy and Management, School of Public Health, UC Berkeley
Morello-Frosch is an expert in environmental health and environmental justice. Her research focuses on how race and class affect distributions of health risks in the United States, the causes and consequences of health inequalities and environmental disparities, and how research can create opportunities for intervention and prevention. In particular, her lab focuses on addressing challenges faced by communities of color and low-income communities with high exposures to environmental hazards and the toxic effects of pollution.