Multiple Dates
ACTING SELF-TAPE SESSIONS (TV/FILM) LIVE VIRTUAL VIA FACETIME + ZOOM
ACTING SELF-TAPE SESSIONS (TV/FILM) LIVE VIRTUAL VIA FACETIME + ZOOM
About this event
ACTING SELF-TAPE SESSIONS (TV/FILM) LIVE VIRTUAL VIA FACETIME + ZOOM
COACHED BY BOJESSE CHRISTOPHER
(Point Break Films, HBO's True Detective, FOXs Deputy, `CBS' NCIS & More)
ACHIEVE EMOTIONALLY CONNECTED WORK ON-CAMERA & WIN JOBS
+ One on one self-tape coaching with an industry TV and Film professional+ Instant Turnaround to meet submission deadlines! + Session includes: Professional Coaching & Direction, Backdrop & Three-Point Lighting Setup, Cinematic Quality Camera Capture, Edited Self-Tape with Title Cards, and Downloadable Password-Protected Vimeo Link
BY APPOINMENT ONLY - DAILY SESSIONS AVAILABLE 10AM - 10PM 
BOJESSE CHRISTOPHER ACTING STUDIO
@ THE COMPLEX THEATER(HAMMOND STUDIO, 2ND FLOOR)
6476 SANTA MONICA BLVD. HOLLYWOOD, CA 90038
RESERVE YOUR VIRTUAL SESSION NOW
A) 1 SESSION (2 HRS) = $225[*2 HRS: 1 1/2 HRS ON-CAMERA COACHING, 1/2 HOUR EDITING & UPLOADING]
B) 3 SESSION PACKAGE = $575 (15% discount) [*2 HRS EACH: 1 1/2 HRS ON-CAMERA COACHING, 1/2 HOUR EDITING & UPLOADING]
*Cancellations: 24 hour notice is required for any reason. No Refunds. 
QUESTIONS? JUST ASK!
Phone: (310) 985-0465Email: bojessechristopher@gmail.com
LIKE, SUBSCRIBE, SHARE, REVIEW!
IMDB - BoJesse Christopher - TV/Film Credits
VIMEO - Coaching Content
INSTAGRAM - @BoJesseChristopher | @TruthBeToldActingCollective
FACEBOOK - BoJesse Christopher | Truth Be Told Acting Collective
YELP - BoJesse Christopher Acting Studio
Additional Products Available by Appointment Include: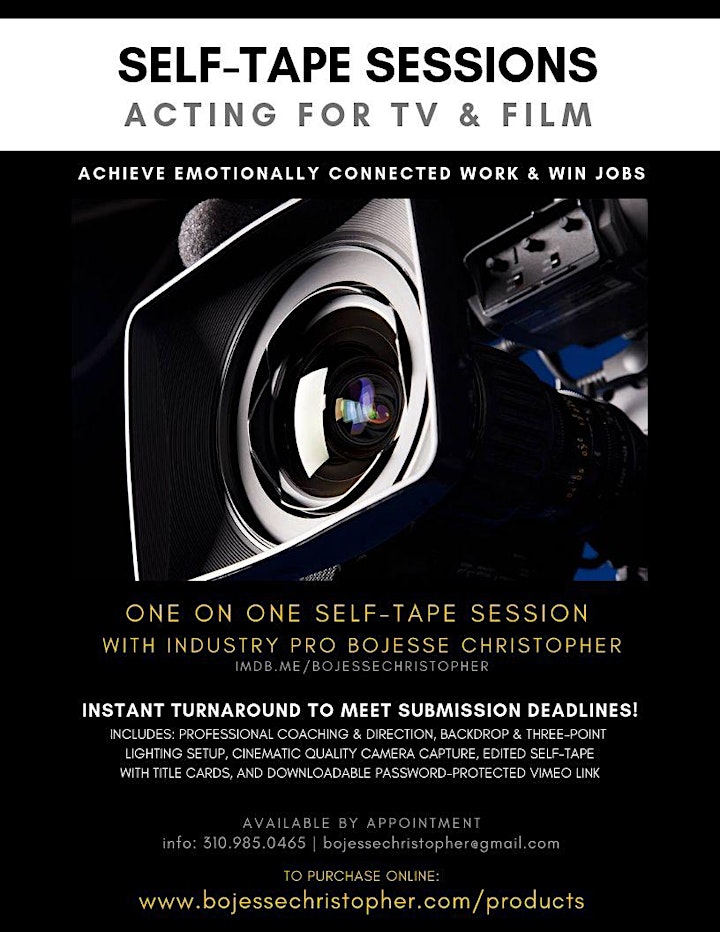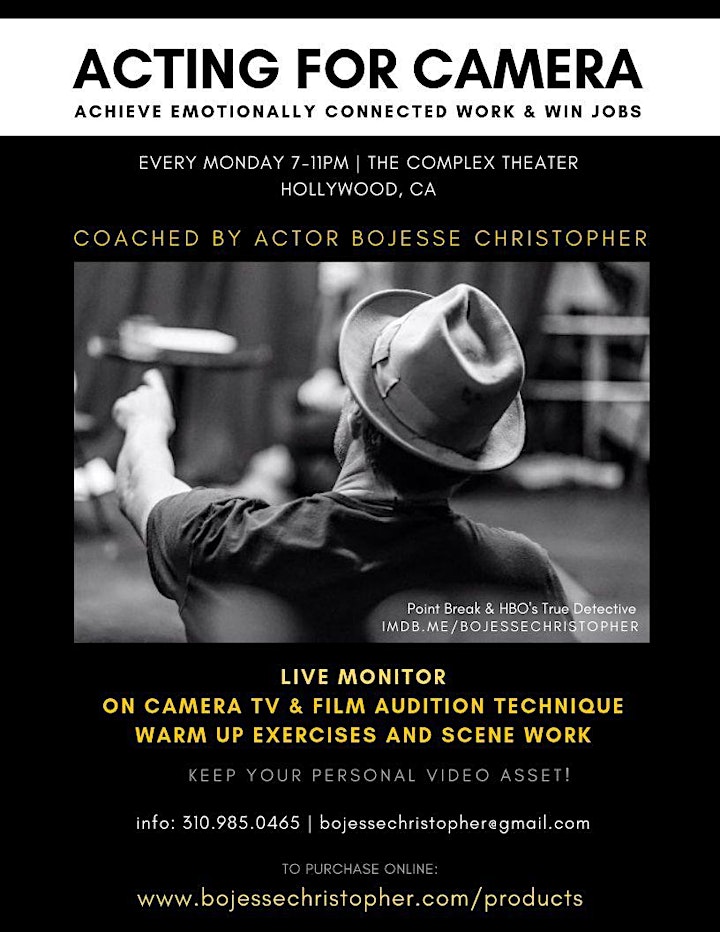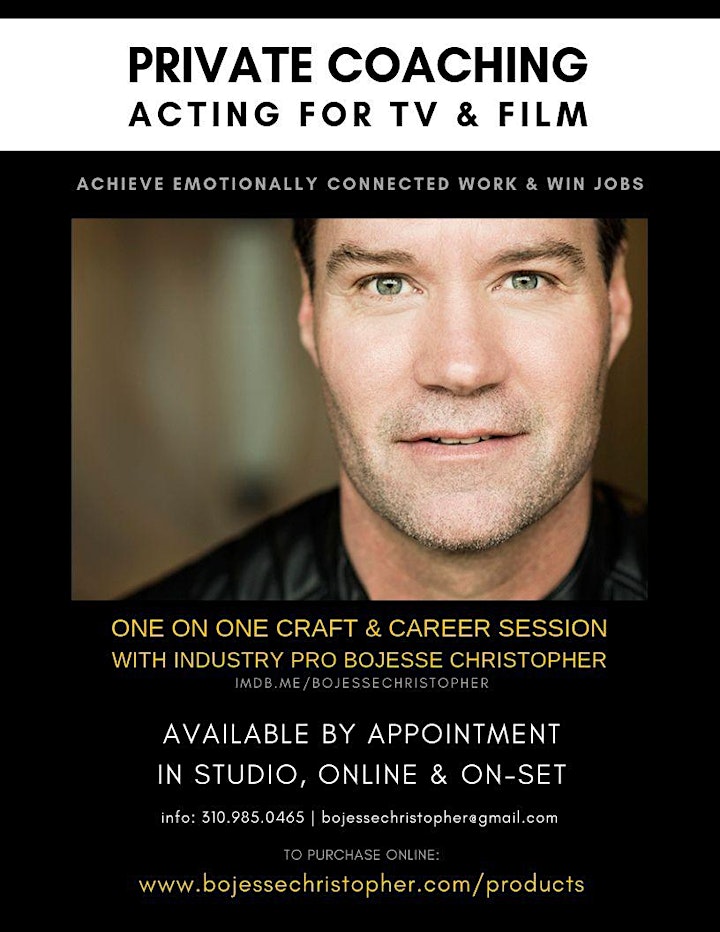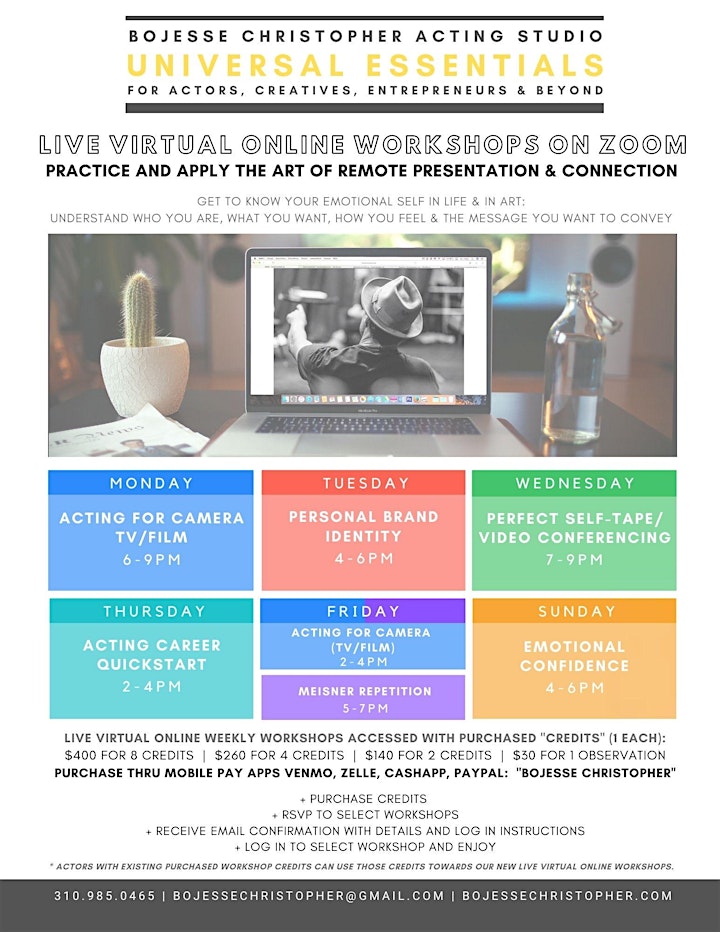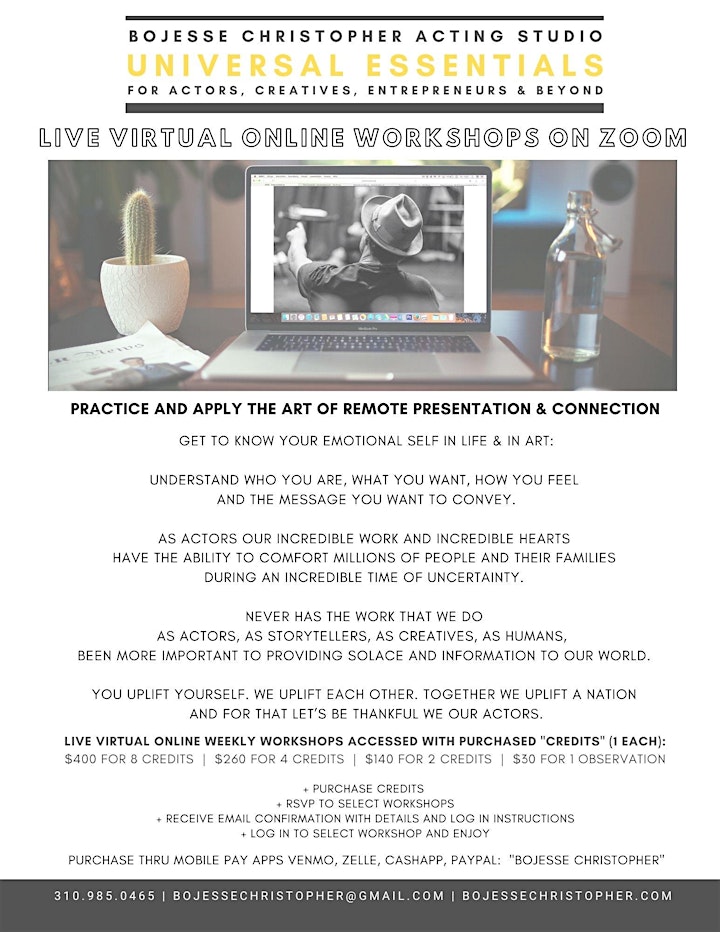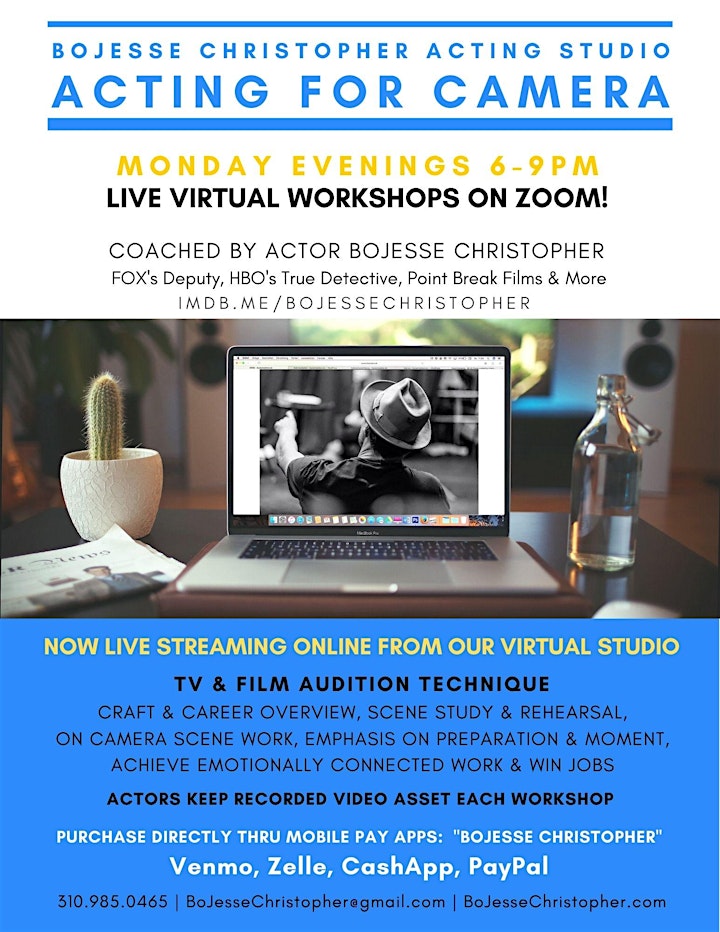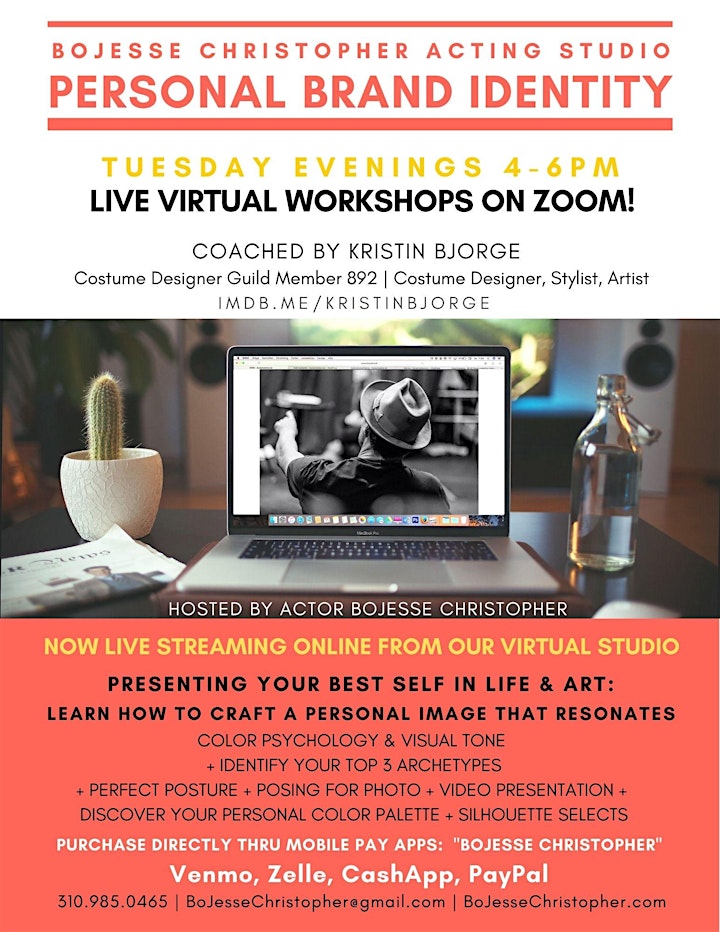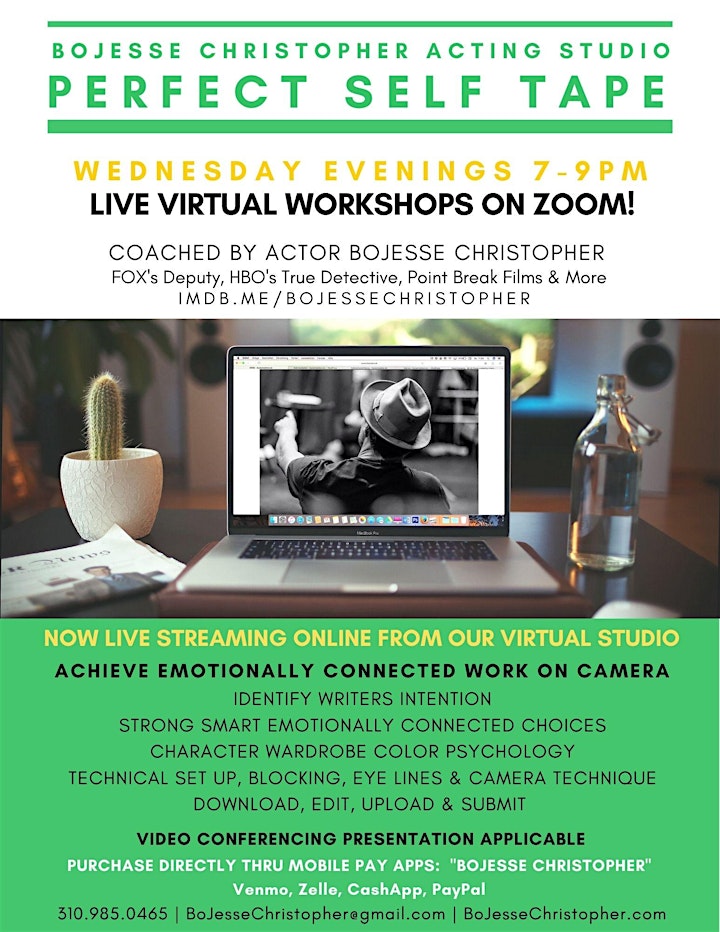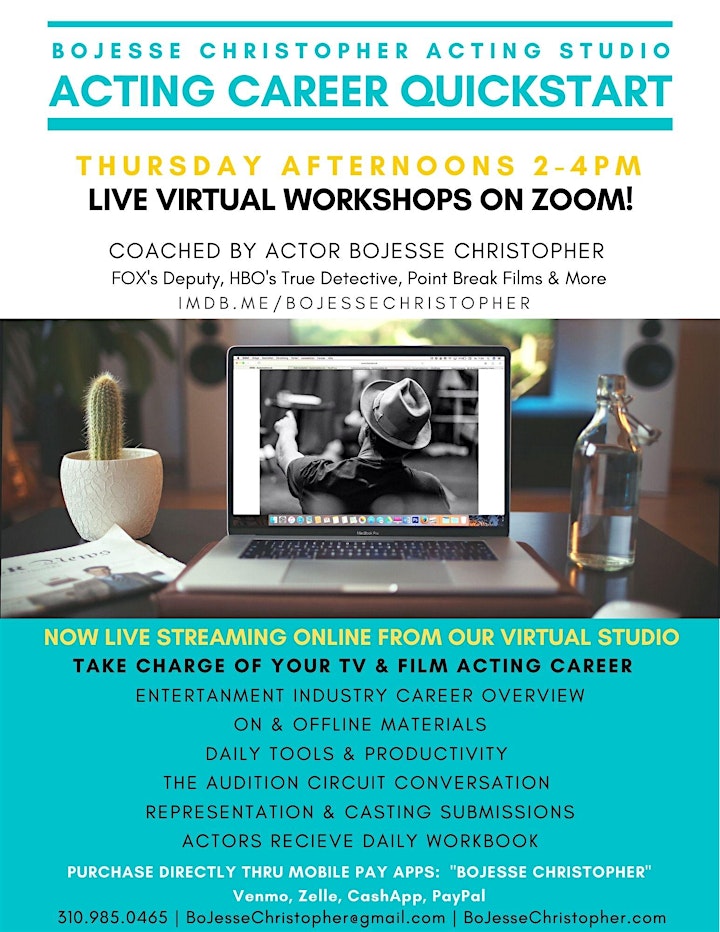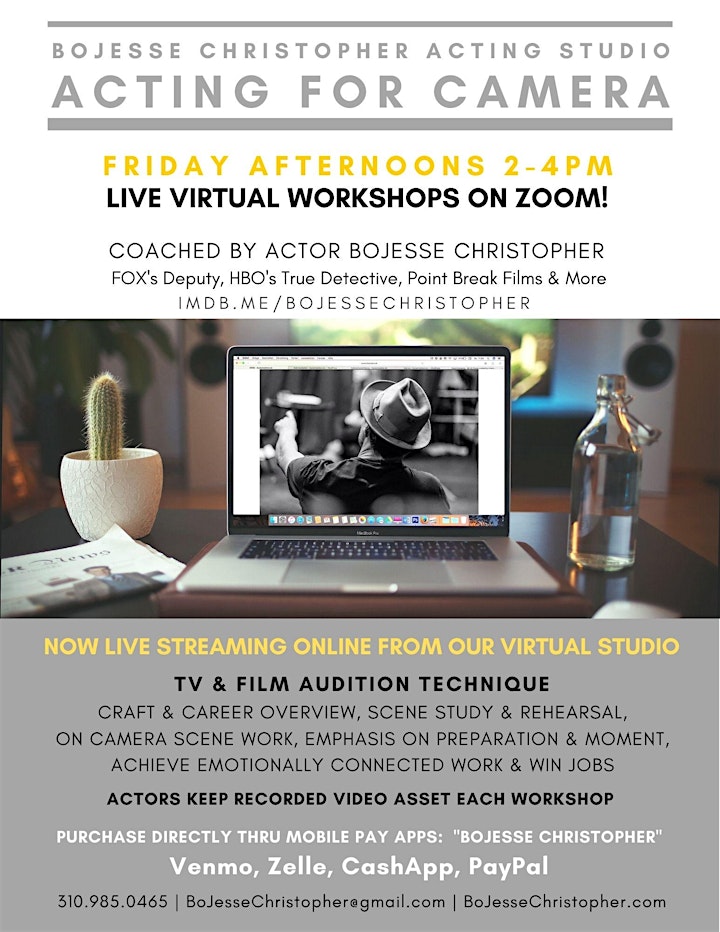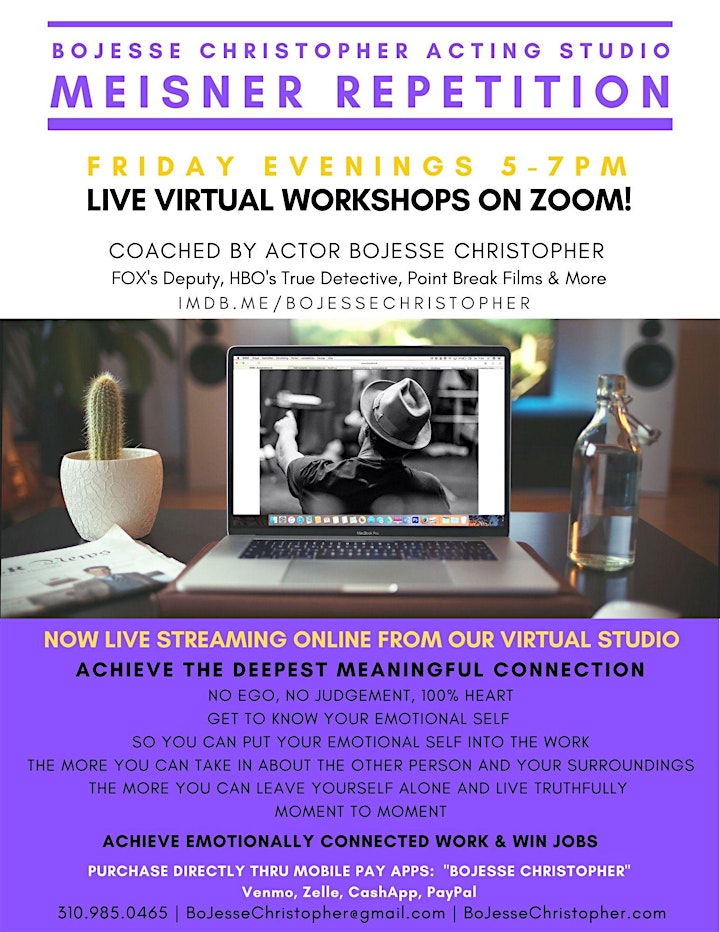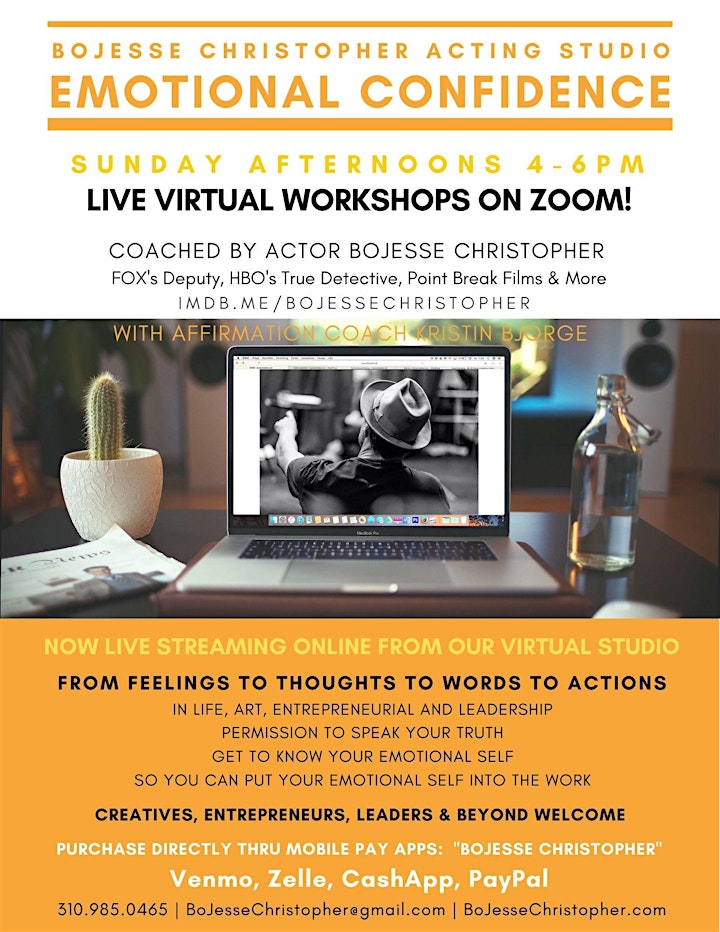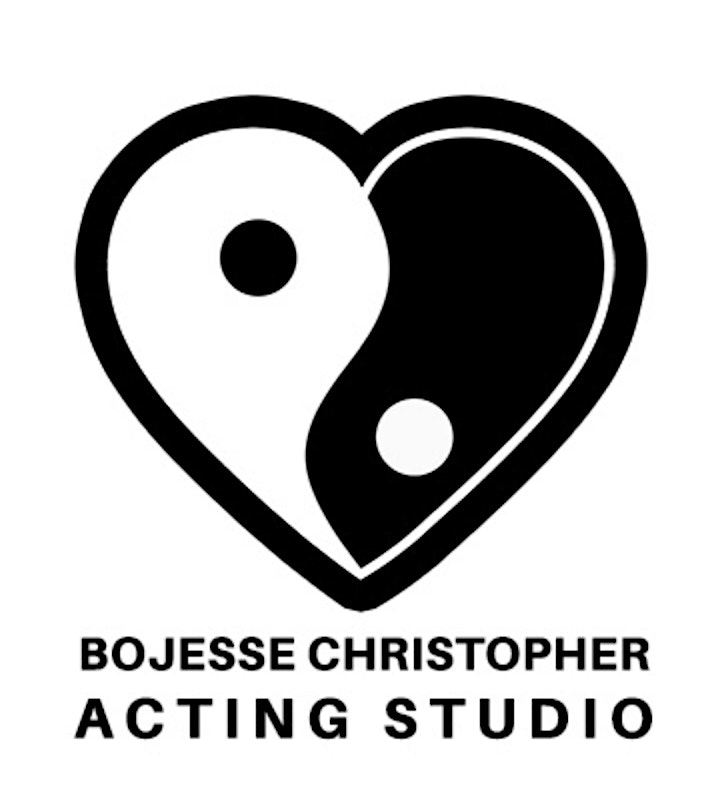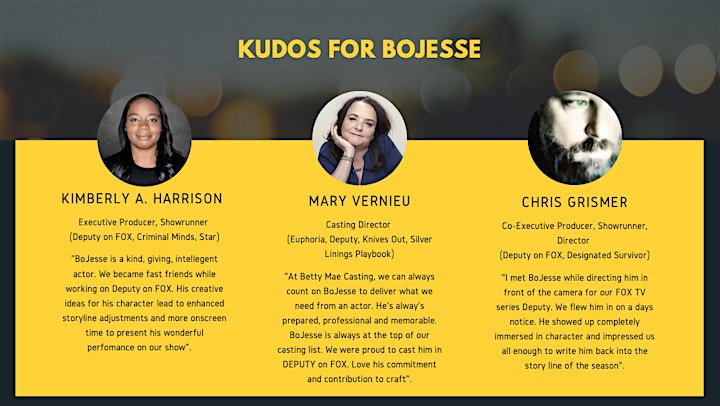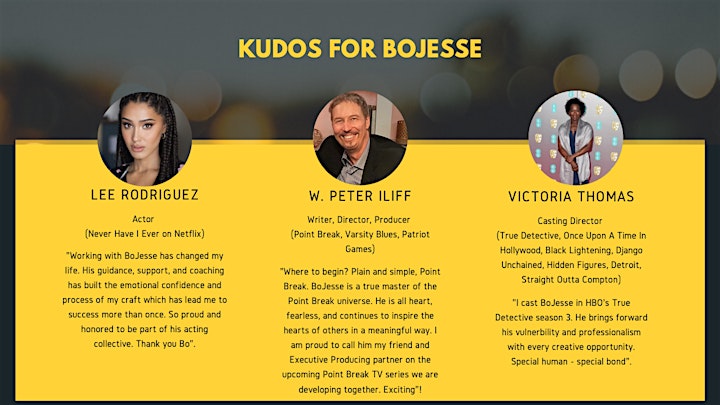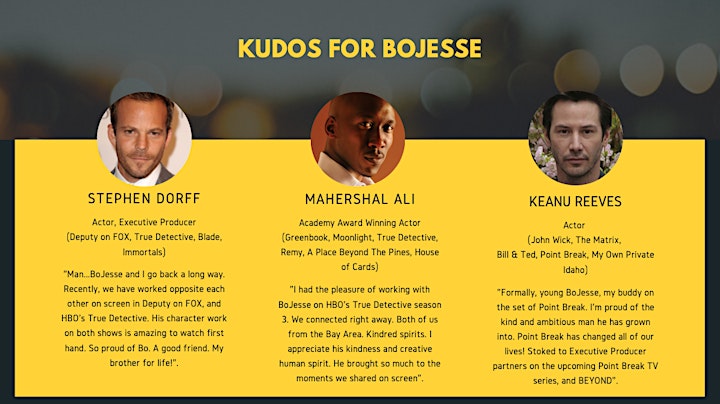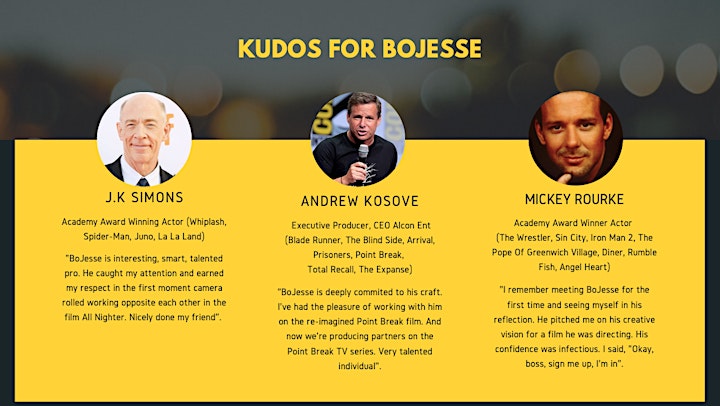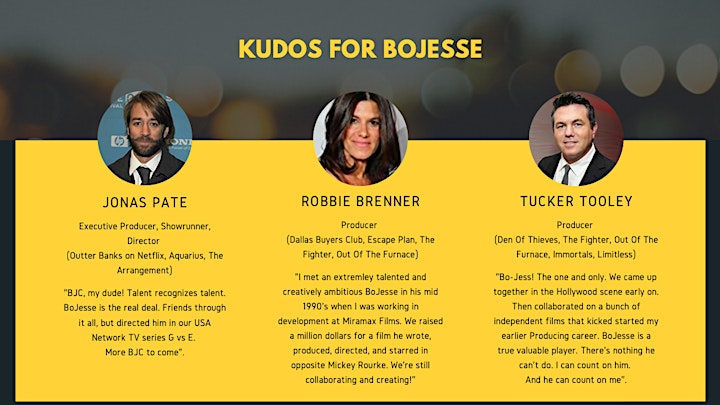 Location
The Complex Theaters (now LIVE Virtual online on ZOOM)
6476 Santa Monica Boulevard
2nd Floor (Hammond Studio)
Los Angeles, CA 90038
Refund policy
Organizer of ACTING SELF-TAPE SESSIONS (TV/FILM) LIVE VIRTUAL VIA FACETIME + ZOOM
American actor BoJesse Christopher was born and raised in San Francisco, Ca. BoJesse is based in Los Angeles, Ca. Currently, BoJesse plays LAPD Detective Johnson on the FOX hit TV series 'Deputy' (2020), and Detective Richard Kitting on HBO's hit TV series 'True Detective' season 3 (2019). BoJesse is best known for his portrayal of Grommet/LBJ, the reckless younger brother of Patrick Swayze in the 20th Century Fox classic original feature film 'Point Break' (1991), directed by academy award winner Kathryn Bigelow (The Hurt Locker, Zero Dark Thirty).
BoJesse also appeared as the Director of the FBI in the $100 million dollar re-imagined 'Point Break' directed by Ericson Core, distributed by Warner Bros. (2016) now on HBO and VOD.
Over a thirty year span in the industry, BoJesse has appeared in over 70+ film and television projects in collaboration with a wide range of notable talent, including Mahershala Ali, Keanu Reeves, Patrick Swayze, J.K. Simmons, Steohen Dorff and Neil Patrick Harris. He has recurred in memorable roles on hit shows Married with Children, Beverly Hills 90210, Picket Fences, Quantum Leap, Ferris Bueller and Land's End. BoJesse has also written, produced, and directed a number of projects, such as action crime drama Out In Fifty, starring Mickey Rourke.
BoJesse's training began with legendary acting coach, Stella Adler, at the prestigious Stella Adler Conservatory Theatre. He continued on to be privately mentored by Academy Award-winning actress, Shelley Winters, at the Actors Studio West and is honored to be a lifetime member. BoJesse later trained with acclaimed acting coach Sandy Marshall, immersing himself into the Sanford Meisner repetition technique. 
In 2012, BoJesse founded Truth Be Told Acting Collective to support disciplined actors in achieving emotionally connected work. His process consists of a strong foundation based on Strasberg's immersive Method, Stanislavski's preparation of building a character, combined with Meisner's repetition exercise in the moment.
More recently, BoJesse founded BoJesse Christopher Acting Studio where he coaches and directs the 'Truth Be Told' A Stanislavski/Meisner acting for camera collective and essential workshops for professional disciplined television and film actors. BoJesse offers private, group, and on-set coaching for adult, teen, and child actors. His coaching is available both on and off line.
BoJesse was named after legendary blues guitarist Bo Diddley and infamous cowboy outlaw Jesse James.
www.bojessechristopher.com

BOJESSE CHRISTOPHER ON IMDB
BOJESSE CHRISTOPHER ACTING REEL 2019
BOJESSE CHRISTOPHER DIRECTOR'S REEL