Description
ACTING COACH (PRIVATE SESSIONS)
COACHED BY BOJESSE CHRISTOPHER
(Point Break & HBO's True Detective & FOXs Deputy)
ACHIEVE EMOTIONALLY CONNECTED WORK ON-CAMERA & WIN JOBS
+ One on one craft & career coaching with an industry TV and Film professional.
Learn your process of preparation leading up to the moment. +


DAILY SESSIONS BASED ON AVAILABILITY 10AM - 10PM

BOJESSE CHRISTOPHER ACTING STUDIO @ THE COMPLEX THEATER
(HAMMOND STUDIO, 2ND FLOOR)
6476 SANTA MONICA BLVD.
HOLLYWOOD, CA 90038


FORMAT:
Private session consists of a two-part format using Stanislavski's preparation method of building a character and Meisner repetition components in the moment.
* Warm up repetition exercises.
* Scene work w/ repetition, direction, character exercises, adjustments to achieve an emotionally connected result.

TECHNIQUE:
* Making strong, smart choices in your scene work preparation leading up to the moment in the world of play.
* Getting familiar with, understanding, emotionally connecting to, and memorizing the material.
* Identifying who you are, what you want, how you feel about the other person, visualizing third party characters, and creating a strong point of view.
* Observation of other character's behaviors and feelings, being aware of how it effects the impulse of your feelings, adjusting your point of view, and achieving moment to moment truth.


A NOTE FROM BOJESSE
Based on 30 years of experience as a professional film and television actor, I present a two-part format using components, principles and disciplines of Stanislavski's and Meisner's preparation in moment. The work is a journey into self-discovery to identify and take ownership of your unique emotional instrument, revealing your innate personal brand. I encourage each actor to make the teachings their own and forge a path towards creative and economic success through inspired action.


RESERVE YOUR SESSION NOW
IN STUDIO:
A) 1 SESSION (2 HOURS) = $200
B) 3 SESSIONS (2 HOURS EACH) = $540 (10% discount)
VIRTUAL (FACETIME / WHATSAPP / SKYPE):
A) 1 SESSION (1 HOUR) = $100
B) 1 SESSION (2 HOURS) = $180 (20% discount)
C) 3 SESSIONS (1 HOUR EACH) = $270 (10% discount)

*Cancellations: 24 hour notice is required for any reason.


QUESTIONS? JUST ASK!
Phone: (310) 985-0465
Email: bojessechristopher@gmail.com

www.bojessechristopher.com

LIKE, SUBSCRIBE, SHARE, REVIEW!
IMDB - BoJesse Christopher - TV/Film Credits
VIMEO - Coaching Content
INSTAGRAM - @BoJesseChristopher | @TruthBeToldActingCollective

FACEBOOK - BoJesse Christopher | Truth Be Told Acting Collective
YELP - BoJesse Christopher Acting Studio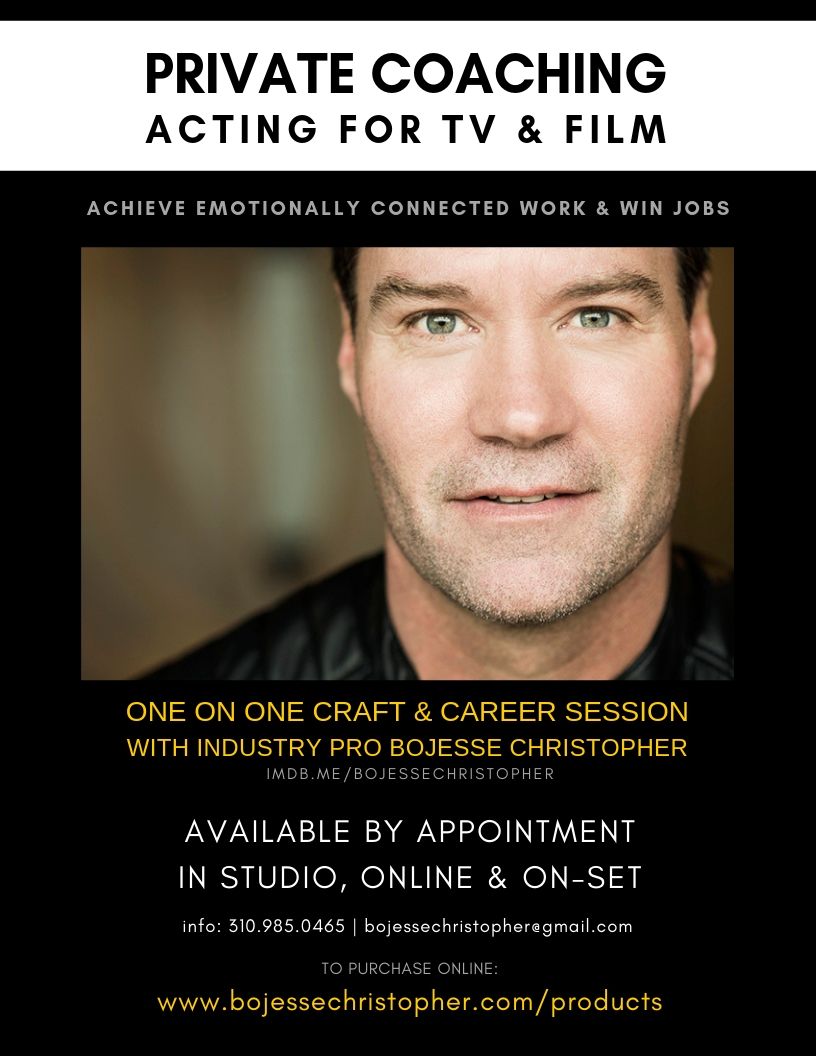 Additional Products Available by Appointment Include: