Description
Join us for our fabulous and festive end of the Spring semester shows at American Childrens Theatre.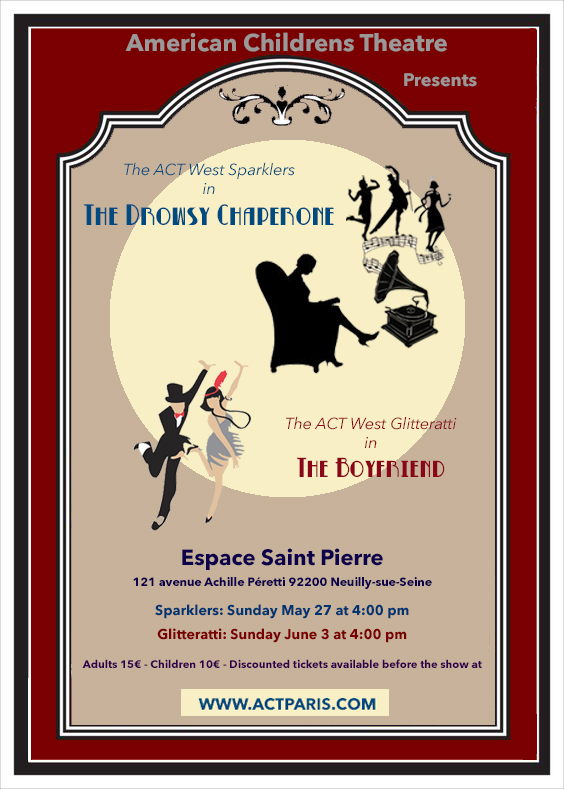 TICKET INFORMATION
Everyone needs a ticket to watch the shows (excluding enrolled ACT students who can watch unlimited shows).
Tickets for the ACT WEST Drowsy Chaperone Show are also valid for one Glitteratti performance of Thoroughly Modern Millie (show or preview) AND a performance of The Boy Friend.
Tickers for the ACT WEST performance of The Boy Friend are also valid for the ACT West Drowsy Chaperone show AND a Glitteratti performance of Thoroughly Modern Millie (show or preview)
FULL SPRING SHOW SCHEDULE
SUNDAY 27TH MAY
4.00 PM WEST SPARKLERS perform The Drowsy Chaperone
FRIDAY 1ST JUNE
7.30 PM PARIS GLITTERATTI (cast A) perform Thoroughly Modern Millie (preview)
SATURDAY 2ND JUNE
12.30pm WEST and PARIS TWINKLERS perform What is jazz?
1.00 PM PARIS SPARKLERS (cast B) perform The Drowsy Chaperone
3.30 PM PARIS GLITTERATTI (cast B) perform Thoroughly Modern Millie (preview)
7.30 PM PARIS GLITTERATTI (cast A) perform Thoroughly Modern Millie
SUNDAY 3RD JUNE
12.30 PM PARIS SPARKLERS (cast B) perform The Drowsy Chaperone
4.00 PM WEST GLITTERATTI (WEST) perform The Boyfriend
6.30 PM PARIS GLITTERATTI (cast B) perform Thoroughly Modern Millie