Description
Join us for our fabulous and fun end of Spring semester shows at American Childrens Theatre.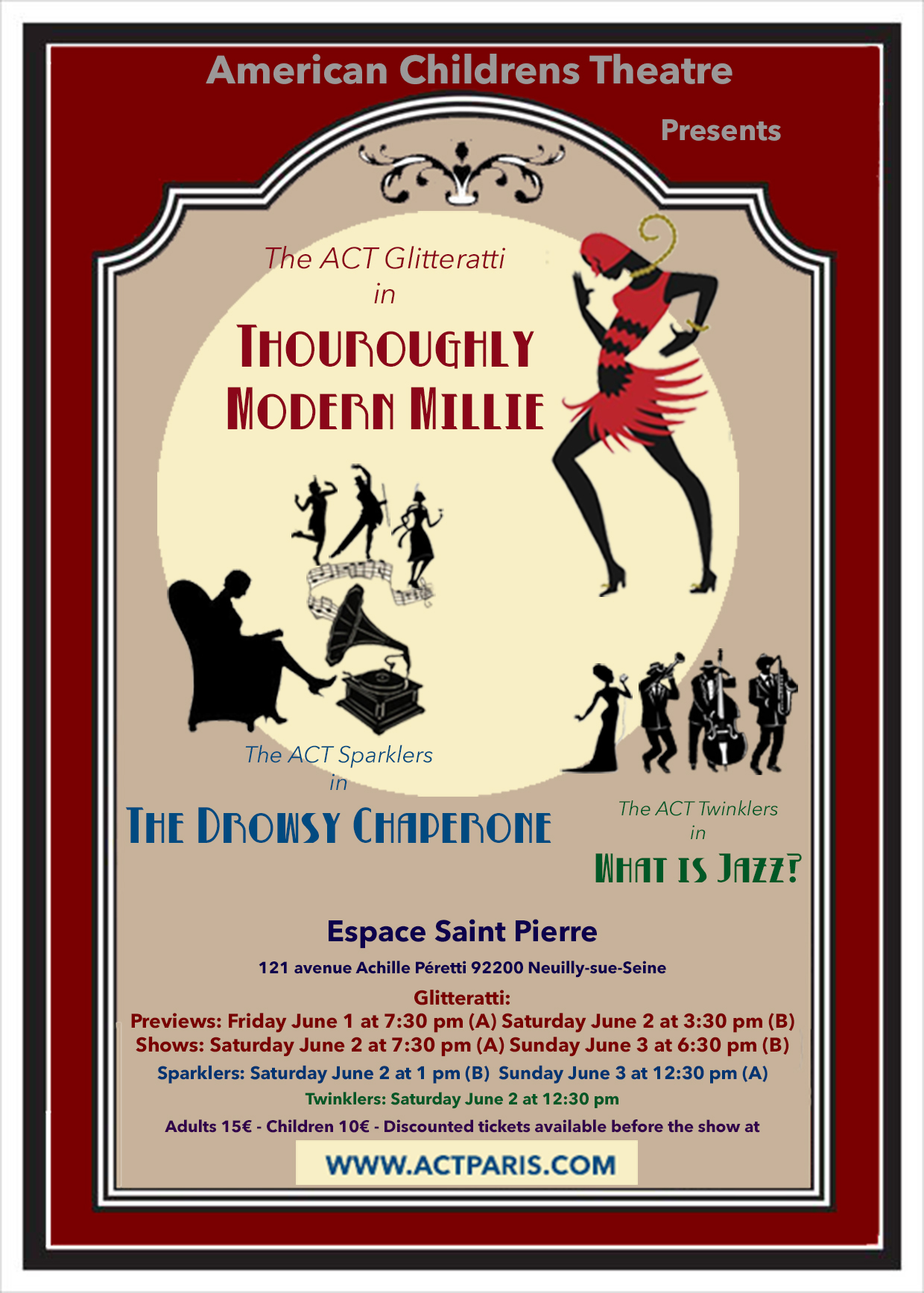 TICKET INFORMATION
Everyone needs a ticket to watch the shows (excluding enrolled ACT students who can watch unlimited shows).
Premium tickets are available. These tickets offer the "best seats in the house" for one show. They are a fundraiser to support the costs of the program. Thank you in advance if you choose to purchase these tickets.
Tickets for any Twinkler/Sparkler Show (including the ACT West) are also valid for one Glitteratti performance of Thoroughly Modern Millie (show or preview) and the performance of The Boyfriend.
Tickets for a Glitteratti show are valid for both previews. To attend both cast shows (Saturday and Sunday evening) 2 seperate tickets are needed (exception for families with children as leads in both casts and lead parent volunteers, please contact us if you're unsure).
Premium tickets give standard access to all other shows.
SHOW SCHEDULE
FRIDAY 1ST JUNE
7.30 PM GLITTERATTI (Cast A) Preview of Thouroughly Modern Millie
SATURDAY 2ND JUNE
12.30 PM TWINKLERS perform of History of Jazz (plus TWINKLE TOES PERFORMANCE)

1.00 PM SPARKLERS (Cast B) perfom The Drowsy Chaperone

3.30 PM GLITTERATTI (Cast B) Preview of Thouroughly Modern Millie

7.30 PM GLITTERATTI (Cast A) perform Thouroughly Modern Millie (plus LV 2/3 TAP CLASS PERFORMANCE)
SUNDAY 3RD JUNE
12.30 PM SPARKLERS (cast A) perfom The Drowsy Chaperone

4.00 PM WEST GLITTERATTI (program based at BSP) perform The Boyfriend

6.30 PM VOCAL PERFORMANCE RECITAL and GLITTERATTI (Cast B) perform Thouroughly Modern Millie