Description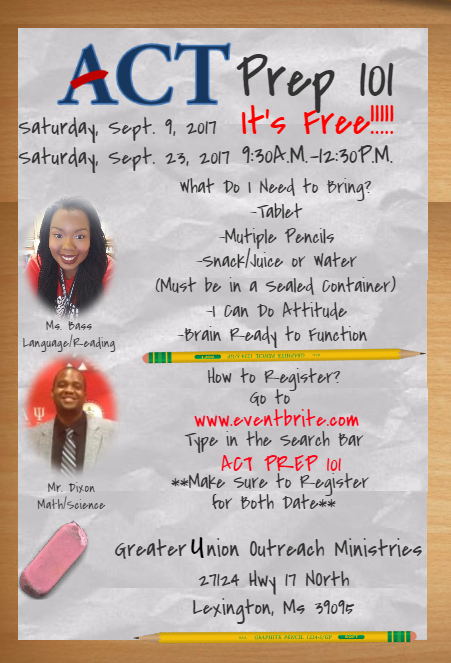 Hello,
I would like to welcome you to a once in a lifetime opportunity to enroll in a 2 week ACT Prep Workshop!
This workshop will be ABSOLUTELY FREE TO THE PUBLIC!!
Student grades 8th-12 are welcome and encourage to attend.
Adults who are furthering their educational career are encouraged to attend.
The following topics and information will be provided to each individual who attends the workshop:
1.. Time Mangement Skills
2.. What to do if you are Running Out of Time
3. The Importance of Writing in Your ACT BOOK
4. Test Taking Techniques for Language Arts
5. Test Taking Techniques for Math
6. Test Taking Techniques for Reading
7. Test Taking Techniques for Science
8. Resources for SAMPLE TESTS AND FULL TESTS For the ACT
9. Wrap Up
***Please Bring the Following Items with you to the Workshop***
Scientific Calculator:
Examples of Scientific Calculator TI-30X llS, TI-89, TI-92, and TI-Nspire CAS (the TI-Nspire, non-CAS, IS permitted); HP 48GII, HP 40G, HP 49G, and HP 50G; CFX-9970G, Algebra fx 2.0, ClassPad300, and ClassPad 33.
Scratch Paper (Preferably a Tablet and Note Book Paper)
Multiple Pencils
Highlighters (Optional)