Description
Join us for an evening of riveting discussion and interaction on Public Health in the USA. This is an important topic, now more than ever. The dialogue will focus on community health frameworks, strategies, and developing initiatives. Together we will explore how we can create stronger interconnected systems and solutions.
Public Health is the first in a multi-part series on Healthcare. As a nation, healthcare continues to be at the forefront of our dialogue. By breaking the larger topic into focused segments, we can effectively embark on a better understanding of the issues we face, the options available, and the tools we need to tackle challenges.
We welcome the audience to engage, share thoughts, experiences, and your ideas. We'll explore best practices, shared resources, and needed interventions. This is the ideal platform to find answers and a path forward
During this discussion we will cover:
What is public health and what is the difference between a clinician focusing on one individual's health and governmental funding on broader population health?

What are some of the US's challenges in public health, including defining the social determinants of health such as access to clean air and water, access to education, the role of poverty in differential health outcomes, the roles of stigma and discrimination, access to affordable housing.

Discussion about Seattle's specific challenges in the social determinants of health.

What happens when public health goes wrong: fluoridation removed in Portland, OR; Puerto Rico and disaster responsiveness, measles outbreak amongst children
Light refreshments will be provided.
---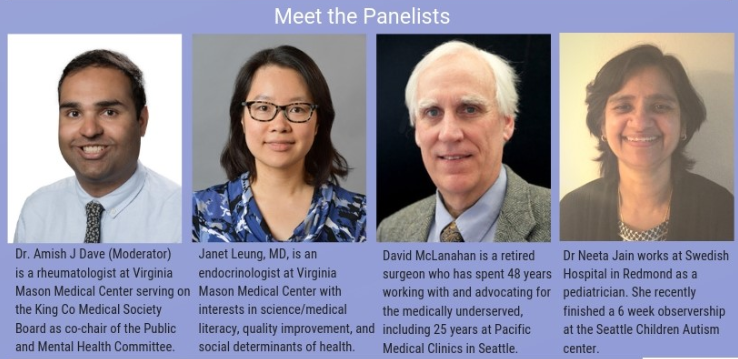 ---
Note
We will have "Medicare for All" Petitions for you to sign, if you are interested. We will also record healthcare testimonials/personal stories, if you wish to provide them.
---
Parking in building
$ 7 for the evening after 5 pm. Enter between 3rd and 4th aves on either Madison or Marion. Well-connected by public transit.
---
If you have difficulty paying for tickets, please send an email to actnowmantra@gmail.com
---
Hosted by