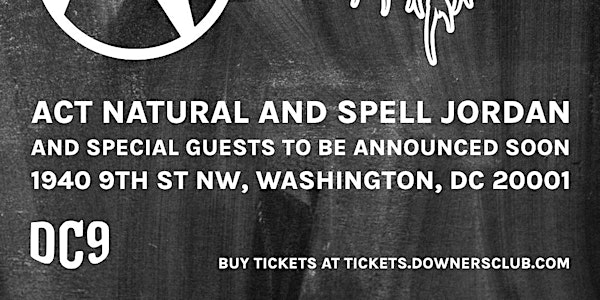 Location
DC9 Nightclub
1940 9th St NW
Washington, DC 20001
Act Natural

FACEBOOK | INSTAGRAM | TWITTER | SPOTIFY

Act Natural is your mom's favorite boy band—a hip hop and pop group from Maryland, DC, and Virginia. With 1,000,000 streams combined on singles like Right Now, Blue Devil, and Blindfolded on Spotify alone, Act Natural is cementing their spot in the industry. In 2020, the group released their first full length album on all streaming platforms, Act Natural, Vol. 2.

Spell Jordan

WEBSITE | FACEBOOK | INSTAGRAM | TWITTER | SPOTIFY

DMV Rapper, Lil Xan, Matt Ox, and Squidnice affiliate Spell Jordan took the music industry by storm with a series of singles and albums, notably Models, feat. Lil Xan and FIGHT!, feat. Wavy Jone$. Spell Jordan is a twenty-five-year-old Washington DC transplant, originally from Philadelphia. On July 24, 2020, Spell Jordan released his latest full-length project, Underworld. As a collaborator of Lil Xan, Matt Ox, 93FEETOFSMOKE, Wavy Jone$, Smokeasac, and more, Spell has created and built a unique following in the DMV area.