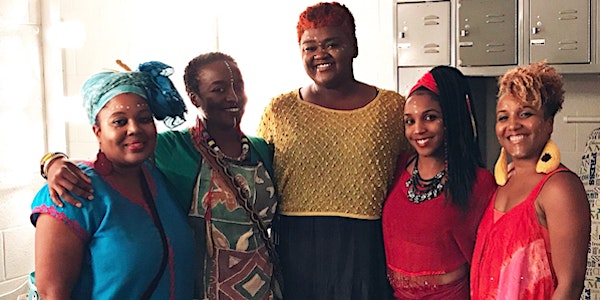 Act Like a Big GRRRL - Fall 2018
By Actors Bridge Ensemble
When and where
Date and time
Starts on Saturday, September 29, 2018 · 12pm CDT
Location
Actors Bridge - Woodbine Studio 410 Central Ave Nashville, TN 37211
Description
Act Like a Big GRRRL
Opening Retreat: Saturday, September 29, noon-8 p.m.
Writing/Sharing Meetings: Tuesdays, 6:30-9:30 p.m. (see specific schedule below)
Facilitator: Cynthia Harris, MPH
Fee: $450
Description:
We hear it all the time: "I wish that I could have experienced something like Act Like a GRRRL when I was a teenager." Believing it's never too late to begin the process of self-discovery and transformation, we created Act Like a Big GRRRL.
Act Like a BIG GRRRL is a writing and performance program modeled after Act Like a GRRRL. It is for female-identifying participants 18 and older. The group gathers twice a month to share writing, gain feedback and step boldly into a new version of themselves. The work culminates in a public performance at the Actors Bridge Studio at Darkhorse Chapel.
You don't have to have any acting or writing experience — just a desire for self-discovery and a willingness to "go deep within," supported by this community. The only requirements are a commitment to the entire writing and performance process and a willingness to reach, stretch, grow.
WHO IS INVOLVED?
The Fall 2018 Session will be facilitated by Cynthia Harris, MPH. Ms. Harris is a writer/performance artist, health educator, conjure woman and proud Southerner. Ms. Harris has been committed to the empowerment of women through art, education, research, and outreach over the past 15 years. Her original works: Phrases of Womanhood, Why Won't She Leave?, and How to Catch a Flying Woman, explore issues of gender, identity, body image, personhood, spirituality, community and African heritage.
The Big GRRRL program is guided by Vali Forrister. This model is based on Vali's graduate work in the performance of personal narratives for personal and social change. Vali has created a very successful 3 step process using intimate life texts for personal transformation. Read Vali's bio.
HOW DOES IT WORK?
Cynthia provides writing prompts that encourage personal interpretation. We meet twice a month to share our writing aloud and get feedback and insights from others in the circle.
In late November, we'll select our favorite writing pieces to be edited into a script for a group performance. We will perform in April at the Actors Bridge Studio at Darkhorse Chapel.
WHEN DOES IT START?
Our next circle starts with a day-long retreat on Saturday, September 29, 2018, and continues with Tuesday evening meetings to follow. The full schedule is below.
Schedule:
Day-long Opening Retreat
Saturday, September 29th, noon to 8 p.m.
Actors Bridge Woodbine Studio and Vali Forrister's Home
We will set our personal intentions for the process and work with some guest artists to learn new approaches to accessing our own creative spark. Then, we'll transition to Vali's home to share fire and food and drink.
Weekly Meetings – Sharing Writing – 6:30-9:30 p.m. at Actors Bridge Woodbine Studio
Every Other Tuesday:
Oct 2, 9, 23
Nov 6, 13, 27
Rehearsals:
Dec 1, 2
Performances at Actors Bridge Studio at Darkhorse Chapel
Saturday, December 8 at 7 p.m.
Sunday, December 9 at 3 p.m.
All told, it is:
8-hour opening retreat

6 3-hour writing sharing meetings

2 rehearsals

2 performances
30+ hours together

Act Like a GRRRL and Act Like a Big GRRRL are programs created by Vali Forrister and licensed for use by Actors Bridge Ensemble.
---
Actors Bridge Refund Policy: There are no cash refunds. Any student who withdraws after paying will be issued a transferable credit good for use on any class for up to one year.
About the organizer
WE ARE
We are a Meisner Technique training program for new and seasoned actors.
We are a women-led theatre company of Nashville natives dedicated to telling the stories our hometown needs to hear.
We are committed to taking big risks in the service of authentically reflecting the human condition.
We are in love with broadening what is considered theater in our community.
We are people who help others find their voice and speak their truths on stage and in life.
WE BELIEVE
We believe in theater's power to heal us in a thousand places we may not have realized needed healing.
We believe that the theater is a sacred calling: we make a promise to our community to stay emotionally connected in a world that praises going numb. We promise to feel and remind our audiences how good feeling can be.
We believe in the ensemble principle. The person you see on stage in one show you will likely see behind the light board in the next. The person selling tickets may also be a budding new playwright. Your usher is likely an aspiring actor.
OUR MISSION
Our mission is to tell the stories Nashville needs to hear as we train theater artists, produce socially conscious plays, create new work, expand what counts as theater in our community, and help artists and audiences care more about their neighbors and themselves.
We are the home of Act Like a GRRRL and First Time Stories. 
Phone Number: 615-498-4077. Email: info@actorsbridge.org
Studio location: Darkhorse Chapel, 4610 Charlotte Avenue, Nashville, TN 37209
We perform at our studio and the Darkhorse Theater and other venues around Nashville.