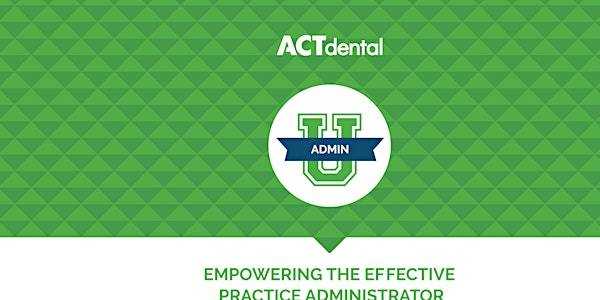 ACT Dental: Empowering The Effective Practice Administrator
a
When and where
Location
Hyatt Place Chicago/O'Hare Airport 6810 Mannheim Rd. Rosemont, IL 60018
Refund Policy
Refunds up to 30 days before event
About this event
Course Objectives:
Explore ways to create deeper communication with your patients, with your community, and as a team.
Learn the ins and outs of Accounts Receivable, Insurance Coding and Processing, Scheduling, Case Acceptance, Key Performance Indicators (KPIs), and understand how they impact the health of the practice.
Explore real-life challenges and solutions through small group breakout sessions.
Gain new perspectives on how each and every team member is integral to the success and growth of the practice.
Clarify your own learning through Q&A sessions with facilitators and course participants.
Leave with a clear plan of what to do when you get back to the office.
Course Facilitors:Teresa Duncan, Guest FacilitatorGeri Gottlieb, ACT Dental CoachDeena Meldgin, ACT Dental CoachChristina Byrne, ACT Dental CoachEvent Details:Day 1  2:00 - 5:30 - Course Session 5:30PM - 6:30 PM Reception(light apps will be provided) Day 28:00am - 3:00PM - Course Session (Lunch is provided)This course is designated with 9 CE credits with AGD Pace.Course Location:HYATT PLACE CHICAGO O'HARE6810 Mannheim RdRosemont, IL60018Travel:Airports: Chicago O'Hare International Airport- ORD**Hyatt Shuttle service available from O'Hare**-Located at door 2 of Chicago O'HARE airport shuttle center-Runs every 35 minutes-Must have hotel confirmation available and ready at pick-up Lodging:HYATT PLACE CHICAGO O'HARE Click the link below:ACT Rate for Admin CourseFor more information, contact Christina at ACT Dental: christina@actdental.comRefund Policy:Cancel more than 30 days prior to event you will receive 100% refund.Cancel 29-15 days prior to event you will receive a 50% refund.Cancel 14 - 8 days prior to event you will receive a 25% refund.Cancel less than 7 days from event there will be no refund of the course fee.*** This course outline represents the speakers and activities that have been booked at the time of publication; however, speaker or activity cancellations occasionally occur, for reasons beyond our control. If that happens, we may substitute another speaker or activity, or make a change to the schedule, without giving registrants prior notice.Disclosure of Commerical Support 
All programs offered by ACT Dental will be for scientific and educational purposes only and will not promote the products of the company directly.
ACT Dental is responsible for the control of content and the selection of presenters and moderators.
ACT Dental may work with or accept financial or in-kind support from other organizations, but those organizations must first agree in writing that they will not direct the content of the program. Outside organizations or their agents will respond only to requests initiated by ACT Dental for suggestions of presenters or sources of possible presenters.
ACT Dental will record the role of the company or its agents and ensure that all names/roles are disclosed to participants prior to attending a program.
Control of Content and Selection of Presenters and Moderators: ACT Dental is responsible for the control of content and the selection of presenters and moderators. Preferred Partners agree not to direct the content of the program. Preferred Partners will respond only to ACT Dental -initiated requests for suggestions of presenters or sources of possible presenters. Preferred Partners will suggest more than one name (if possible); will provide speaker qualifications; will disclose financial or other relationships between Preferred Partners and speaker; and will provide this information in writing. ACT Dental will record the role of the Preferred Partners