Description
A.C.T. - An Educational Consortium : Affecting Culture with Truth
REGISTRATION: Register and get your tickets NOW via EventBrite for this West MI Regional conference!

(You may also call 616.842.6414 or 970.260.0366 to register, or if you have questions.)
FEE SCHEDULE:
Late registration at the door $60;
Advanced Family Registrations: Rate for couples or family of any size in same household: $50;
Advanced Adult Registration: $30/person (ages 23 & up)

Student Discount Rate: $20
(Scholarships available per need)


INCLUDES: Continental Breakfast * Boxed lunch options * KeyNote Speakers * Breakout Sessions Info & Action Booths * Resource Tables * Q&A Panel * Music * Networking
Seven spheres of influence or "mountains" affect lifestyle, behaviors, culture, morals, values, and decisions. For Christ to be truly Lord over our communities, as the body of Christ, we must impact all 7 mountains, not just the Church/Religion mountain. For this reasopn, the Tri-Cities Intercessors, COGL (Church of Greater Lansing), MCPI (Muskegon County Prayer Initiative) are working in partnership in this collaboration to be catalysts for more community awareness and positive cultural change in our cities!
What can we do? Come, see and hear...practical applications for safer and healthier communities!
Keynote sessions: Foundational Matters for Community Health
I. What are These Mountains made of? (An introduction to the 7 spheres of society, or "Mountains") by Kamal Saleem and Mark Gurley
II. Why I believe in One Incredible Family (Testimony - Family of God and Church Mountain) by Kamal Saleem
III. Why Do You Think the Way You Do? (Different World views - Church/Religion and Family Mountain) by Austin Kreutz
IV. How Creation is Incredibly Scientific and Foundational!!! (for Education and Family Mountains) by Richard Stepanek
V. Effecting a Paradigm Shift for Truth In Government for God and His Kingdom: The Truth behind Separation of Church vs. State (Government Mountain) by Senator Pat Colbeck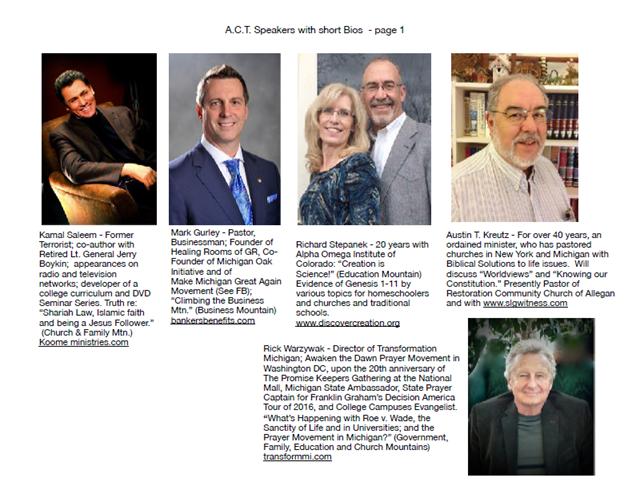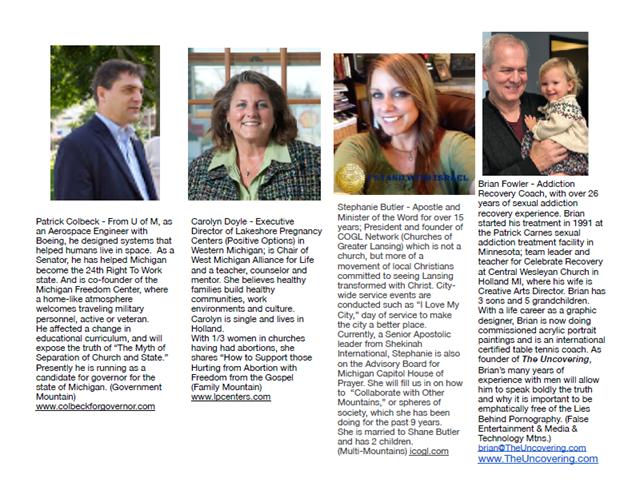 Breakout sessions:
What About Our Constitution? (Government Mountain) by Austin Kreutz

What You Didn't Know about Shariah Law that You Absolutely Need to Know! (Government Mtn.) by Kamal Saleem

How Mount St. Helens Blew the Top off Evolutionary Geology (Education Mountain) by Richard Stepanek

How to Become A Cultural Architect (Business Mountain)by Mark Gurley
Why it is important to be Emphatically Free from the Lies Behind Pornography (False Entertainment Mtn., Media & Technology Mtns.)

by Brian Fowler
How to Support God's Family Design and those Hiding or Hurting from Abortion (Family Mountain) by Carolyn Doyle and Positive Options

Why and How to Collaborate with Other Mountains or Cultural Spheres (Multi-Mountains) by Stephanie Butler

The Action Strategy to Overturn Roe v. Wade (abortion in America); Impacting MI Universities; and Prayer Movement in Michigan's 83 Counties and Nationally (Government, Family, Education and Church Mountains) by Rick Warzywak
A Question and Answer Panel will be the final session of the day
(Professional singer Carlos Seise will provide music between speakers and after breaks and Turning Pointe School of Dance will also perform before lunch. Two testimonies will be shared as well.)
Questions? Contact: Sylvia at 616-842-6414
If you prefer to write out a check, pay to the order of COGL Network with memo for A.C.T.
Mail to 16840 Cricket Court, Grand Haven, MI 49417