Starts online Thursday PM, May 27th (Thursdays from 1:30 p.m. to 4:30 p.m. for 6 weeks.)
About this event
Starts online Thursday afternoon, May 27th (Thursdays from 1:30 p.m. to 4:30 p.m. for 6 weeks. ZOOM link is open to participants by 1:15 p.m. each week, so folks can say hello and prepare for class.)
Artists explore basic acrylic painting techniques in a flexible, supportive setting. Color mixing and theories, paint and imagery layering, composition, and other fundamentals are discussed. We paint and interpret from observation, photo or printed references, and imagination.
Contemporary and past artists act as kindred spirits and influence weekly prompts. We begin with a demo and warm up canvas, then develop ideas based on colors from one source and imagery from another (artists' works, participants' own photos, project ideas etc.) All levels are welcome.
Supplies: Wait to discuss with Alex if you are new to the series. Be prepared to purchase six basic colors, short handle Round brushes 12, 10, and 6, palette paper, two 16 x 20 inch canvases per week (5 pack available). The site alexstudioarts.wordpress.com contains student works, archives of projects since 2019, and recent prompts from Spring 2020.
ZOOM sessions and how it works: The session opens around 1:20 PM. Students work (participants muted) with music Alex curates. Unmuted, participants share progress and what is happening at intervals. Alex sends a link for the six weeks, and it remains the same for the duration. She sends a weekly email with prompts, resources, and the ZOOM link.
Non-members: $195 for 6 weeks. Members: $156.
Instructor bio: Alex Rheault teaches at UNE and is a local exhibiting artist, curator and writer. She explores objects, discarded and decayed, the body and anatomy in drawing, painting, book arts, and writing projects.
(Student work by Gia Collins shown in cover image. Image shown below is by student Janice Cooper.)
Click here to view our cancellation policy.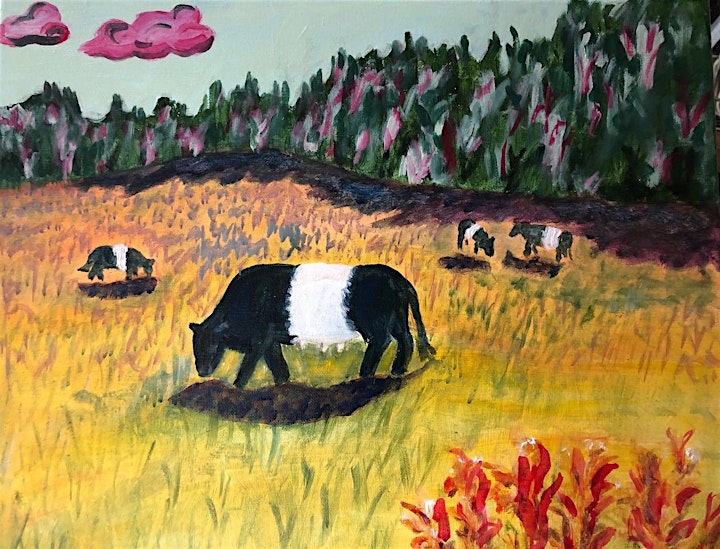 Date and time
Location
Refund policy
Organizer of Acrylic Techniques via ZOOM (Thursday PM) 6-week Artist Series
Artascope at bec is a 501(c)(3) organization that raises money for experiential education programs by offering art classes and studio memberships in Yarmouth, Maine. We provide a relaxed, supportive environment to the broader community where individuals can share their work, ideas, and discoveries with one another. Located in the Bickford Education Center at 48 Railroad Square, Yarmouth, ME.