Description
Edible Acrylics
Saturday, September 22nd 2-5pm
$49 each or $64 with supplies
Learn to paint a variety of edible subjects in this fun acrylic class. Choose to paint anything from cupcakes, to veggies, wine and more. You will learn how to capture contours, depth, layering and hi-lights that make your painting look realistic. Bring your own ideas or come and be inspired. Choose to paint a couple smaller mini canvases or choose to go a little larger.
Beach Buddies
Sunday, October 14th 1-4pm
$49 each or $64 with supplies
Paint your own beach buddies scene where you can add your own pup/ pups and people into the painting. You will first choose your beach composition and time of day and Jen will lead you in creating your own acrylic painting with personality. Please send Jen your images of your pups and people so she can print them out to scale for you for class.
All class reservations must be made in advance and cannot be cancelled or changed less than 72 hours prior to class. Sorry, no exceptions.
If you have ever wanted to try Acrylics but didn't know where to start or have dabbled in Acrylics and need direction these are the class for you. Each class will have a different focus and a wide variety of samples to inspire you. We encourage you to explore this fun and unique medium as we learn a variety of techniques that can be applied to any subject. You can choose to work on a larger painting over a series of classes or work on a new project each week or even start several pieces in one class. Each class is tailored to the students that come to the session and are great for beginning students and intermediate students who want a more formal art session to explore a more in-depth process of using acrylics. Check the supply list at the bottom of the page for recommended products and info.
Pick Your Subject or Bring Your Picture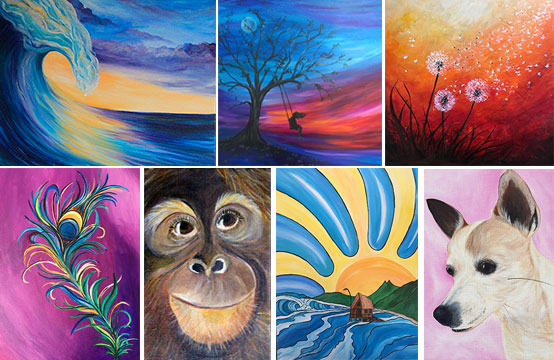 Saturday, Nov. 10th 10am-1pm

$49 each or $64 with supplies

Choose from any of Jen's painting classes or bring your own inspiration and Jen will lead you to create your own piece of art. Sometimes we know our schedules don't match up with yours so Jen wanted to offer her students a unique opportunity to create the painting they were wanting to make but missed the class. Please email Jen jen@redbrickart.com with what you would like to paint. The sky is the limit, choose from a more traditional landscape to any animal to something more abstract, anything is possible in this class.