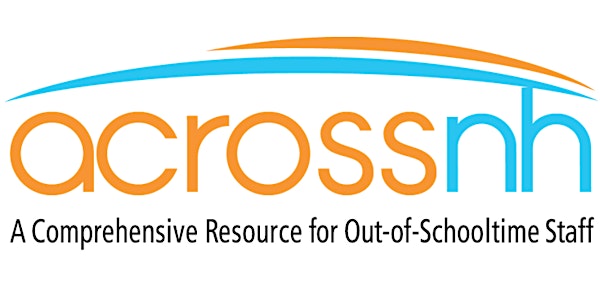 ACROSS NH Social and Emotional Learning in OST Cohort
Presented by Abigail Blodgett, B.S.; ACROSS NH SEL Project Coordinator, NH ASMP WT, PM, and Eric Mann, MSW,SEL Consultant with SERESC, Inc.
About this event
A Focus On: SEL Supportive Culture and Climate, Fostering Connections, Stress Management, and Regulation of Thoughts and Feelings
At the heart of the OST field are the values of building positive relationships, creating quality learning opportunities, and making contributions to lifelong thriving outcomes for our youth. The profound way these values connect to Social-Emotional Learning (SEL) is the driving influence underlying the ACROSS NH Social and Emotional Learning in OST Cohort.
In this cohort, we will lay a foundation for understanding SEL and promoting elements within OST environments that can make SEL thrive. Each session will focus on specific topics connected to the understanding and implementation of SEL-supportive practices in OST programs. We will examine SEL competencies, SEL skill development, and regulation-supportive practices, while providing practical implementation suggestions to strengthen the quality of programs for our children, youth, and families.
Participation in the cohort will include attendance to bi-weekly (twice monthly) 2-hour virtual work sessions and will include a post-meeting implementation assignment. Each program will have access to an ACROSS NH consultant to provide support for the completion of SEL implementation assignments.
#1 Tues, 10/4 "An Intro to SEL: Foundations of a SEL Supportive Environment"
#2 Tues, 10/18 "The Importance of Well-Regulated and Self-Aware Adults"
#3 Tues, 11/1 "The Value of Connection"
#4 Tues, 11/15 "SEL Supportive Culture and Climate"
#5 Tues, 11/29 "SEL Supportive Routines"
#6 Tues, 12/13 "SEL Show and Share"
Session Info: This cohort is virtual. All sessions will meet from 9:30-11:30am. You will receive an email with an invitation to the Zoom meeting after you register in Eventbrite, and prior to the first session.
Questions: Please email cathy@seresc.net or call 603-206-6848.