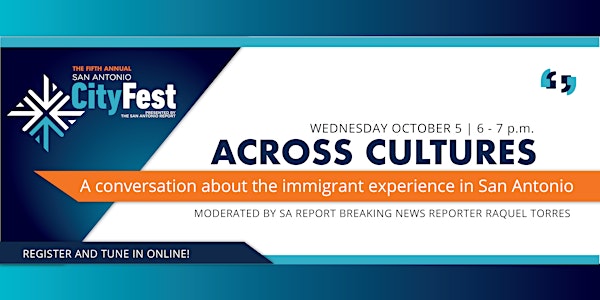 Across Cultures - 2022 CityFest
A conversation about the immigrant experience in San Antonio
About this event
Join us for a virtual conversation featuring a group of immigrants and immigration advocates talking across cultures about their experiences. We'll ask what it has been like coming to San Antonio, what resources refugees and immigrants have available to them, how welcoming the community has been, what they've learned since coming to the U.S. and what advice they have for immigrants coming here today.
Panelists:
Yuliana Martinez, Colombian entrepreneur
Nadia Mavrakis, Culturingua
Hamid, Afghan refugee
Jessica Azua, Texas Organizing Project
Mayra Montero, City of San Antonio

CityFest: Live Local
Join us for CityFest 2022—four days of dynamic programming curated around the theme "Live Local" from Tuesday, October 4 through Friday, October 7. As San Antonio continues to recover from the worst days of the pandemic and look toward strengthening our community using an equity lens, our fifth annual urban ideas festival will be staged throughout the city and streamed online to promote accessibility and community engagement.
Our keynote luncheon titled "The Exit Interview" will be a conversation with County Judge Nelson Wolff and San Antonio Report co-founder Robert Rivard at the Tobin Center for the Performing Arts. San Antonio Report staff along with invited guests will serve as moderators throughout the week for panels and events to get you connected (or re-connected) to your city.
For more information on CityFest, visit www.cityfestsa.org