Sales Have Ended
Ticket sales have ended
Thank you for your purchase. We look forward to seeing you at the 2017 Across Colors Diversity Conference!
Sales Have Ended
Ticket sales have ended
Thank you for your purchase. We look forward to seeing you at the 2017 Across Colors Diversity Conference!
Description
WELCOME!
Across Colors Diversity Conference 2017: More Than Classes and Books; Creating Community, Building Empathy & Maintaining Safety
The Across Colors Diversity Conference (ACDC) is the flagship of the Independent School Alliance's commitment to support the diversity initiatives in independent schools. The mission of the conference is to provide a safe space for professional development of parents, board members, faculty and staff of all backgrounds in independent schools. ACDC also gives students an opportunity to engage in hands-on activities and participate in content-based discussions on the importance of building and sustaining inclusive, nurturing, forward thinking independent school campuses.
This will be a great event for adults and independent school middle and high school students.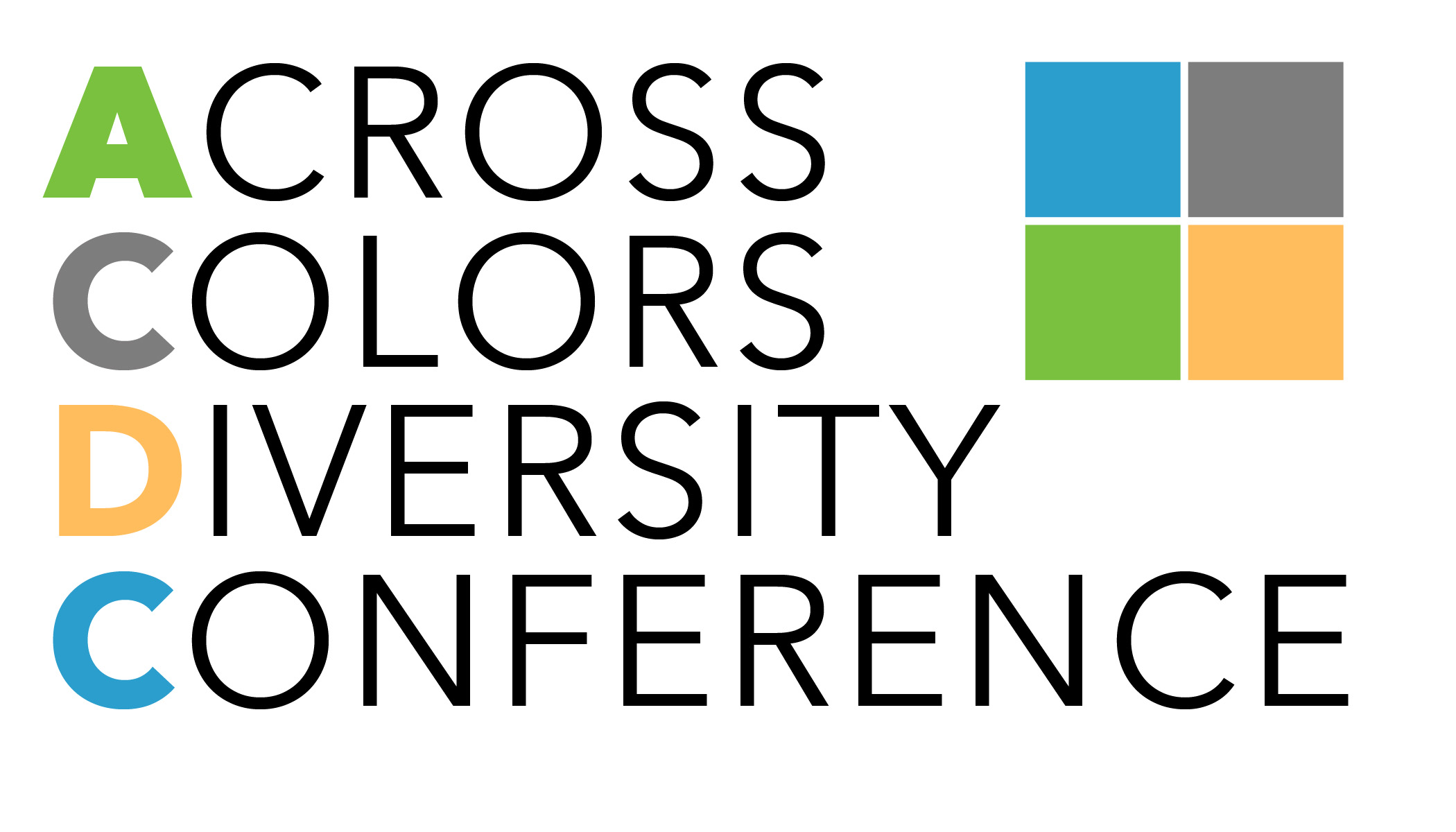 ---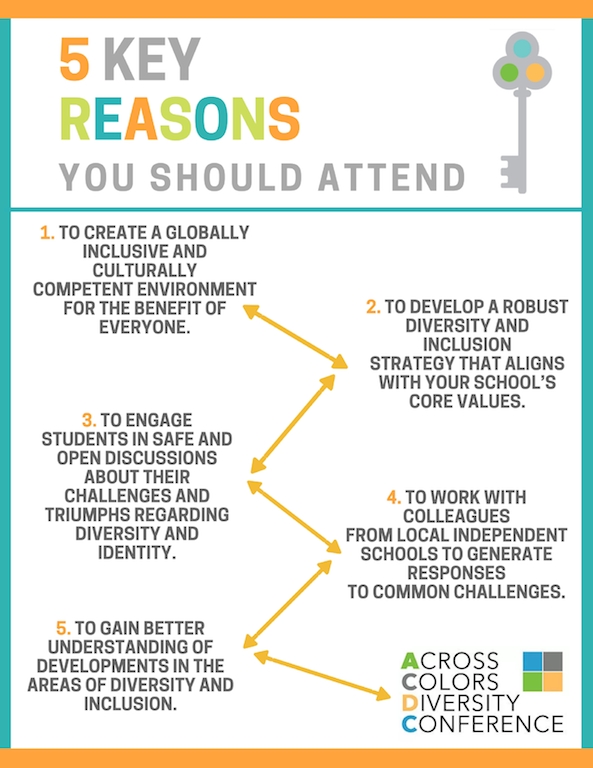 ---
KEYNOTE SPEAKERS: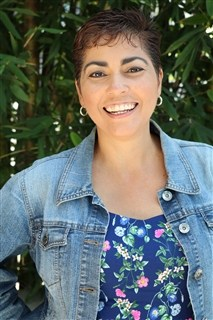 STEPHANIE CARRILLO
CAMPBELL HALL EPISCOPAL
DIRECTOR OF DIVERSITY AND INCLUSION
Stephanie Carrillo is devoted to cultivating and sustaining a safe environment that empowers individuals and groups to discover and celebrate their identity.
She believes that race, ethnicity, religion, culture, national origin, gender identity and expression, sexual orientation, age, ability, and socioeconomic status to be examples of what constitutes diversity in our community. Through personal and corporate innovation, affirmation, and education, Stephanie strives to build and support an open and inclusive community dedicated to the principle of respect.
An L.A. native, Stephanie has taught in Los Angeles schools for more than 20 years and has a particular passion for area art, history, and culture. Stephanie is also a member of Facing History and Ourselves Teacher Leadership Team and she enjoys collaborating with educators in the Los Angeles Partnership Network.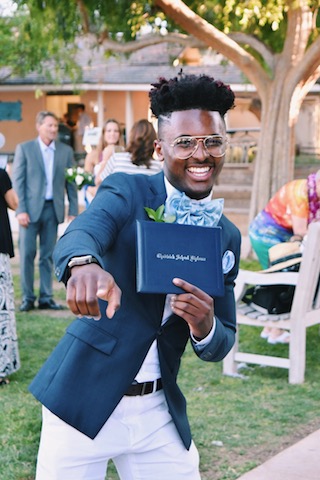 ELIJAH CHRISTOPHER DE'VAUGHN, JR.
HARVARD UNIVERSITY
STUDENT
Elijah Christopher De'Vaughn, Jr., hailing from Compton, California, is a God-fearing, driven man who dreams big and scores high. Joining The Independent School Alliance at age five, Elijah earned admission to Chadwick School, an independent private school located in Palos Verdes Peninsula, California. While attending Chadwick School for thirteen years before graduating in 2017, Elijah has come to understand that the cultivation of racial identity is a real and challenging facet of the unique experiences of students of color attending independent schools.
Elijah is also a talented actor. He has performed in numerous national commercials and in a Nickelodeon television series. In tandem with his work on television, he is an active thespian who has been recognized as the "Best Supporting Actor in California" for his performances in Animal Farm and Romeo and Juliet. In addition, he earned Cum Laude distinction at Chadwick School and speaks fluent Spanish.
Currently a freshman at Harvard College, Elijah is weighing his options, and has yet to decide on his concentration. However, it's safe to say, whatever direction decides to head in, he will always dream big, set high goals and will forever represent his family, Compton, and his race with the utmost pride.
---
WORKSHOP OVERVIEW

Racial Equity Boot Camp: Building Racial Awareness in Our School Community – Silvia Salazar
Asian-American/Pacific Islander Identity and Invisibility in our Schools – Dr. Drew Ishii
Identity, Race, and Culture: Knowing Yourself and Expressing It to Others (Students Only) – Farzana Nayani
Demystifying the College Application Process: Hint - "Even if you aren't a 12th grader, you're already applying" (Students Only) – Leslie Diane Poston
Might Not Like the Rules of the Jungle But you Better Learn Them to Survive (Students Only) – Walter Larkins
Tools of Empowerment For Students of Color Through Poetry, Music and Principles of Success –
Jerome Vincent Carter
Hard Knocks and Soft Skills: Fostering Empowerment in Girls (and Boys) of Color – Kenya Yarbrough
From Enlightenment to Hope – Dimitria Cook
Our Voices Matter: Empower Female Students of Color within the Independent School Experience (Students Only) – Trina Moore Southall
The Affinity Group Toolkit: Creative Ways to Inspire and Bring Community Awareness at the Elementary Level – BWS PASA
Traditions of Dissonance – Christian Rabin
Find Comfort in Discomfort: Normalizing Race Conversations with Kids – Monique Marshall
Why Can't We All Just...Get Along – Glenetta Pope & Dimitria Cook
No Longer #1: The Elite High School Roots of College Freshman Year Fears, Anxieties, and Survival
– Leslie Posten
Navigating School Change: Creating an Inclusionary Multicultural Community – Tanynya Hekymara
Mental Stressors Unique to Independent School Students – Cynthia Shackelford
---
WANT TO LEARN MORE ABOUT THE ORGANIZATION?
Please visit: www.independentschoolalliance.org