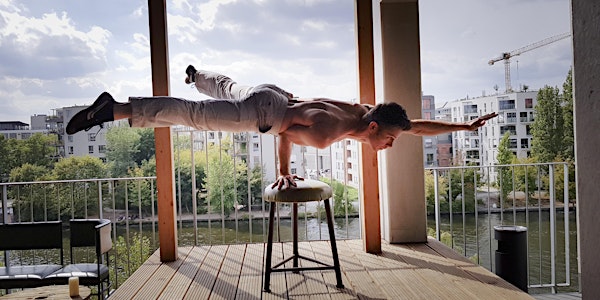 Acrobatic Motion Workshop London
Location
Chisenhale Dance Space
64-84 Chisenhale Road
London
E3 5QZ
United Kingdom
Sales Have Ended
Registrations are closed
Thanks for registering for the Acrobatic Motion Workshop! Please don't forget to print your ticket or bring it on a mobile device.
Cost: 65£ - Early bird (until 15th January) 80£ - Regular
About this event
SPOTS STILL AVAILABLE - REGISTER HERE
In this practice guided by Miro Wallner the participants will experience three dimensions of movement:
Exploration: related to the diversity of movement, involving stimulating the body to explore new possibilities that it has not experienced before.
Resolution: a focus on breaking through the emotional barriers to effective movement progression. This will be achieved by identifying personal fears and building appropriate strategies to understand and trust the body.
Transition: "between states" involves the exploration of empty spaces, of the unknown, the "blind" parts of the movement trajectory.
During the workshop, the participants will practice spins and spirals, and will be encouraged to learn tricks from capoeira, contemporary dance and breakdance.
There will be a focus on improving upside down control in movement, exercise the spinal arch and learn how to use the chain effect. Finally, emphasis will be placed on eccentric and concentric explosive transitions between movements.
About the Teacher:
Miro Wallner is an incredibly passionate teacher of movement and dance. With more than 10 years of movement experience, including 6 years of on stage contemporary dance and years of movement practice with the circus and capoeira, Miro has a huge breadth of knowledge that he is enthusiastic to share with like minded practitioners of movement and dance forms.
Schedule:
DAY 1: 02-Feb 13:00-17:00
DAY 2: 03-Feb 13:00-17:00