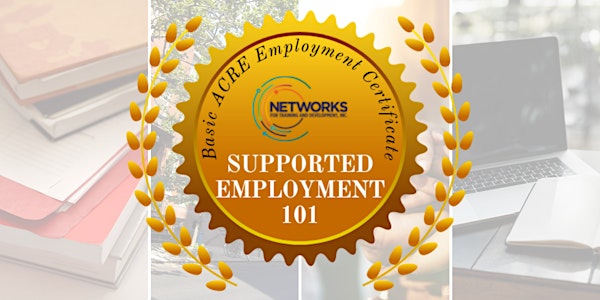 ACRE Certificate Course: Supported Employment 101 (VIRTUAL)
Refund policy
Refunds up to 7 days before event
About this event
Virtual ACRE Certificate Course:
Supported Employment 101
-----
(September - November 2022)
NOTE: This Course will be self-paced over two months
-----
Description:
The work of an Employment Support Professional is so much more than "one job." Many skills are necessary in order to do well and be successful. Job coaches need to be competent in all phases of the employment process, from the assessment or discovery phase all the way through to the fading and follow along phase.
Each requires a variety of expertise and knowledge with a big dose of people skills being of utmost importance as well. The most successful "employment professionals" connect well with people with disabilities, can assess an individual's interests, desires and skills, seek out the best possible job match, support the individual on the job and establish natural supports in such a way that the person can be successful on the job independently or with limited supports.
These are only the primary roles of an employment professional. A variety of other "duties as assigned" are typically required in order for a person with a disability to become successfully employed. A great job coach has the ability to do it all.
Today, we recognize that professionals outside of the Employment Support Professional role are now taking ACRE-endorsed certificate courses. It is our goal to provide all professionals with the basic knowledge and skills, tools and resources that are needed to understand employment supports and to be able to provide a variety of supports, regardless of role.
Networks for Training and Development, Inc. has offered Supported Employment 101 (SE 101) in many formats, for over 25 years. Given the increasing demands of today, it has been difficult for employment professionals to attend time-intensive training.
To meet changing needs, we are now offering our 40-hour ACRE-endorsed curriculum online and self-paced over two months. Core learning will take place through presentation recordings, podcasts, videos, readings and more on the Networks App. Community-based assignments are required (unless restrictions are in place for public safety).
Some assignments may be billable to specific individuals depending on funding and discovery or job development status. Each student is required to attend two, one-hour office hours with other course attendees and instructors, in order to complete the course.
Please note: all learners are expected to keep pace with the lessons in the Course as they are released each week and complete appropriate lesson assignments.
Audience: The course is for new employment professionals who have been on the job under one year or can serve as a comprehensive refresher for others who have a responsibility of finding and supporting employment for individuals with disabilities. It also meets the staff requirements for Employment services in the Pennsylvania ODP Waivers.
Time: All sessions are virtual and self-paced, offered through the Networks App. New modules will be released weekly.
FOR PENNSYLVANIA REGISTRANTS: For those who have been providing employment supports for more than one year, this course can be seen as a refresher and also meets the mandatory Pennsylvania waiver certificate requirement (referencing the July 2017 waiver requirements of community-based staff acquiring either the CESP Certification, or the ACRE Basic Employment Certificate). This course also meets the needs of Program Managers and Program Specialists who must meet the Pennsylvania State requirements. It may meet other state requirements, outside of Pennsylvania, as well. Please check with your funding source.
If you have specific questions regarding the Course, please contact Course Coordinator, Joseph Murphy at joem@networksfortraining.org
-----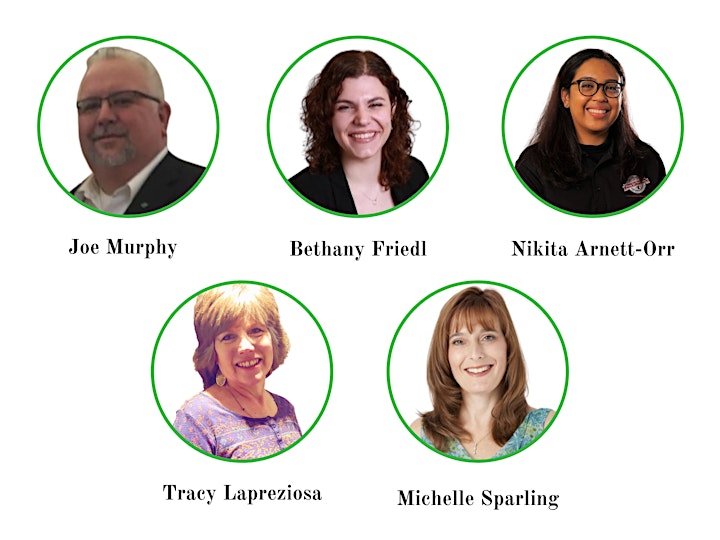 Joe Murphy, CESP first joined the Networks team in 1998 working with the CareerNet program finding employment for folks with significant disabilities. He left for four years to continue working with the CareerNet folks after the program was transferred to another provider. Joe returned to Networks as the Transition and Employment Coordinator where he lends assistance to various people and projects regarding employment, transition services, and Assistive Technology (AT). He is a Certified Employment Support Professional and has been certified as a life coach for business.
Bethany Friedl, MBA, CESP received a Bachelor of Arts degree in Family Life Education from Concordia University, St. Paul and a Master of Business Administration from Iowa State University. She has worked in the field of employment services since 2011 first as an Employment Consultant (Job Coach) and then as an Employment Services Manager, going on to develop training for staff in a variety of areas. She is very passionate about helping individuals with disabilities to be as independent as possible through supports designed to disappear! Bethany first started working with Networks for Training and Development as a consultant but is thrilled to join the company full time in 2022!
Nikita Arnett-Orr is a graduate of Penn State University where she majored in Psychological and Social Sciences with a minor in Sociology. Experienced in various aspects of nonprofit work including research, advocacy and crisis services, Nikita brings her enthusiasm and passion for working with students to Networks as the Transition and Research Liaison. She thoroughly enjoys getting to know students, helping them achieve their transition goals and setting them up for post-high school employment and success!
Tracy Lapreziosa, MA, OTR/L is a graduate of Elizabethtown College with a BS in Occupational Therapy and Kutztown University with an MA in Counseling Psych. She also has a specialty certificate in School based therapy from MCP Hahneman University. Tracy has over 30 years of experience working with children, adolescents and adults with developmental and/or physical disabilities as well as Spectrum disorders in a variety of settings including schools, homes and work environments.
Michelle Sparling, MEd, CESP has worked with Networks for Training and Development, Inc. since 1995. During her time at Networks, Michelle has provided training and consultation to organizations in Philadelphia and beyond. She has expertise in employment training and support, with an emphasis in career planning, customized employment, on-the-job support and organizational development. She has spent her career working with individuals who have disabilities, starting as a job coach providing employment supports. Michelle received her Bachelor of Arts in Psychology from Holy Family University and Master of Education in Adult and Organizational Development from Temple University. She is a founding member and certified coach, speaker and trainer with the John Maxwell Team and is a Certified Employment Support Professional (CESP). She is currently President of ACRE (Association of Community Rehabilitation Educators).

CANCELLATION / REFUND POLICY (effective 8/27/18):
Cancellations made in writing (email) within 7 business days of the scheduled training will receive a full refund of the event cost.
To cancel, please contact the designated contact person for the specific event.
Cancellations made after this window of time are not eligible for a refund, however you can send another person in your place.
Please contact with general questions at 1-610-482-4935 or 1-866-683-3651.
Networks reserves the right to cancel a training session / series. In the unlikely event that your training course is cancelled after you have received your registration confirmation, we will make every effort to reschedule the training session / series and will be in touch with you within 30 days of the cancellation to offer an alternative date to attend. If you are not able to attend the rescheduled date, a full refund will be provided of the event cost.