Description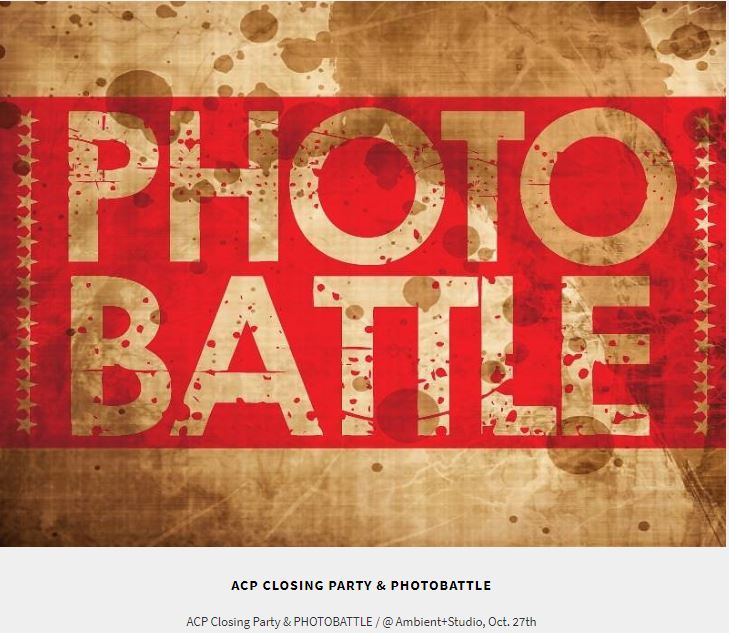 Featuring work by: Catherine Alston, A. D. Clark, Aaron Coury, Jaquan Cummings, Shelby Gordon, Antoinne Duane Jones, Grace Kisa, Paul McPherson, Debra Mosley, Tracy Murrell, Tom Meyer, Marilyn Nieves, Michael Raker, Tony Smart, Demetrius Williams

Stand back for the head-to-head matchups of photographers armed with nothing but their images on a thumb drive, as they angle for your applause. Slideshow vs slideshow. How many rounds will it go? Who will come through as the victor?

Enjoy the memorable match-ups as your favorite local photographers engage in photo-based fisticuffs on a Friday fight-night to remember! Photo battling will be followed by dance-floor ready tunes and incredible food by A Time to Dine.
Seriously, have you ever heard of something so great? See you there!
Reception begins @ 6pm
Photobattle begins @7pm
Dj, Food, Beverages, Dancing, Merriment to follow
Parking available in a secured lot located on Wells St. & Northside Dr.
Announcing the ACP Festival Camera Gear RECYCLING DRIVE!
At this event we will be collecting your old, used camera gear!
●Camera Bodies ●Lenses ●Film Gear ●Bags ●Tripods ●Straps
Dust off your old gear then look for the recycling box at the door when you enter. Everyone who recycles will get a small token of our appreciation!
….and a great big thanks to our partner KEH Camera!