Acoustic Selects @ Culture Coffee wsg ISH

Thursday, June 5, 2014 from 8:00 PM to 9:30 PM (EDT)
Event Details
Acoustic Selects is a Live Music & Sweets Paring Experience at Your Favorite Coffeehouse.
We launch the series with Chicago husband and wife duo, ISH 
Soundscapes provided by DJ Funknatra
Each Patron gets a free sweet with their admission. 
Thursday June 5th 
@
Culture Coffee
709 Kennedy St NW
8:00pm 
$5 Entry w/ Sweet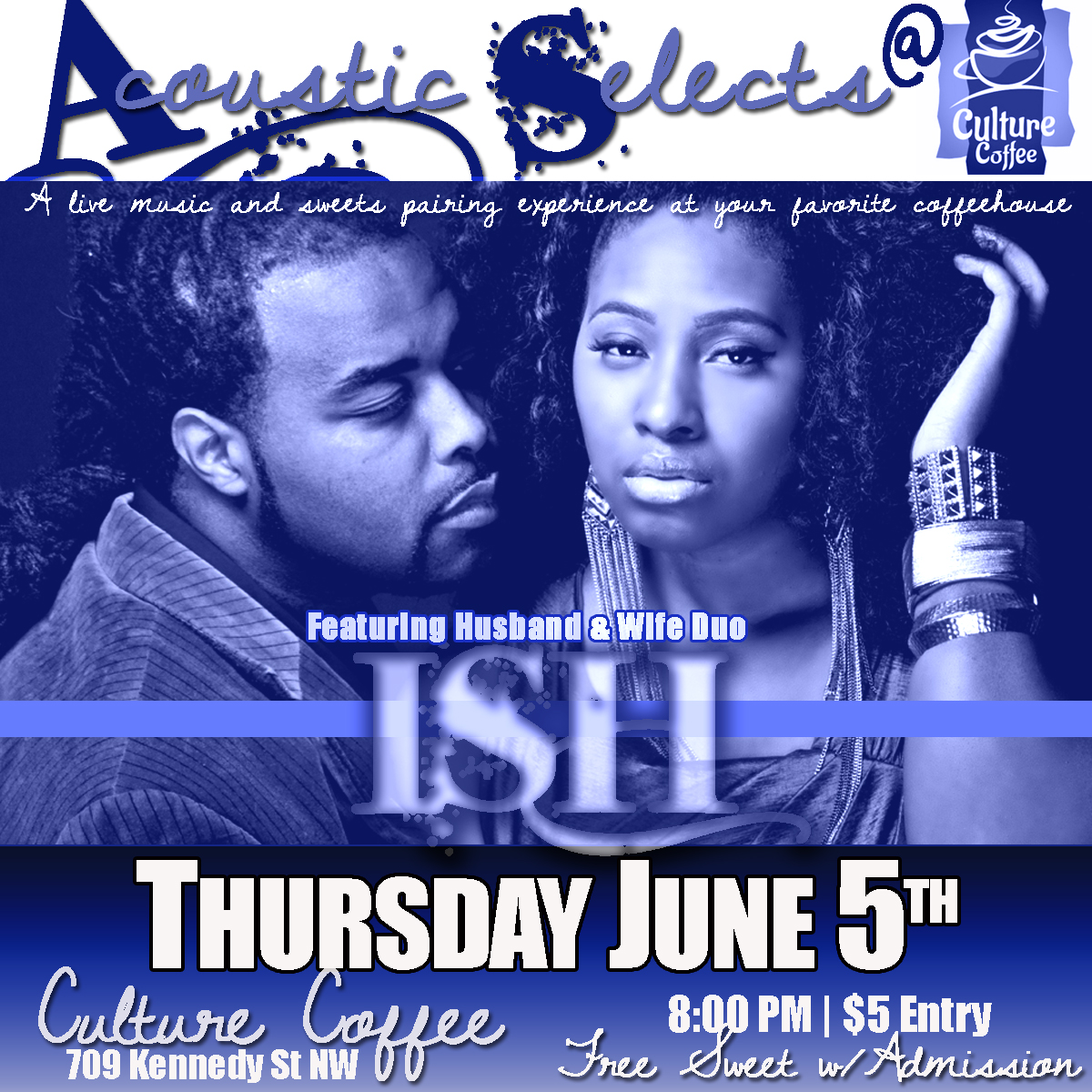 ABOUT ISH 
Individually blessed with talents and divinely placed together, ISH is a match made in heaven. This soulful duo has it all. With their smooth voices, the couple combines vocal acrobatics, beautiful harmonies, and live instrumentation to give their musISHans a first class musical experience. ISH refers to their style of music as "Soul Fusion", because they mesh the R&B, Gospel, and Jazz genres to create their own unique sound. With Soul music racing through their veins, and positive energy seeping through their pores, ISH has been gracing stages and captivating audiences for over six years. ISH has shared the stage with many reputable artists, including Grammy Award winning singer Faith Evans, the national recording ballad group Enchantment, and Independent Soul Sensation Frank McComb. The duo paid tribute in song to Michael Jackson, in a memorial concert held at his childhood home. They also joined forces with the Soul Train Impact in honoring the legendary George Daniels through song for his contributions to the world of music. ISH also sang their way into the hearts of college students, as they performed in concert at Wabash College and Depauw University among others.
ISH has worked hard to make a name for themselves and to emerge on the Soul music scene. The powerhouse couple has performed on the main stage at The Shrine Chicago, and headlined a sold out concert in Indianapolis at The Jazz Kitchen. The duo's single "The Vows" was featured in the film Still Standing, which also features Kindred the Family Soul and "Speech" Thomas of Arrested Development. Currently, "The Vows" is in regular rotation on radio shows based in the US, the UK, France, and Japan. ISH has also been featured on Ebony Magazine's Power 100 ranked Parenting and Relationships site BlackAndMarriedWithKids.com. In 2013, ISH performed a 7-city promotional tour that included cities in the Midwest, East Coast, and the South. The tour was entitled "Pineapple Tour Days", and the couple used the stage to spread their message of love, marriage, and positivity to new markets. Presently, the duo is working to complete their full album and plan another tour for 2014.
Caleb and Andriea possess a deep passion for the musical art form. The couple believes that live instrumentation is what brings music to life. Both vocalists evolved as artists, as they were classically trained through school. Creativity is an essential element in their life together, and they feel the need to continue to challenge themselves musically.
The couple learned that their voices were complementary to one another, when they met and started performing together in 2007. Sparks quickly flew, and the two entered into a relationship with each other and into a love triangle with music. In 2009, they married. Mr. and Mrs. Ishman decided to name their group ISH, a shortened version of their last name, which was also the nickname given to them by friends, co-workers, and students. Caleb and Andriea had positive family structures to teach them the things that are most valuable in life. ISH feels that it is their calling to use their gifts of voice to positively influence and help others.
Born and raised in Indianapolis, Indiana, Andriea Ishman comes from a very large and musical family. She developed her voice through singing in church, performing in the gospel and show choirs in school, and classical vocal training. Andriea's smooth, sultry voice can be traced to many influences: India Arie, Jill Scott, and gospel legends such as Kim Burrell and Daryl Coley. Andriea is also a talented songwriter. She uses her soulful lyrics to delve into matters of the heart and empowerment of women. Her personal goals are to reach a higher level of spiritual awareness, and to continue to live a positive and fulfilling life, as she strives to inspire others to do the same.
Caleb Ishman is ready to share his soul with the rest of the world. Caleb's soulful melodies bring together his life's influences of R&B, Soul, and Gospel music with powerful lyrics of love and experience. Caleb began moving audiences at the tender age of four, when he sang his first solo in the church choir in his hometown of Gary, Indiana. The audience quickly recognized a seasoned voice in a very young body, and Caleb fell in love with becoming an inspiring instrument to others. Growing up, Caleb learned the importance of good character, honesty, and tradition. He hopes to bring these values back to the music of his generation through inspirational, feel-good songs that help people reflect on their own lives and find love and joy within.
When & Where

Culture Coffee
709 Kennedy St NW
Washington, DC 20011


Thursday, June 5, 2014 from 8:00 PM to 9:30 PM (EDT)
Add to my calendar
Organizer
Briggs Enterprises
Voted by CBS, as one of the rising producers of quality live music and events, Briggs Enterprises headed by Delonte' Briggs has been instrumental in developing platforms for independent artists around the nation.  These events are always equipped with great food & drinks, quality live music, mature audiences and the best the city has to offer. 
STAY IN TOUCH 
twitter: @mrbriggsmanager @thebriggsreport
facebook: Delonte Briggs
instagram: @thebriggsreport
Acoustic Selects @ Culture Coffee wsg ISH