Description
Dear Friends,
ONLINE TICKETS SALES HAVE ENDEND. THERE ARE A FEW VIP SEATS AND GENERAL ADMISSION TICKETS REMAINING FOR THE SHOW. TICKET SALES OPEN AT 6:00PM AT THE VENUE - COME ON DOWN!!!
The Armory Arts & Music Center invites you to join us for the 4th Annual AAMC Duluth Dylan Fest Concert celebrating an Acoustic Salute to the Music of Bob Dylan. This year's event will be held on the eve of Mr. Dylan's 74th birthday and a diverse array of local, regional and national artists have decided to pull out all the stops and dig from deep in Dylan's vaults to share some rarely heard treasures with you.
This promises to be an amazing evening of original inspired Dylanesque compostions, along with the classics and some deep tracks for the longtime fans spanning Bob's entire 50 year recording career!
Be sure to grab your friends and loved ones and pick up your tickets online today. This show is destined to sell out!!!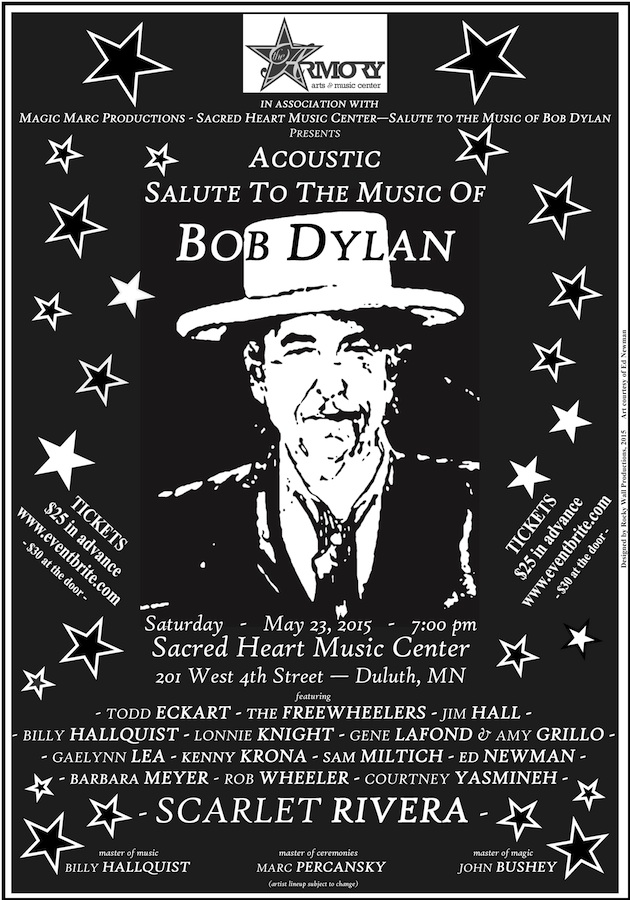 TICKETS $25 IN ADVANCE ONLINE
$30 AT THE DOOR DAY OF SHOW
DOORS OPEN @ 6:00 p.m.
SHOW STARTS 7:00 p.m. SHARP
SPONSORS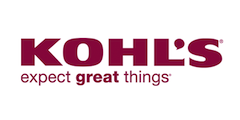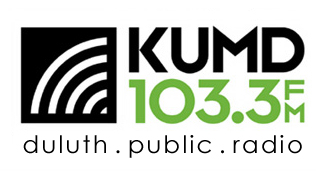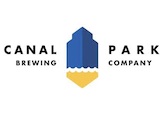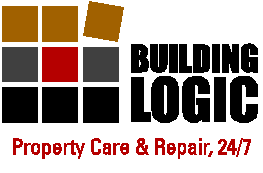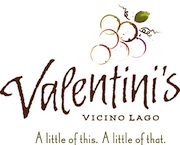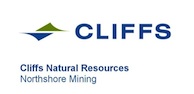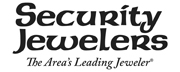 DAVID AAMODT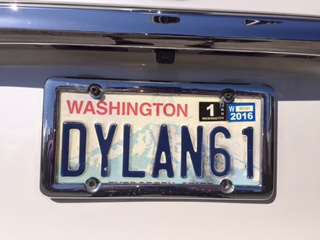 ZANE BAIL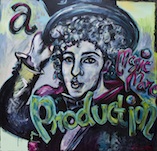 Organizer of Acoustic Salute to the Music of Bob Dylan
The Armory Arts & Music Center is a 501(c)(3) nonprofit organization with a mission "to preserve the Duluth Armory and its historic value to American culture and the arts, while encouraging its reuse, placing emphasis on arts and education."
Our vision is that the Armory Arts and Music Center will be a vibrant mixed use facility housed in the historic Duluth Armory and inspire generations to come through arts and arts education.
The Duluth Armory stands as one of Duluth's most historic and influential buildings. Preserving and restoring the Duluth Armory represents an incredible opportunity for the people and organizations of Duluth to come together in a project that will serve as a model for the country.
The AAMC has a purchase agreement with a development partner for the building and we are seeking to raise funds for our major program areas which include:
AAMC MUSIC RESOURCE CENTER PROGRAM REHEARSAL AND STUDIO SPACE

HISTORIC DRILL HALL STAGE ENTERTAINMENT SPACE

INSPIRATIONAL MUSIC TRIBUTE SPACE

VETERANS TRIBUTE SPACE 
Duluth is a destination point for tourism; the city has great plans to build on this reputation and become known as a destination for the arts in the Midwest.
Supporting the Armory isn't just supporting the past and preserving history, it's the opportunity to embrace Duluth's rich heritage and provide inspiration to many for years to come!
Join with us in sharing a vision for the future.