Acoustic Artist Series: An Evening with Keyboard Artist Bob Malone (Rock/Bl...
Description
BOB MALONE has toured the world as a solo artist for two decades and has played keyboards with rock legend John Fogerty since 2011. Classically trained, with a degree in jazz and a lifetime playing rock & roll clubs, theatres, and arenas, Bob's sound is a one-of-a-kind hybrid of rock, blues, and New Orleans R&B, delivered with high-energy piano virtuosity and a voice all his own.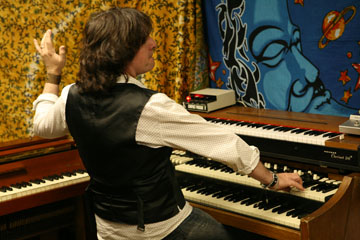 Born and raised in New Jersey, he has lived in New York City, New Orleans and Boston, and is currently based in Los Angeles. As a solo artist, Bob plays around 100 shows a year in the US, UK, Europe and Australia - including sets at Glastonbury Music Festival (UK), Colne Blues Festival (UK), Long Beach Bayou Fest (US), Falcon Ridge Folk Fest (US), Blue Mountains Music Fest (AU), and Narooma Blues Fest (AU). He has been featured twice at WWOZ Piano Night in New Orleans, and has opened for Boz Scaggs, Subdudes, The Neville Brothers, Rev. Al Green, BoDeans, Dr. John, Marcia Ball and many others. As a member of John Fogerty's band, he has played with Bruce Springsteen, Bob Seger, Jackson Browne, Jimmy Buffett, and Alan Toussaint.
Bob's music is heard regularly on Dr. Phil, Entertainment Tonight and The Rachel Ray Show, and he has appeared on The Late Show With David Letterman and The View with John Fogerty. (Bob Malone)
---
"Pulsating, roaring keyboard work that grabs you and shakes you until you cry for mercy." Keyboard Magazine
"This is hard-edged rock 'n' roll with New Orleans flourishes – "Chinese Algebra" is a quirky delight." Offbeat Magazine
"With Malone's latest offering, he has found his mojo delivering a superbly produced blues rock album packed with funk and oozing with soul." National Rock Review
---
Join us for this rare opportunity to see and hear this "Keyboard Wizzard" (The New Yorker))! This program is hosted by the "Eastern Connecticut Center for History, Art, and Performance" (EC-CHAP). Doors 7:00pm / Show 7:30pm. Soft drinks and snacks available. "BYOB&F" - Bring Your Own Beverage & Food (Wine & Beer Only - I.D. Required). You can also bring your paid ticket to Willington Pizza House (or WP Too) for eat-in or take-out the night of the show and receive 15% off your meal purchase. Ask for "The Packing House" special! Click here for secret recipe.
For information and table reservations, please call 518-791-9474.