Description
"Courage & Nursing Leadership"
We are honored to have Rhonda Foster, EdD, MPH, MS, RN, NEA-BC present her new work on courage and how it directly impacts nursing leadership.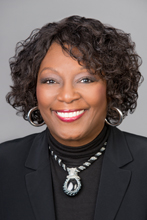 Energetic, visionary, and insightful, Dr. Rhonda Foster is a published and highly sought-after, hospital consultant with a penchant for driving change, quality and organizational improvement. An expert in a variety of healthcare topics, Dr. Foster has been a featured presenter at American Nurses Credentialing Center (ANCC) conferences and seminars and over the course of her esteemed professional career. Dr. Foster's primary strength is her ability to put theory into practice. As a a catalyst and early-adopter, Dr. Foster led the some of the initial implementations of an electronic medical record system and a nurse residency program. Credible and scholarly, Dr. Foster's work can be found in the Journal of Nursing Management, Oncology Nursing Society Publishing and other reputable publications.