ACM's "The E Series" What does it take to be a successful entrepreneur?

Tuesday, November 29, 2016 from 7:00 PM to 9:00 PM (CET)
Event Details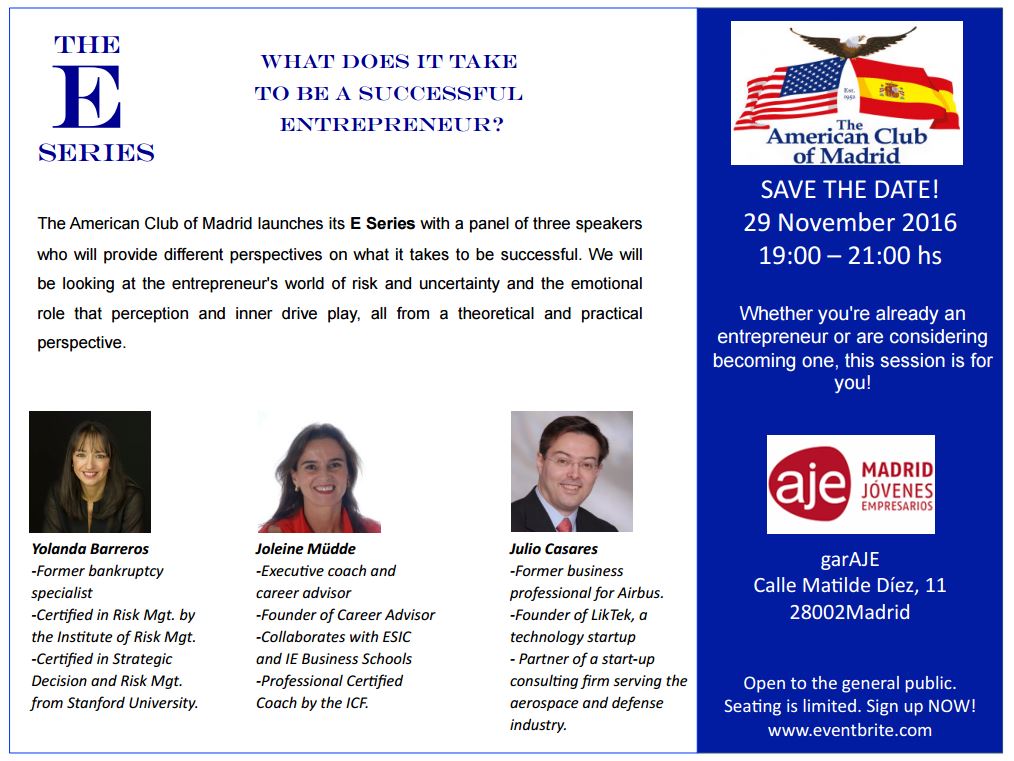 Many of you responded to our Survey Monkey email regarding how we could best create our entrepreneur programming for this year. Resoundingly, it was a sequential series of workshops, each building on the previous session. 
Our presenters in detail:
Yolanda Barreros began her carreer as a bankruptcy specialist for the Bank of America and was responsible for restructuring companies and refinancing commercial debt.  She then joined Ernst & Young Advisory Services and began her consulting career dedicating over 25 years to defining and executing organizational transformation strategies that are supported by financial management and change management initiatives.  Yolanda received a Master in International Political Economy from the University of South Carolina and is Certified in Risk Management by the Institute of Risk Managment as well as being certified in Strategic Decision and Risk Management from Stanford.

Joleine Mudde is an executive coach and career advisor with over 25 years of experience in recruitment, performance evaluations and assessments, career advising and executive coaching.  Her areas of expertise include leadership, transformation, branding and positioning. Joleine founded Career Advisor over 7 years ago but continues to collaborate with several renowned institutions such ESIC and IE Business Schools, advising executives on how to manage their emotions in a successful way. Joleine received a Master in Human Resources from ESIC and is certified as a Professional Certified Coach by the ICF, by world largest international coaching federation.


Julio Casares is a business professional with over 25 years of international experience in major companies including Airbus, Daimler Chrysler Aerospace and EDS.  He recently founded LikTek, a technology startup to analyze and improve movements and technique in sport, health care, games and film industry. He is also a Partner of a management start-up consulting firm specializing in serving the aerospace and defense industry.Julio received and executive MBA from the Kellogg School of Management.
Below is the total program outline and course syllabus. Each month we will meet with the following agenda in mind. We hope you will join us, and continue to give us feedback.
 
INSPIRE
ON MANAGING YOURSELF 
Risk Appetite: Do you have what it takes to be an entrepreneur  Open to Public
Change Management:  key considerations on going from corporate to entrepreneur Open to Public
 
CONNECTIONS
Thought Leader Lecture Series: brings innovation leaders from business, finance, technology, education, and philanthropy, to share their insights. Open to Public
Lessons in Life: The focus of LiL is placed on the guest speaker's life story, rather than his or her company.  Members-Only
Road Trip: takes Members-Only on tours of companies and startups.
 
TOP TEN SERIES
TV: 10 TV Shows Entrepreneurs Can Learn From Open to Public
Books: Top 10 must-read books Open to Public
CREATE
BUSINESS BASICS
Show me the Money:  financial management and raising capital: VC, private equity, crowdfunding and angel investors Open to Public
Marketing for Entrepreneurs: marketing in the social media age Open to Public
Red Tape Series: bureaucratic hurdles, legal issues, fiscal concerns such as advantages and disadvantages of legal company structures (sociedad limitada., sociedad unipersonal etc.) Members-Only
Learning from failures!: "While success is surely sweeter than failure, it seems failure is a far better teacher..." quote from Vinit Desai, assistant professor of management at the University of Colorado Denver Business School. Members-Only
Women´s Entrepreneurship & Leadership:  focuses on the specific challenges and opportunities that women entrepreneurs face. Open to Public
TOP TEN SERIES
People: Top 10 Entrepreneurs in Spain Open to Public
Education: Top 10 in the USA, Europe, Spain Open to Public
Apps: Top 10 apps or IT tools for entrepreneurs Open to Public
 
LAUNCH
PUBLIC FORUM
Expert Q&A:  gives attendance members a chance to ask specific questions and receive constructive feedback on their business plans or concerns from industry experts. Open to Public
Kommunication is Key: get feedback on your  business idea, "elevator speech",  business cards, website and any other communication  tools that you will be using to launch your idea from fellow participants. Members-Only
 
PRIVATE FORUM
Feedback Forum: the feedback forum will give Members-Only the chance to share and critique each other's ideas, prototypes, and business plans.  
When & Where

AJE Madrid
C/ Matilde Díez, 11. 28002 Madrid
28028 Madrid
Spain


Tuesday, November 29, 2016 from 7:00 PM to 9:00 PM (CET)
Add to my calendar
Organizer
American Club of Madrid
The ACM is the "go-to" organization for the International executive living in Madrid. After all, today's professional combines free time with their work, and the American Club of Madrid is the catalyst for important professional and social interactions. The ACM holds events in first class venues, which are open to the general public, private "invitation-only" events and certain "Members Only" exclusive activities. The membership is diverse, consisting of individuals, families and corporations, and is currently comprised of 40% American, 40% Spanish, 10% dual citizens and 10% other nationalities. We hope you will join us!
ACM's "The E Series" What does it take to be a successful entrepreneur?