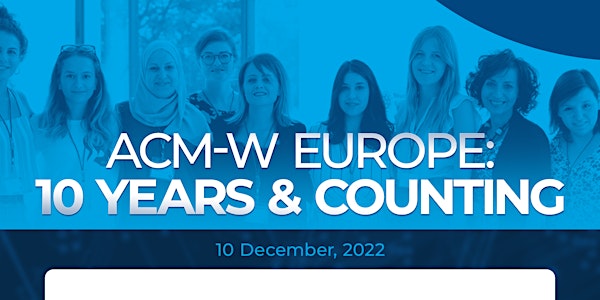 ACM-W Europe: 10 Years and Counting
Join the online session to celebrate the 10th anniversary of ACM-W Europe and hear about the opportunities in Europe and beyond.
About this event
We are excited to announce the ACM-W Europe 10th Anniversary Celebration (https://www.fb.com/events/692880102155546/) to highlight the organization's activities on its mission to support, celebrate, and advocate for the full engagement of women in all aspects of the computing field in Europe and beyond.
15:00 How did it start? (15 minutes)
15:15 How is it going? (30 minutes) womENcourage™: from Manchester (2014) to Trondheim (2023)
15:45 womENcourage™ panel (75 minutes)
17:00 Closing and awarding (15 minutes)
17:15 Film screening (60 minutes) Calculating Ada: The Countess of Computing (with Azerbaijani subtitles)
Register now to receive the link to the live broadcast.
ACM (Association for Computing Machinery) is the world's largest educational and scientific computing society, delivers resources that advance computing as a science and a profession.
ACM-W, as ACM's Council on Women in Computing, supports, celebrates, and advocates internationally for the full engagement of women in all aspects of the computing field.
womENcourage™, initiated by ACM-W Europe, is an ACM Celebration of Women in Computing aimed at connecting women from diverse technical disciplines and encouraging them to pursue their education and profession in computing.