Event Information
Location
Esade
Calle Mateo Inurria 27
metro Duque de Pastrana
28036 Madrid
Spain
Description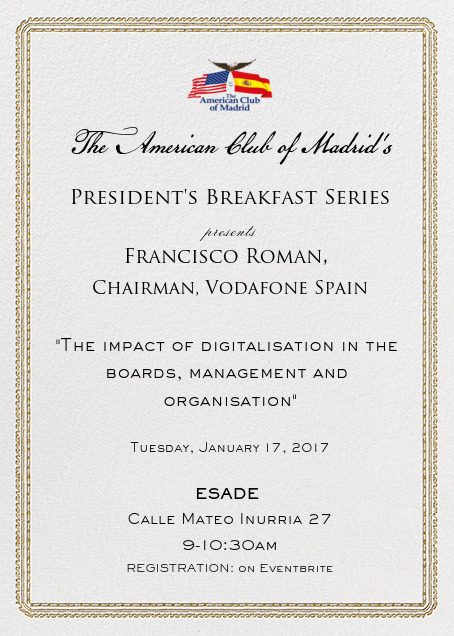 Mr. Román holds a B.Sc in Telecommunications Engineering from Madrid Polytechnic University, and completed Postgraduate Studies at the IESE Business School.

· His professional career began at Sainco (Telvent). In 1983 he joined the subsidiary of the IT multinational Hewlett Packard, where he was appointed Sales Manager after holding several positions. In 1992 he moved to Pacific Telesis, subsequently renamed AirTouch International, as General Manager for Spain and later he was appointed chief technical & operating officer. In 1998 he was appointed Managing Director of Microsoft Ibérica, where he remained until 2002.

· In 2002 he joined Vodafone as Chief Operating Officer. From 2003 to 2012 was Chief Executive Officer and in 2008 he was also appointed Chairman both of Vodafone and the Vodafone Foundation, as well as a member of the Vodafone Group Foundation Board of Trustees (present in 40 countries).

· He is currently Chairman of March JLT, a board member of NH Hoteles, a member of the Professional Council of the ESADE Business School, the Advisory Board of the European University of Madrid, a member of the Círculo de Empresarios, the Sustainability Excellence Club and of various Telecommunications and Information Society associations.

· Furthermore, he is involved in various technology and internet venture capital projects such as Vitamin K. He is Professor of Strategic Management at the IESE Business School.

· He is Chairman of the SERES Foundation, Deputy Chairman of the TECSOS Foundation and a member of different Boards of Trustees such as the Cruz Roja Española, the CASER Foundation or the COTEC Foundation.
Date and Time
Location
Esade
Calle Mateo Inurria 27
metro Duque de Pastrana
28036 Madrid
Spain