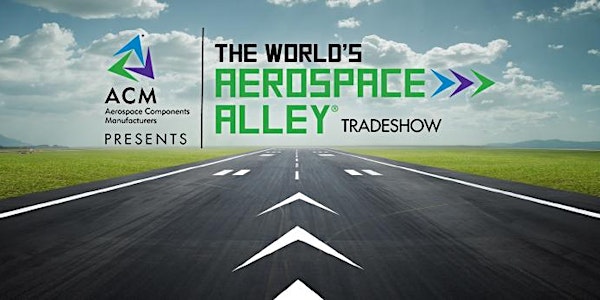 ACM Presents The World's Aerospace Alley!® 2022/Tradeshow
ACM Presents The World's Aerospace Alley!® 2022/Tradeshow
About this event
by ACM Inc. (Aerospace Components Manufacturers, Inc.)
Pre-Registration will become available in September, 2022.
Discover the fastest route to the specialized aerospace components and assemblies you need.
100 top suppliers all in one place, all in one afternoon.
See for yourself why this region is the global hub for aerospace manufacturing — thanks to a highly skilled and productive workforce, a strategic location, a collaborative spirit of innovation and a close-knit network of suppliers committed to unsurpassed quality and on-time deliveries.
Please note this tradeshow is intended for ACM's member-displayers to spend time with THEIR customers.
Organizer of ACM Presents The World's Aerospace Alley!® 2022/Tradeshow
ACM comprises one of the largest, most experienced concentrations of world-class aerospace companies located in The World's Aerospace Alley!®.  Our firms grew up where aerospace was born.  Today, our precision components take to the skies every day, in every corner of the globe, as they have since the inception of powered flight.
ACM formed in 1999 as an association in support of the small to mid-sized suppliers in Connecticut's aerospace industry.  Today, this non-profit corporation also includes firms located in southwestern Massachusetts.  ACM's 115+ member firms sustain over 9,000 employees and generate more than $3 billion in annual sales.  These companies manufacture components to aerospace customer's specifications, provide manufacturing process support services and some firms offer additional value with their engineering product design capability.