ACM Need to Know Seminars: Education in the U.S. ¿cómo acceder ala Univers...
Description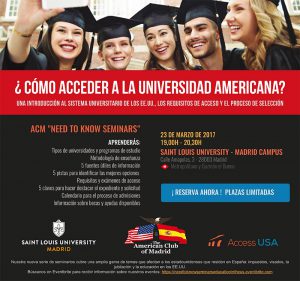 ¿CÓMO ACCEDER A LA UNIVERSIDAD AMERICANA?, el 23 de marzo 2017, a las 19,00h en la Saint Louis University Madrid Campus (calle Amapolas, 3 - 28003 Madrid)
El taller está dirigido a alumnos, sus padres y a la comunidad educativa en general y su objetivo es acercar a los asistentes al sistema universitario americano, y darles una visión general sobre los requisitos de admisión y los criterios de valoración por parte de las universidades.
Ésta es una gran oportunidad para todos aquellos estudiantes y padres que desean explorar la opción de estudios de grado o posgrado en USA.
El espacio es limitado, por lo que los interesados deberán reservar tan pronto como sea posible en: ReservA
¡Esperamos veros allí!