Description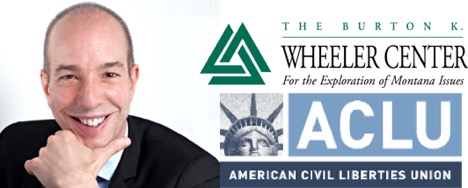 Anthony Romero, Executive Director of the American Civil Liberties Union (ACLU) will speak on Thursday, April 14th, in Reid Hall room 108 on the Montana State University campus.
The lecture, sponsored by the ACLU, ACLU of Monana and the Burton K. Wheeler Center at MSU, is free and open to the public. Space is limited and tickets are free but registration is required through Eventbrite.
Mr. Romero has recently spoken and written about topics including privacy, the future of the Patriot Act, free speech, the legal status of Edward Snowden and campaign finance. He is expected to speak about rights and liberties in Montana.
Mr. Romero took the helm of the ACLU just seven days before the September 11, 2001 attacks. Shortly afterward, the ACLU launched its national "Keep America Safe and Free" campaign to protect basic freedoms during a time of crisis, achieving court victories on the Patriot Act, uncovering thousands of pages of documents detailing the torture and abuse of detainees in U.S. custody, and filing the first successful legal challenge to the Bush administration's illegal NSA spying program. Romero also led the ACLU in establishing the John Adams Project, a joint effort with the National Association of Criminal Defense Lawyers to assist the under-resourced military defense lawyers in the Guantánamo military commissions. Romero has also led the ACLU in its unique legal challenge to the patents held by a private company on the human genes associated with breast and ovarian cancer, in its landmark lawsuit challenging Arizona's anti-immigrant law that invites law enforcement to engage in racial profiling, as well as many other high-profile cases.
The ACLU is our nation's guardian of liberty, working daily in courts, legislatures and communities to defend and preserve the individual rights and liberties that the Constitution and laws of the United States guarantee everyone in this country. Since it's inception 40 years ago, the ACLU of Montana has been working vigilanty on behalf of all Montanans to defend, preserva and advance civil librities.
For nearly 40 years, the Burton K. Wheeler Center has worked to provide high quality opportunities for Montanans to explore and engage in discussions of important policy topics. Previous Wheeler Center lectures have featured Sally Jewell, John Snow, Lynn Cheney, Lawton Childs and Brian Schweitzer.