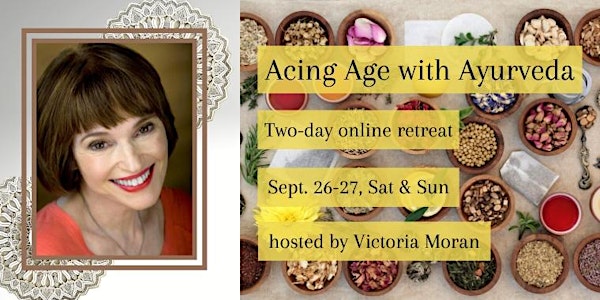 Acing Age with Ayurveda
Learn unique secrets for living well and aging in slow motion from the ancient Indian science of Ayurveda. Event is Sat & Sun 10:30-4pm ET.
Refund Policy
Contact the organizer to request a refund.
Eventbrite's fee is nonrefundable.
About this event
Everyone in the modern world wants to experience the physical health and attractiveness, and the light-hearted spirit of youth, for as long as possible. This desire isn't all that new: the rishis of India who developed Ayurveda, the health and healing system that grew up alongside yoga, addressed it as long as 5,000 years ago. Ayurveda is, in fact, often defined as "the science of long life." As a healing art, it's recognized today by the World Health Organization, and as a self-health tool, we can all use its wisdom to look and feel our best at any age.
This retreat will encompass:
The 4 types of aging and how lifestyle may affect each one
The 3 doshas, a way to customize self-care
How to work with the dosha that most affects the aging process
Yoga practices specific to staying youthful as we grow older
Supportive discussions and experiential practices to imprint positive new habits long after the retreat has passed
There will be two special guest presenters:
Richard Masla, Director Ayurveda Health Retreat in Alachua, Florida studied Ayurveda in India and has been in practice for almost 30 years.
Dr. Sarah Kucera, an Ayurveda practitioner and chiropractic physician in Kansas City, MI. She is the author of The Ayurvedic Self-Care Handbook.
Make no mistake, even though you'll learn a lot, this is a retreat -- time away from your regular life to focus on yourself, establish some new practices for going forward, and connect with a group of like-minded friends to make so we can benefit from the combined wisdom of everyone present. We won't be in the same physical space sharing meals, and yet breakfasts, lunches, and dinners for the two days of the retreat will be suggested, so we'll be putting some of the Ayurvedic teachings into practice even when we're not together on Zoom. A daily routine and additional self-care techniques in which to engage over our weekend together will also be suggested. While certainly not required, engaging in these will add to the retreat immersion experience.
FAQs with class convener Victoria Moran
1. Do I have to know anything about Ayurveda ahead of time?
~ Absolutely not. We'll cover all the beginners' basics. On the other hand, if you're familiar with Ayurveda, you will still benefit from the retreat -- and you won't be bored -- because we'll be intensely focused on "acing age." We'll bring in elements from outside Ayurveda, and when we are Ayurvedically focused, it will be in a very precise way with aging in slow motion as the goal.
2. I'm a vegan and Ayurveda likes dairy.
~ I'm a vegan, too, and this will be a vegan retreat. Dairy products have a long history in Indian culture and they are recommended in standard Ayurvedic texts. However, many contemporary Ayurvedic practitioners understand that there are myriad reasons for avoiding dairy foods, and today there are viable and readily available vegan alternatives for milk, cheese, yogurt, butter and ghee.
3. I wonder if I'm too young or too old for this retreat.
~ Probably not. We're all getting older, so if you're young but want to move in the right direction for your life ahead, you should enjoy the weekend a lot. And there's no upper limit either. If you're older than me -- I'm 70 -- it may be that you don't want to learn about aging well from a young whippersnapper, but these principles are ageless and timeless, and we can explore together ways that we can get closer to ageless and timeless, too.
4. You mention yoga. Will I have to stand on my head or do anything strenuous?
~ Not at all. We will have some periods of gentle yoga and yoga-inspired stretches, most of which can be done in a chair if you don't want to get on the floor. These will not be full yoga classes, just some moves to help us all feel supple and comfortable as we spend the better part of two days together.
5. Is this a class where I'll be asked questions or put on the spot?
~ It is not. This is a retreat, a gift to yourself. You'll get lots of helpful information, some sweet experiences to cherish, and the opportunity (but never the obligation) to share in the class as a whole and in smaller breakout groups.
6. I may be available for only one of the days. Can I get a recording of the other day?
~ If you know you cannot attend both days, we encourage you not to enroll but let us know to put you on the list for the next time this retreat is offered. (You can do this by writing to our registrar, Jamie Gill: media@mainstreetvegan.net.) If you enroll with the intention of attending both days and something comes up at the last minute, you will be able to have access to a recording for your personal use only for 7 days.
7. I think I want to sign up but I have a couple of questions.
~ And we're happy to answer them. Just email Jamie: media@mainstreetvegan.net. Someone will be back in touch within 72 hours.
About the convener
Victoria Moran is the author of 13 books including Main Street Vegan, The Love-Powered Diet, Shelter for the Spirit, Creating a Charmed Life, Living a Charmed Life, and Younger by the Day. She was featured twice on Oprah and was voted "Peta's Sexiest Vegan Over 50" in 2016. Victoria began her study of yoga as a teenager and is about to complete 200 hours of Yoga Teacher Training (hint for staying young: keep learning!). After studying Ayurveda independently for nearly 20 years, she earned the Level 1 certificate from the Ayurveda Health Retreat, Alachua, Florida, in 2017. She is also a certified Holistic Health Coach (HHC, AADP) and holds the T. Colin Campbell/e-Cornell certificate in plant-based nutrition. She hosts the Main Street Vegan podcast and is director of Main Street Vegan Academy, training and certifying Vegan Lifestyle Coaches and Educators (VLCEs).
What colleagues have to say about Victoria:
"Victoria is one of my heroines. Her integrity, determination and beautiful heart have shown us all through the years how to live life with passion, artistry, purpose and accomplishment. The world - I know my world - is so much better and brighter for having her in it." ~ Michael Klaper, MD
"Victoria Moran has been inspiring vegans and potential vegans for decades, with a message that is always fresh, relevant, and beautifully presented." ~ Michael Greger, MD, author How Not to Diet
"One of the most effective speakers in the vegan/animal rights movement, Victoria can hold an audience entranced, make them laugh, and motivate them to take action." ~ John Robbins, author of Diet for a New America and Healthy at 100
"Victoria Moran is an incredibly engaging speaker. Not only that, she's a poster child for a vegan diet. Just look at her: she's practically ageless!" ~ Amie Hamlin, Executive Director, The Coalition for Healthy School Food
Disclaimer: The information provided in this retreat is for educational purposes only. It is not meant as medical information. For advice about illnesses or healthcare, please visit a qualified physician.