Event Information
Location
Richmond Music Hall @ Capital Ale House
623 E Main St
Richmond, VA 23219
About this Event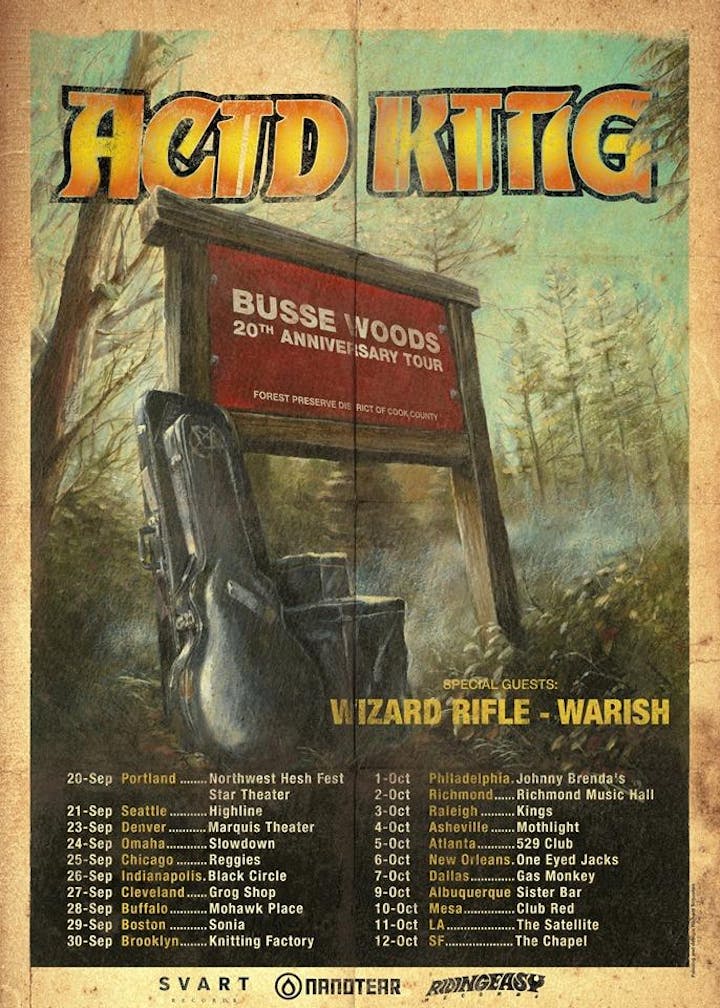 Acid King
Once upon a time, ACID KING's creator, songwriter, guitarist and singer Lori S. hung out with her friends at Busse Woods, a forest preserve outside Chicago where teenagers up to no good hung out with their trunks open, cranking tunes and selling drugs. After the cops caught on this era ended.
Several years and several bands later, some friends recommended a book that would ultimately kindle pounding, wicked riffraffdom . It was called Say You Love Satan - a bizarre, tongue-in-cheek account of a Mansonesque stoner dude named Ricky Kasso who, well.... dropped acid and did fucked-up stuff. He looked pretty fucked-up, too. But anyway... Lori finished the book in half-an-hour and Acid King was born. The name came way before the group came together.
1993 was the year of reckoning. The decision was made to base the still embryonic AK in San Francisco. Bassist Peter Lucas stepped up to the plate first. He read SYLS (a pre-req for joining), had a good laugh, and he and Lori hit it off straightaway. But they needed a drummer to make things official. Obviously. Joey Osbourne read the book and came on board several months later. Suddenly, Acid King was an entity. For real. Alright!
For as loud as their riffs and roars are, Acid King's legacy is as unassuming as it is enduring, casting a quiet shadow over the underground for over two decades.
Bathed in distortion and baptized in a plume of smoke, the Bay Area trio—Lori S. [vocals, guitars], Joey Osborne [drums], and Mark Lamb [bass]—re-emerged with their first offering in a decade, Middle of Nowhere Center of Everywhere. Receiving widespread critical acclaim, tastemakers such as Noisey, Blabbermouth, Invisible Oranges, Ultimate Guitar, and New Noise lauded the album. They embarked on tours of the States and Australia, appearing on festivals including Psycho Las Vegas, Erosion Fest, Desert Generator, and more as well as sharing the stage with everyone from Sleep and Down to Blue Öyster Cult, Red Fang, and YOB. The record extended a celebrated discography that encompasses three EPs and three full-lengths, namely Zoroaster [1995], Busse Woods [1999], and Acid King III [2005], carving out a foundation back in 1993. It's no surprise strains of their style infect modern luminaries such as The Sword and Kylesa, and they've earned a place in tomes like The Encyclopedia of Heavy Metal and the A to Z of Doom, Gothic & Stoner Metal.
Forever etched in the Acid King Necronomicon, Joey and Mark announced they would each begin their own respective new chapters in late 2016.
"When we started this band, it was always just about playing music that we love," exclaims Lori. "Joey and Mark reached a point where they wanted to focus on other aspects of their lives. I wish them the best. It was simply the start of another era."
As the proverbial train kept rolling, Lori invited an old friend to join her on the road for a string of shows in 2017. Black Cobra's Rafa Martinez entered the fold again after assuming bass duties once in 2007. Meanwhile, she tapped the talents of drummer and avowed Acid King fan Bil Bowman of Hornss behind the kit. The new year sees the group primed for Upstream Festival with Dinosaur Jr. and more followed by Maryland Death Fest, Modified Ghost Festival, and Electric Funeral Festival.
"The new lineup sounds killer in practice," she goes on. "We're ready to continue Acid King's story on the road."
As she aims to commence writing in 2017, the future remains bright for the frontwoman. In the end, Lori keeps forging ahead as Acid King's spirit rages on louder than ever before.
"Even though we're doing the same thing we were at the beginning, I feel like it keeps getting better," she leaves off. "It's exciting to see the impact it has on fans. A lot of people will write me and say they had a shitty day, put on our music, and it took them to another place. Many songs are written while I'm riding my motorcycle. I want to transfer that feeling. It's cool to see the reaction."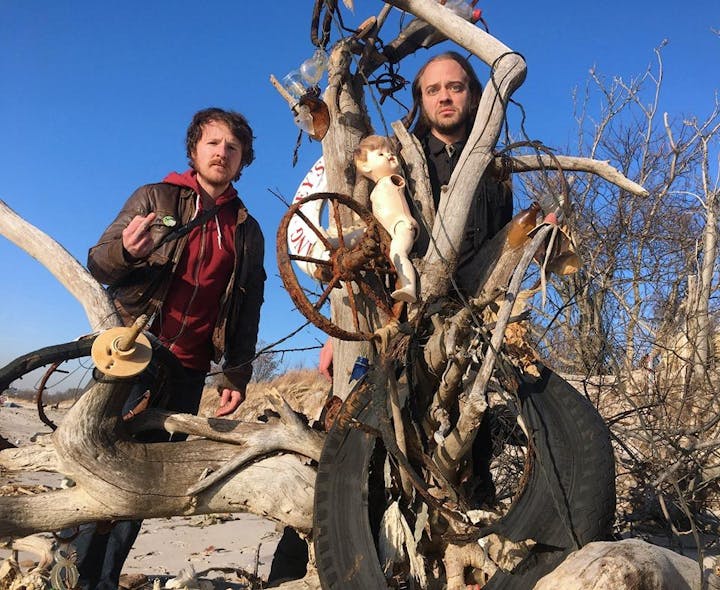 Wizard Rifle
Wizard Rifle formed in Portland, Oregon in 2009. Teaming with Nanotear Booking, guitarist/vocalist Max Dameron and drummer/vocalist Sam Ford have performed extensively across the US and Canada, including appearances at Psycho Las Vegas, Hopscotch, Crucial Fest, MusicFest NW and SXSW, and tours with Bongzila, Buzzov*en, Black Cobra, Church of Misery, Saviors, Arabrot, Cutthroats 9 and NAAM.
Their powerful live shows and two full-length releases, 2014's "Here in the Deadlight" and 2012's "Speak Loud Say Nothing" have drawn great praise and kept critics and audiences on their toes. Wizard Rifle eludes classification and sonic pigeonholes, with an onslaught of sludgy psychedelic noise metal accented by vocal harmonies. On first listen many scoff at the possibility that such a cacophony could be produced by just two band members, but seeing is believing the force that is Wizard Rifle, and skeptics become Kool-aid guzzling disciples before the altar. Are you next?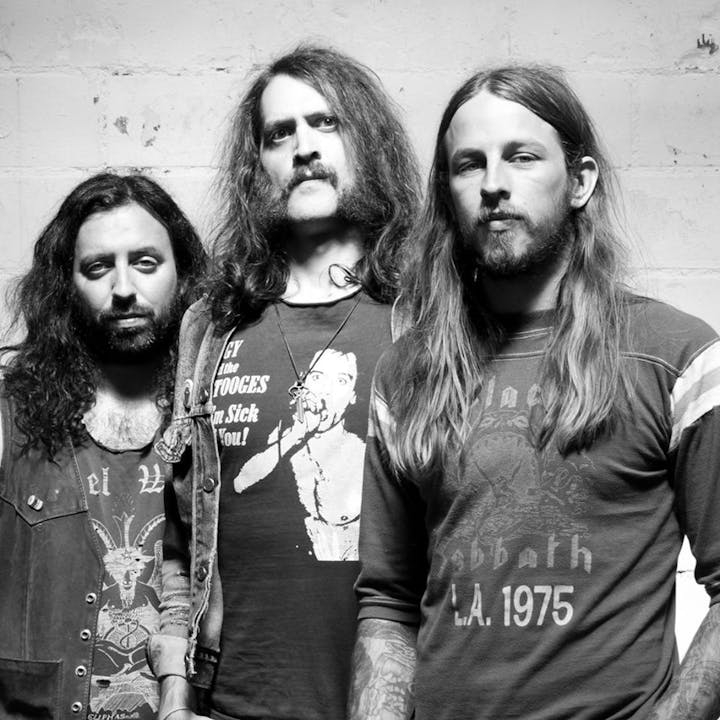 Warish
Imagine if Incesticide era Nirvana were crossed with Static Age era Misfits. You'd have sinister low budget horror rock with a visceral, twisted weirdness
Venue Information:
All shows are standing room only unless otherwise notated.
No Smoking/Vaping permitted anywhere inside venue
Bags/purses will be checked at the door.
Must have ID for entry
All tickets are picked up via will call starting at the time of doors.
Children under 3 years old are Free.
Appropriate clothing required at all times (tops and bottoms covered).
Date and Time
Location
Richmond Music Hall @ Capital Ale House
623 E Main St
Richmond, VA 23219
Refund Policy