Sales Have Ended
Ticket sales have ended
Please note: Registration begins at 11:00 AM
Event Information
Location
Holiday Inn Little Rock-Airport-Conf Ctr
3201 Bankhead Drive
Little Rock, AR 72206
Sales Have Ended
Ticket sales have ended
Please note: Registration begins at 11:00 AM
Description


Are you ready for a medical cannabis career in Arkansas?
Here's what to look forward to at this official ACIA cannabis dispensary training course:
Learn the essential skills to professionally and compassionately consult critically ill patients and anticipate their needs.
Get entered into a job pool available to future cultivation facilities and dispensaries.
Ace your interview and gain knowledge of state rules and regulations.
Learn what to look for when reading a cannabis lab-test result -- such as terpenes, cannabinoids, flavonoids, mold, pesticides, and toxins.
Learn how to limit side effects and common drug interactions.
Award-winning cannabis educator and colon cancer survivor will prepare you for work in the cannabis industry with an accelerated curriculum.
Exclusive inside look at former Raiders running back, Frank Hawkins', owner of Nevada Wellness Center -- the first and largest medical cannabis dispensary in Nevada.
Take an in-depth look at 'strains' and medical cannabis products.
Easy online access to all course materials and videos from the event so that you can refer back to the them as often as you would like and make sure you have a solid grasp of every minute of training.
Exclusive member's only access to the first and largest Arkansas Cannabis Jobs group where you can network with others, share tips, and ask questions from your peers.
Early-bird pricing: $99 (1/26-1/28)
Reserved Seating: $149
This is the official dispensary training of the Arkansas Cannabis Industry Association. Space is limited. You will be provided with a certificate of completion.
If you have any questions, please call us during normal business hours at 501-238-1800
** OFFICIAL AGENDA BELOW **
March 11, 2018 1:00 AM - 5:00 PM
Registration starts at 11:00 AM
Holiday Inn Little Rock Airport
3201 Bankhead Drive Little Rock, AR
11:00 AM - 1:00 PM
Registration and networking
1:00 PM to 1:15 PM
Welcome and introductions by Corey Hunt and Storm Nolan of ACIA
1:15 PM to 1:45 PM
State compliance, tips, and techniques for job seekers with Miles Crawford
1:45 PM to 2:15 PM
How to read and translate a product's analytical lab report to a patient with Kyle Felling PhD
2:15 PM to 2:45 PM
Limiting side effect and interactions with Josh Winningham, Pharm D
2:45 PM to 3:00 PM
Drug interactions and nursing considerations with Kerry Felling RN BSN
3:00 PM to 3:15 PM
Dispensary management basics with Derrick Bryant
3:15 PM to 4:45 PM
A guide to compassionate concise patient consulting & Essential skills for Arkansas dispensary agents with Sara Payan
4:45 PM to 5:00 PM
Cannabis as medicine with Joe Goldstrich, MD, FACC
5:00 PM
Questions & Answers with featured speakers


Learn more about each our guest speakers:
Josh Wininghamm Pharm.D - Arkansas Pharmacist
Josh Winningham, Pharm.D grew up in Searcy, AR, performed his undergraduate studies at the University of Central Arkansas, and obtained his doctorate of Pharmacy from the University of Arkansas for Medical Sciences College of Pharmacy. He has teamed up with an ancillary cannabis company to form PhytoPharm.D, an Arkansas medical cannabis pharmacist consulting company.
Kyle Felling Ph.D. - Arkansas Analytical Lab Director
Kyle Felling Ph.D. is an inorganic/analytical chemist with extensive industrial and academic laboratory experience. He brings expertise in gas chromatography, liquid chromatography, mass spectrometric methods, spectrophotometric, as well as many other chemical/physical analytical techniques. Dr. Felling was a professor at the South Dakota School of Mines (3 years) and at the University of Central Arkansas (5 years) where he ran successful research laboratories in addition to his teaching responsibilities.
Kerry Felling RN BSN - Arkansas Registered Nurse
Kerry is a registered Arkansas nurse with a BSN. Kerry has continued education in cannabinoid therapy and is excited to help patients who choose cannabis as a treatment protocol.
Miles Crawford - Arkansas Staffing Expert
Miles Crawford is the CEO of the family-owned staffing firm Go Ye Employment Services. He earned his Technical Services Certified &/ Certified Staffing Professional designations in the Fall of 2009 from the American Staffing Association. Miles has served as the President of the Staffing Association of Arkansas from 2014 - 2015, and currently serves as the appointed the Chair of the Western Arkansas Workforce Development Board.
Derrick Bryant - Former Dispensary Inventory Manager
As a native Arkansan, Derrick moved to Washington state in 2012 to legally access medical cannabis. During his time in Seattle, Derrick helped manage Diego Pellicer, one of the busiest dispensaries in the state of Washington. Derrick has recently moved back to Arkansas to be with his family and take part in creating a healthy medical cannabis industry in Arkansas.

Sara Payan - Dispensary Director of Education
Sara Payan is the vice-chair of the San Francisco Cannabis State Legalization Task Force, nationally published writer, award-winning cannabis educator specializing in cancer-related therapies and the Director of Education at the Apothecarium. She is a stage-three colon cancer survivor who was introduced to the medical marijuana program during her treatment. Cannabis is what got her through her initial illness, surgery, and chemo.
The desire to bear witness and help others suffering through illness is what moved her to become an educator, advocate, and activist for medical cannabis patients and is what drives her to lead the movement in normalizing cannabis use for health. Her patient experiences and her civil rights background fueled her passion for about creating safe access to cannabis through education and also inspired her to create a compassionate consulting training program for those in the medical cannabis industry and beyond.
Sara has had the honor of speaking and lecturing at such conferences as Patients Out of Time, Women Grow and The Women's Visionary Congress. With over 10,000 hours of hands-on experiential medical cannabis patient research, she has consulted with many large healthcare organizations such as Kaiser and UCSF, to help them better understand the role cannabis can play in their patients' lives and has held continuing education credit classes at accredited schools for healthcare practitioners.
HealthMJ lists Sara as one of "10 people who are leading the movement to inform patients about medical cannabis". Her work has been highlighted in Dope Magazine, Cannabis Now, High Times and Ladybud.
Frank Hawkins - Dispensary Owner
Frank Hawkins is the executive director of two nonprofits, Community Development Center of Nevada and Global Property Management Co. He also owns a general contracting company that he started in 1985 and reopened in 2000. In addition to all this, he is part-owner and executive director of the Nevada Wellness Center, one of the first Las Vegas medical marijuana dispensaries. Frank is a retired super bowl champion who played seven seasons as a running back in the NFL with the Oakland/Los Angeles Raiders, from 1981 to 1987.
Space is limited! Reserve your seat today!
You will receive a certificate of completion from the Arkansas Cannabis Industry Association

For questions please call us 501-238-1800 we're here for you anytime during normal business hours.
Chat with us anytime on Facebook.
Educational materials sponsored by:
PhytoPharmD
F.A.S.T. Laboratories
Ounce Magazine
Produced by: NSH Consulting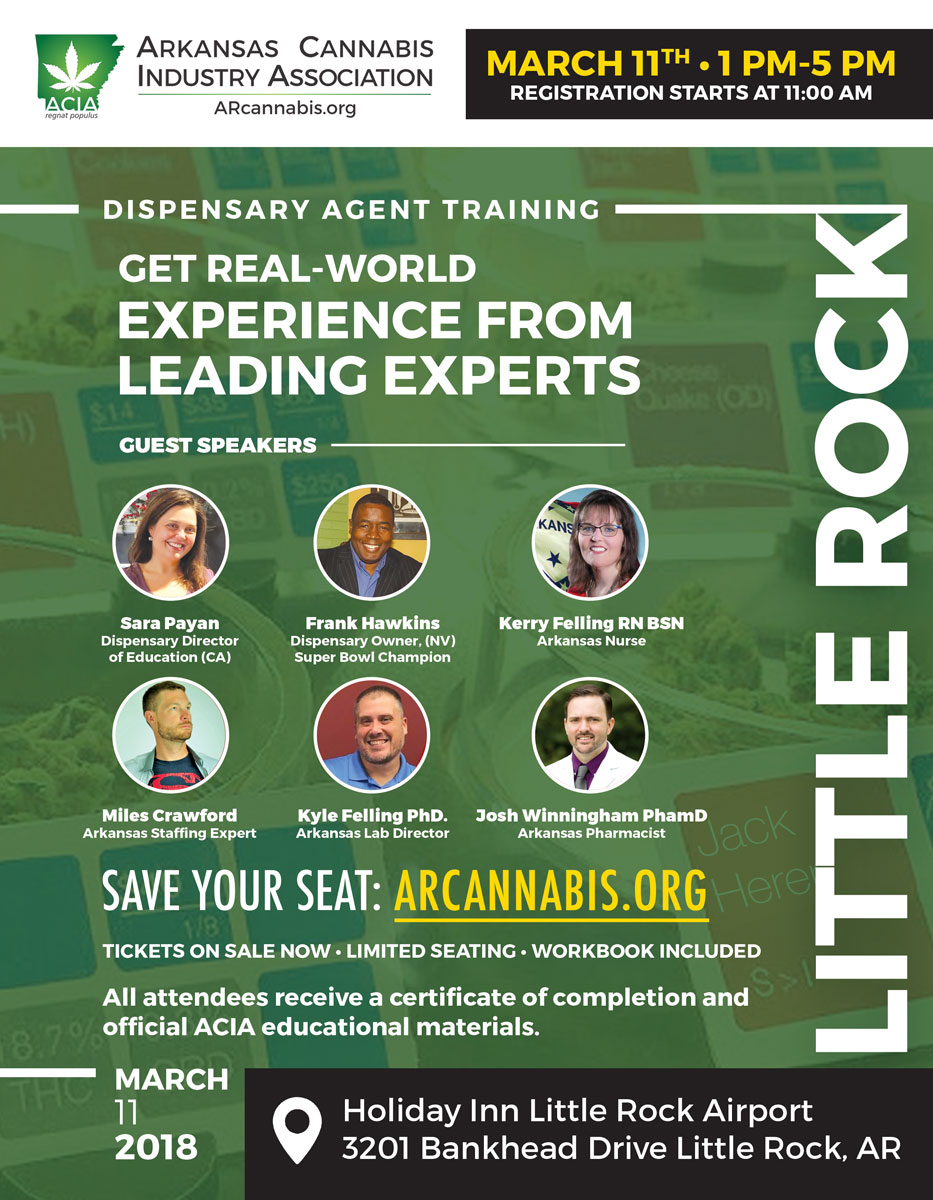 Date and time
Location
Holiday Inn Little Rock-Airport-Conf Ctr
3201 Bankhead Drive
Little Rock, AR 72206
Refund policy