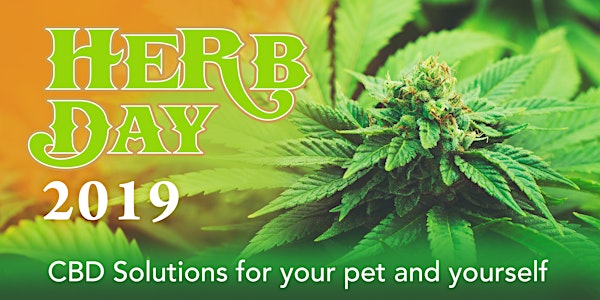 ACHS Herb Day Celebration
When and where
Location
ACHS Campus 5005 Southwest Macadam Avenue Portland, OR 97239
Description
Did you know that the human body as well as the biology of dogs and cats creates its own cannabinoids, known as endocannabanoids? These neurotransmitters bind to cannabinoid receptors, CB-1 and CB-2, which are also made inside the body. At this year's Herb Day Celebration, we delve into the methods and mechanism of how non-psychoactive CBD is used in treatment of many conditions in pets and humans.

We're excited to invite you to this year's Herb Day Celebration. Join us to learn about CBD and essential oils for both humans and dogs. We will be doing a hands on demonstration with the help of our rescue dog "Griffin" from China, learn about the uses of CBDs from a naturopathic doctor and join ACHS Founding President Dorene Petersen for a demonstration of making CBD salves and creams. See you at the event!
Check the full schedule:
9:00 to 9:15 a.m. - Welcome: tea, coffee and light breakfast
--
9:15 to 9:45 a.m. Kate Harmon: Essential Oils CBD Blends for Dogs
Kate Harmon is the Chief Marketing Officer for the American College of Healthcare Sciences and a passionate advocate and rescuer of abused dogs. Kate is currently using essential oils and CBD blends to help save Griffy, a badly neglected breeding dog abandoned to a kill shelter when he was no longer profitable to the owner. Kate will demonstrate how she used essential oils to treat Griffy's full body yeast and ear infection and doggy massage techniques. http://info.achs.edu/blog/aromatherapy-for-rescue-dogs
--
10:00 to 11:00 a.m. Dr. Kris Ritchey ND, MPA-HA: Brief History of CBD, case examples of CBD's used in treatment, international research findings, State vs. Federal Legalities
Long before medical school was a consideration for Dr. Ritchey, her mother was diagnosed with breast cancer. Prior to a lumpectomy she underwent a radical diet change that included eliminating sugar. When it was time for surgery no lump was to be found. This intrigued Dr. Ritchey, prompting an in-depth study on the role of nutrition in maintaining and restoring health. Her clinical focuses include cancer and chronic diseases, pediatric care, hormone therapy, IV and injection therapy. Dr. Ritchey graduated from the National College of Natural Medicine in 2008. She holds a Master's degree in Public Administration: Health Administration as well as a dual undergraduate degrees in biology and health science: health education.
--
11:00 a.m. Break
--
11:15 a.m. to 12:15 p.m. Dorene Petersen, BA, DIP.NT, DIP.ACH,RH (AHG): CBD Emulsification and Infusion Demo:
Dorene will demonstrate how you can make essential oil and CBD infused emulsification cream and herbal infused salves for pain relief for yourself and dogs alike. CBD products are locally sourced and certified organic and all essential oils and herbs are certified organic and pesticide free.
--