Achordial Brio & Guests 6-27-11

Monday, June 27, 2011 from 9:00 PM to 10:30 PM (PDT)
Event Details
10$ online or 15$ at the door...BYOB or the KGB Bar is located on the 2nd floor!!!
Our opening acts this month are: 

MATT STAMM!!!
Matt's previous EP, "Joshua", is dedicated to the memory of his brother, Joshua Stamm. To Joshua's heroic spirit, his determination, his compassionate nature, and to his glowing personality. To the way he lived his 27 short years to the fullest, and to how he somehow managed to leave a lasting impression on just about everyone he met. Since his death on December 15, 2007, family and friends have worked hard to keep Josh's legacy going. The release of this album is my way to do that. All record sale proceeds from "Joshua" will be donated to the A-T Children's Project (the organization researching a cure for Josh's disability – Ataxia Telangiectasia) and The Joshua Stamm Memorial Scholarship Fund (a component of The Community Foundation of Orange and Sullivan).
Achordial Brio: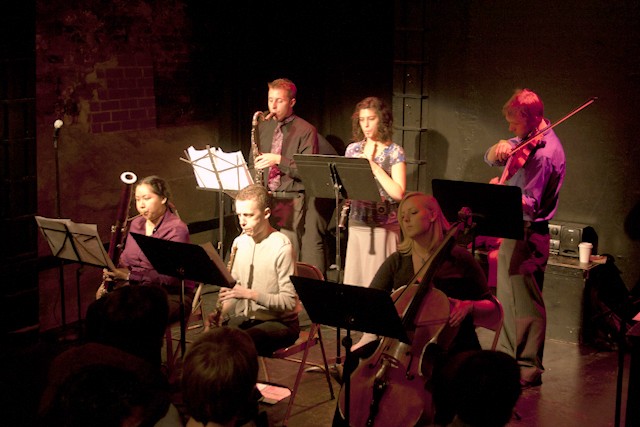 As resident of the The Red Room, Archordial Brio is wowing audiences every last Monday of the month in 2011 with their innovative compositions and energetic performances that combine genres of classical with jazz, pop, indie and rock. Comprised of an oboe, English horn, bassoon, bass clarinet, violin, cello and piano, the seven classically trained musicians formulate an ebullient ensemble capable of representing the full scope of today's musical diversity. 

This is the only time cheering is encouraged during a live classical performance – as this is no ordinary classical performance.
When & Where

The Red Room
85 E4th Street
Top Floor
New York, NY


Monday, June 27, 2011 from 9:00 PM to 10:30 PM (PDT)
Add to my calendar
Organizer
Achordial Brio
www.facebook.com/achordialbrio
Mission Statement:
Founded with the goal of performing live with innovative compositions, styles, and techniques unique from classical music while retaining a foothold in the niche of New York City's classical music realm, Achordial Brio combines the aforementioned ideas with the talents of seven virtuosi. These classically-trained musicians orchestrate their sounds, blending instrumental voices with influences from various genres, divergences in styling techniques, and energetic chord progressions. Voiding the prim feeling classical music can emote, genres of pop, jazz, indie, and even rock influence the composition process. This is done to help redefine the classical instruments' capability in performance of sound, energy, and passion. Achordial Brio formulates an ebullient ensemble capable of representing the full scope of today's musical diversity.

Sounds nice, but what does this mean? 

Achordial Brio is a chamber septet, which aims to destroy the standards and assumptions of what classical music is currently perceived as. We are made up of an oboe, English horn, bassoon, bass clarinet, violin, cello, and piano- playing original pieces we label in the 'classical fusion' genre. We are not your grandmother's chamber group. That's right- the tuxes have been banished to the back of the closet, concert black is forbidden...even the stuffy semi circle structure of chairs is thrown to the wind with us varying standing and sitting in contemporary variations. We encourage cheering and appreciation recognition any time in the performance. That's right- every musician, composer, and conductor's nightmare is an audience who claps at all the wrong places (eg: between movements and quiet transitions of a piece). Not us! We want to know what you like, when you like it! Come see a bassoon playing on top of the piano, and English horn standing at the edge of the stage playing directly into the audience, horn flares on violin and cello...and more!
Achordial Brio & Guests 6-27-11