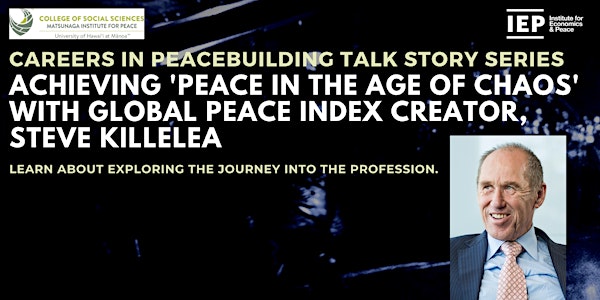 Achieving 'Peace in The Age of Chaos'
CPTSS "Achieving 'Peace in The Age of Chaos' with Global Peace Index creator, Steve Killelea and Dr. Maya Soetoro"
About this event
Careers in Peacebuilding Talk Story Series
"Achieving 'Peace in The Age of Chaos'" with Global Peace Index creator, Steve Killelea and Dr. Maya Soetoro
Learn about exploring the journey into the profession.
The Session
Founder and Executive Chairman of the Institute for Economics and Peace (IEP), Steve Killelea, will share his personal journey to study, understand and measure peace - including how and why he went about creating the Global Peace Index, today the world's leading measure of peace that provides data-driven insights into the state of global peacefulness and its economic value. Steve will also unpack why Positive Peace in combination with Systems Thinking provides an exciting new theory of change to conceptualise how societies function and new approach to building more resilient societies in an age of unprecedented global change, drawing on data and real-world case studies produced by the IEP.
About the Institute for Economics and Peace
The Institute for Economics and Peace aims to create a paradigm shift in the way the world thinks about peace. We do this by developing global and national indices, calculating the economic cost of violence, analysing country level risk and fragility, and understanding Positive Peace.
Our research is used extensively by governments, academic institutions, think tanks, non‑governmental organisations and by intergovernmental institutions such as the OECD, The Commonwealth Secretariat, the World Bank and the United Nations. The Institute is headquartered in Sydney with offices in 6 countries, and our research achieves over 20 billion media impressions across 150 countries each year.
Founded by IT entrepreneur and philanthropist Steve Killelea (see full bio) in 2007, the Institute for Economics and Peace has had a profound impact on traditional thinking on matters of security, defence, terrorism and development over the last 13 years.
About Steve Killelea
Steve Killelea harbours over a decade's worth of award-winning experience, delving into the crucial yet misunderstood concept of global peace. He founded the Institute for Economics and Peace (IEP) in 2007, as an independent not-for-profit global research institute analysing the intertwined relationships between business, peace, and economic development. For his contribution to the global peace movement, Steve has been awarded the Luxembourg Peace Prize, twice been nominated for a Nobel Peace Prize, and has been named one of the 100 most influential people in reducing armed violence by UK group Action on Armed Violence. Steve is also the author of 'Peace in the Age of Chaos: The Best Solution for a Sustainable Future'.
About Dr. Maya Soetoro
Dr. Soetoro serves as a consultant to the Obama Foundation, working closely with their international team to develop programming in the Pacific-Asia region. Prior to her work with the Obama Foundation, she was the Director of the Matsunaga Institute for Peace and Conflict Resolution at the University of Hawaiʻi at Mānoa where, in addition to leading outreach and development initiatives, she also taught Leadership for Social Change, History of Peace Movements, Peace Education, and Conflict Management for Educators.
Learn more about the Institute for Economics and Peace at https://www.economicsandpeace.org/.