Description
ACHIEVE YOUR SUMMER CYCLING PERFORMANCE GOALS
with PHASE IV Training and Nutrition Science
Are you a cyclist that is struggling to lose weight or maintain your stamina and energy?
Whether your Summer goals include a multi-day event or big days of climbing in the local mountains, your approach to training and diet must be anchored in science.
This interactive presentation will teach you the goals of each phase of training and the diet strategies to match those goals and arrive at your optimal cycling weight.
All endurance efforts are limited to your POWER TO BODY WEIGHT RATIO. What is that? We'll tell you and how to optimize it.
It's easy to develop more power and achieve optimum body weight when you use science.
PHASE IV has helped cyclists from beginners to elite athletes achieve their goals with simple-to-follow science-based plans.
In additon to helping you reach your general cycling goals, we also create peraonlized training plans for multi-day tours and events including:
The Tour of California
La Ruta del los Conquistadores
Leadville 100
Breck Epic
King of the Mountain
PRESENTED BY: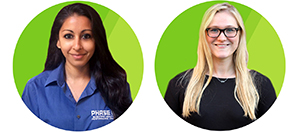 Shelby Stoner, PHASE IV Exercise Physiologist and Tina Paymaster, PHASE IV Functional Nutrition & Health Specialist.