Achieve Your Purpose - Accelerator Program 52 Week Online Program - 2-Day W...
Event Information
Refund Policy
Refunds up to 7 days before event
Description
The Accelerator Program is your gateway to the 52 WEEK ONLINE MENTORING PROGRAM
Work at your own pace with self-directed videos, webinars, behind the scenes, bonuses and freebies so that you can:
COMMERCIALISE YOUR IDEAS AND ACHIEVE YOUR PURPOSE
WHO IS THIS FOR
This High Impact Program is designed for you!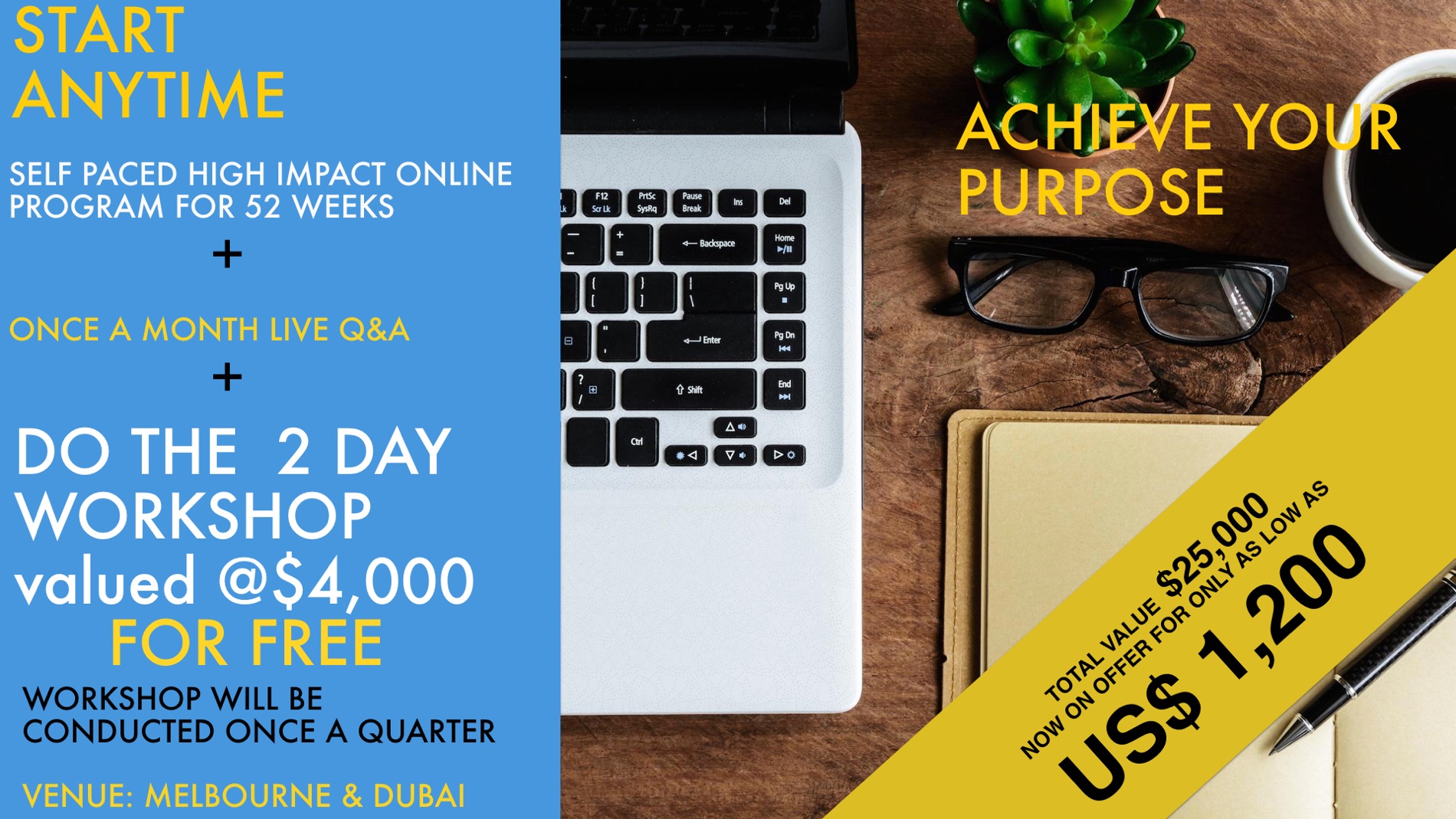 The executive wanting to be an entrepreneur, the manager aspiring to be a CEO, the investor looking for a start-up.
This program is for those of you who are ready to take a risk on yourself and expand your definition of success and employment. This 2-day intensive program will help commercialise your expertise and ideas.
FAST TRACK YOUR CAREER BY BECOMING A LEADER OF CHOICE
Get ready to take a leap of faith and expand your definition of successful employment.
This is the time to make the change!
WHAT YOU WILL LEARN
Do not wait; the time will never be 'just right.' Start where you stand, and work with whatever tools you may have at your command, and better tools will be found as you go along.— George Herbert
How to leverage your ideas and be financially independent

How to master the art of strategic thinking to package your expertise with stunning clarity

How to develop a definitive action plan for each stage of your development

How to communicate your game plan to ensure maximum internal and external traction

How to overcome limiting beliefs and become an aspirational leader worth following

How to position yourself as an authority in the field of your expertise
HOW MUCH TIME WILL IT TAKE
You will need to contribute at least 4 - 6 hours per week working through the program

You will be invited to attend weekly 1 hour webinars

You will be invited to attend a live Q&A webinar once a month to support your program

You will be invited to attend FREE - One 2-day workshop in either Dubai or Melbourne (Valued at $4,000) during your 52-week membership
EVENT DETAILS
Saturday 19 August
8.30am Registration
9 am Session 1
10.15 - 10.45 am Morning Tea (Supplied)
10.45 - 12 pm - Session 2
12 - 1 pm - Lunch (buy your own)
1 - 3.15 pm - Session 3
3.15 - 3.45 - Afternoon Tea (Supplied)
3.45 - 5pm - Session 4
5 pm Finish
Sunday 20 August
8.45 am Arrive and settle in
9 am Session 1
10.15 - 10.45 am Morning Tea (Supplied)
10.45 - 12 pm - Session 2
12 - 1 pm - Lunch (buy your own)
1 - 3.15 pm - Session 3
3.15 - 3.45 - Afternoon Tea (Supplied)
3.45 - 5pm - Session 4
5 pm Finish
WHAT OTHERS ARE SAYING

Prakash has an amazing ability to help individuals gain clarity in their personal strengths and how to commercialise them into reality. After working with Prakash and his team I personally was able to reach targets and levels that I thought was impossible. I do not hesitate in recommending PK through his knowledge, experience and genuine compassion to see his students succeed. - Scott Hill Management - Lead NRL Player Agent
Prakash is vastly experienced in business, who offers his clients a combination of strategic perspectives, mixed with tactical ideas, that are easy to understand and execute for results. Prakash is approachable, knowledgeable, and an expert in business practice. I would recommend his services to any organisations dedicated to achieving improved results. - Michael Henderson - The Corporate Anthropologist Creating High-Performance Culture

PK is a man of integrity and vision. He has a steely determination to help others succeed and is a genuine thought leader in the field of logistics and supply chain. I am honoured to count Prakash as a friend and mentor and recommend him unreservedly. - Mark Hodgson Leadership, Change, Confidence and Influence Expert
Prakash has limitless energy and passion and a very keen sense of business. Whether you are seeking engaging keynotes or coaching and mentoring with private stretch, challenge and support, I recommend PK to you. He is one of those rare people who has deep integrity and capability and stands behind his conviction to you. - John Symons CEO at Associated Retailers Limited
Prakash is a person of rare qualities. Forward thinking and enthusiastic supporter of big idea's, Prakash provided sound counsel on a variety of topics. Never one to dominate the conversation, always eager to hear the opinions of others but also able to conclude his own viewpoint and articulate. Generous, warm-hearted and supportive. - Dave Prince, Co-founder at Ply
If you want to learn from one of the most driven, accomplished, inspirational people - you must meet PK! Each time I partner with him in the global thought leadership community, I am in awe of his brilliance, his drive and his commitment to those around him. PK is a thought leader creating an impact on the planet - I highly recommend him. - Neen James CSP
There are few people I know who can transform and utilise a 30-year journey, results of personal success and professional experience, to then share their expertise and vision with others on the platform of Global Thought Leaders. Book the next session in your diary and commit to the change you want to make. I recommend Prakash as a business partner who will show you the systems that give you those changing results. - Judith Waugh eLearning - Designer and Consultant, Training and Development
I have had the enormous pleasure of working with PK in a number of situations including business mentoring and board advisory. PK is a highly qualified and certified mentor who I would have no hesitation in highly recommending. His business mentoring programs are unique and his mentoring style is positive, results orientated and uplifting. - Kylie Hammond Chairman, CEO, Australia's #1 Board Selector, Entrepreneur, Angel Inventor, CEO Business Mentor, Board Director
Prakash is a well-respected thought leader, in the disciplines of supply chain management and business leadership, and also in his personal drive to empower other people to succeed in their chosen endeavours. - Mark Millar, Keynote Speaker, Professional Moderator, Trusted Advisor, Commissioned Author, Visiting Lecturer.
Prakash is one of the most exciting and interesting people I have ever met in the business. He's obviously an incredibly accomplished professional but he's also a man of action, who uses his impeccable judgement and vision to back entrepreneurs and businesses with his capital and support at the outset. - Simon Ward, Managing Director, Tauro Capital Partners & Co. Founder and Director at Imediafy Pty Ltd
ABOUT YOUR FACILITATOR
Dr Prakash Menon has successfully transitioned from a high-profile corporate career to an entrepreneur, with his business headquartered in Dubai, he is now expanding into more than 24 countries with a very niche offering.
This is Prakash's first event in his hometown, Melbourne, Australia and he is looking forward to meeting everyone on the 13th of July 2017 where he will share all his learnings, the Do's and Don'ts, the secrets that no business school will teach you to help you TRANSFORM YOUR LIFE.
AS FEATURED IN

Date and Time
Location
Refund Policy
Refunds up to 7 days before event