Achieve your dream of optimal health in 90 days!

Saturday, November 8, 2014 from 9:00 AM to 5:00 PM (PST)
Event Details
Is your health important to you? Most people would say so. Yet, most people are not experiencing what we define as OPTIMUM HEALTH.

You might be "sick-free" but are any of these states present in your life?
1. Stress & worry
2. Heartsick
3. Unfulfilment
4. Body Aches
5. Lack of Motivation & Drive
6. Desire to look Fitter and Healthier
7. Unable to sleep well 

Get answers now @ our OPTIMUM HEALTH seminar!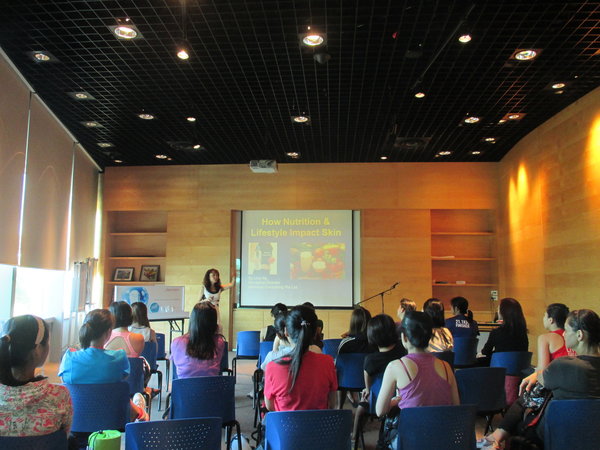 Throughout this 1 day event, our 4 health experts will be sharing COMPREHENSIVE and RESEARCH-BACKED modules to help you achieve OPTIMUM HEALTH!

Modules include: 
Micro-nutrients: the science of eating well!
Anti-ageing secrets: look younger and healthier!
Strategies to lose weight Fast and Effectively!
Simple Chiropractic techniques to aid recovery and relieve pain! 
Relaxation techniques for better sleep and stress relief!

Increasing your IQ levels and improving your memory through foods.

Reducing risk of heart disease and cancer!

How to experience Greater Happiness!

Healing Power of Love & Belief: life's most powerful healer.

Holistic connection of

body, mind and soul

to achieve OPTIMUM HEALTH! 
 
In essence, you'll be guided to achieve the HIGHEST level of functioning and BALANCE of the PHYSICAL, ENVIRONMENTAL, MENTAL, EMOTIONAL, SOCIAL AND SPIRITUAL aspects of human experience, resulting in a dynamic state of being FULLY ALIVE. 

So come join us for this Mind-blowing and Life-changing event. Learn how to achieve OPTIMUM HEALTH in 90 days because you deserve it! 
For more details, view our video at http://youtu.be/Qd752JdmrcE or contact us at 91935830 now.
When & Where

Holiday Inn Singapore Orchard City Centre, Maharajah Suite , Basement 1
11 Cavenagh Rd
Singapore, 229616
Singapore

Saturday, November 8, 2014 from 9:00 AM to 5:00 PM (PST)
Add to my calendar
Organizer
Speaker's Profile:
Lisa Ng, Holistic Health Coach 
Lisa has been practising as a holistic health coach for more than 13 years in Australia, Malaysia, Philippines and now in Singapore. She has worked extensively with medical professionals that specialise in nutritional medicine in order to aid their patients' health to reach optimal levels. She has conducted many holistic health trainings at many corporations and organisations which include Fitness First Australia, Astro Malaysia, Tan Tock Seng Hospital and Shiseido. She is most passionate to help individuals reach their fullest potential in life. She was recently voted to be a finalist for the International Women's Federation of Commerce & Industry(Singapore) Xtraordinary Women 2014.
Jacky Lim, Best selling Author & NLP Coach 
Jacky is a world recognized NLP & Life coach who enable people to achieve their life potential and experience continual breakthroughs in life. His articles have been frequently featured in The Straits Times and he has been interviewed twice on 93.8FM. He has worked with thousands of individuals to enable them to live life to the fullest. Some of the many companies he has coached at include Housing Developement Board, Samsung Siltronic, NHST Media group and UPS. He was conferred the "Business Luminary of 2013 Promising SME 500" award. 
Sarah Sinaram, Accredited Practising Dietitian
Sarah is an accredited practising dietician trained extensively in Australia and USA. She has vast experience in clinical and community nutrition as she has planned and implemented outstanding nutrition and weight management programmes. She has coached patients at Raffles Medical Group and worked with top excecutives from various corporations which include Far East group, Integrated Care Singapore, NHGP and GNC. She is most highly sought after for her advanced methods of training in holistic health and has been interviewed by the media for this.
Dr Derek MacBay, Chiropractor
Dr Derek hails originally from Santa Barbara, California. He graduated with the highest honors in USA. He served as Vice President of the World Chiropractic Alliance-Singapore for 2010-2011. He is an active member of the Alliance of Chiropractic-Singapore and The International Chiropratic Paediatrician Association. Participating in competitive sports his entire life, he understands the tremendous benefits of holistic healthcare to improve performance in life. He has spoken around the world and some of the many companies include Standard Chartered, DHL, Estee Lauder, NUH, FEDEX, Ikea, Cisco, Amara Hotels, Reader's Digest , PAP, Panasonic and Changi Airport.