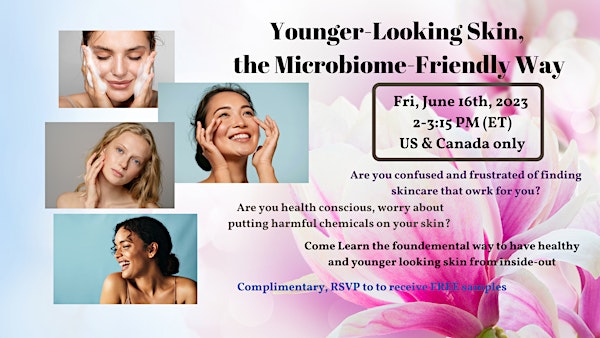 Achieve Younger -Looking Skin, the Microbiome Friendly Way!
A fun night to learn about the healthy and ultimate way to have beautiful, younger-looking skin and with FREE samples!
By Frieda Y Lin, beautiful skin for life by Frieda
Date and time
Friday, June 16 · 11am - 12:15pm PDT
About this event
1 hour 15 minutes

Mobile eTicket
Are You Happy with How Your Skin Looks?
Does your skin look healthy?
Do you want clear, soft, radiant, and younger-looking skin?
Do you have a skincare regimen that's simple, easy to follow, and delivers results?
Do you know what to look for when shopping for your skincare products?
Do you want skincare products that are clean, safe, and good for your body's overall health?
Join this workshop to have it all answered!
You will gain knowledge about establishing healthy habits that benefit your health and achieve that most beautiful skin you so deserve!
And, you will see that radiant, glowing skin after experiencing the Free Samples!
RSVP now to reserve your spot.
Important!
Please add frieda@beautifulskinforlifebyfrieda.com to your contacts list. Instructions on how to receive the Free Samples will be emailed to you.
You will learn the following:
What is Microbiome? How does it affect the skin's health and overall well-being?
Why the " Clean" formula and "Microbiome friendly" formula?
How Anti-Aging ingredients work?
How does TruAura's skincare regimen work?
Then, You will experience the 7-piece skincare samples for your daily skin regimen, your hands, and at last, a lip color of your choice!
See Your Skin Transformed!
If you are health conscious and want clean, safe, and effective anti-aging skincare for your skin, come join this workshop to find out!
Presented by:
Frieda Y Lin
Frieda is a Health and Beauty Skincare consultant specializing in microbiome-friendly skincare. She educates and inspires people to engage in healthy skin regimens and habits to achieve beautiful and healthy skin.
She has worked in both nutrition and skincare for over 25 years. She loves anything related to health and wellness and is thrilled that what she is teaching combines science and beauty!
She believes that the fundamental way to have healthy and beautiful skin starts with a healthy microbiome, a lifelong journey to partake in. Then, with a skin formula that is not only clean but also promotes the health of your skin microbiome and with added pre & probiotics and high-quality anti-aging ingredients, you are on your way to having beautiful skin for life!
Frieda represents TruAura, a Microbiome-friendly, Probiotics based, Anti-aging skincare line. The products are made with safe, healthy, clinically proven, high-quality ingredients that protect our unique skin microbiome (skin flora) and nourish our skin, much in the same way that a healthy diet nourishes our body.
friedalin.truaurabeauty.com
https://www.linkedin.com/in/friedalin/
About the organizer
Frieda Lin, a skin care, spa and cosmetics specialist for 24 years, representing TruAura, a cutting edge, Microbiome friendly, probiotic based skin care line!