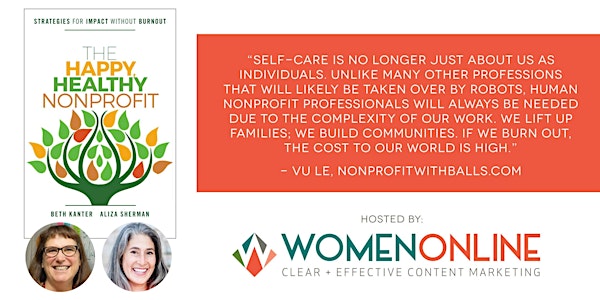 Achieve Nonprofit Impact Without Burnout!
Location
PRX Podcast Garage
267 Western Avenue
Allston, MA 02134
Description
Women Online invites you to a special evening with authors Beth Kanter and Aliza Sherman for a conversation about self-care in the nonprofit sector. They will be discussing their new book, The Happy Healthy Nonprofit: Strategies for Impact Without Burnout, and will provide concrete tips for individual self-care to help nonprofit professionals and social change activists to embrace a Happy Healthy work/life to reduce burnout and increase productivity for greater impact.
Wine and light snacks will be provided. Space is limited! RSVP by February 1. Questions? Email morra@wearewomenonline.com
BETH KANTER (@kanter) was named one of the most influential women in technology by Fast Company and is the award-winning author of The Networked Nonprofit books. She is an internationally acclaimed master trainer and speaker.
ALIZA SHERMAN (@alizasherman) is a web and social media pioneer; founder of Cybergrrl, Inc., the first women-owned, full-service Internet company; and Webgrrls International, the first Internet networking organization for women. She is a motivational keynote speaker and the author of ten books, including Social Media Engagement for Dummies.