Sales Have Ended
Ticket sales have ended
Thank you for joining us for this virtual cruise experience. Go to your confirmation email for more instructions. You will receive additional emails prior to the event. Get your boarding pass ready and lets take ACHI on the Seas!
ACHI WSWA 5th Annual Conference held on May 1-2, 2021 beginning 9am.
About this event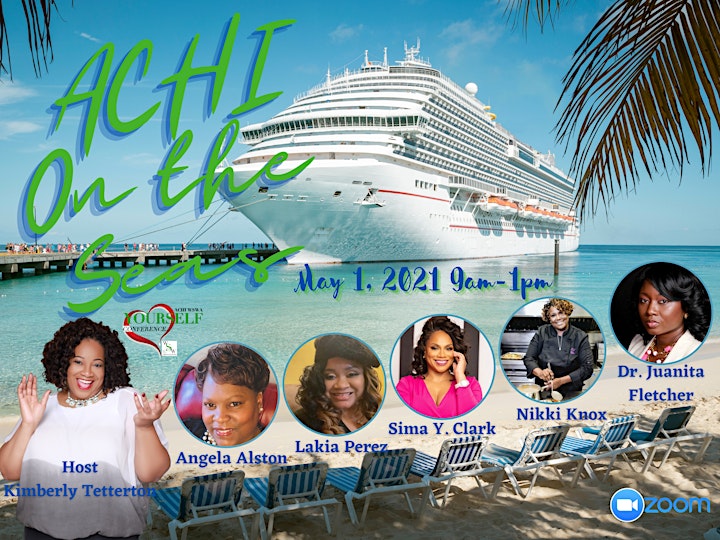 Due to the COVID-19 pandemic, ACHI Women Supporting Women Inc. (ACHI WSWA) have decided to hold our 5th Annual ACHI WSWA Love Yourself Conference virtually this year. The theme for our 2021 conference is "ACHI on the Seas". We plan to give our ladies a full virtual cruise ship experience on Saturday, May 1, 2021. Sunday at 10am we all plan to attend virtual church service, where our ACHI Sister, Pastor Kimberley Basnight, is the pastor of Thriving Faith Church in Durham, NC.
ACHI WSWA usually host a fashion show on Friday Night. Our annual conference would also include seminars, workshops and discussions on Saturday morning and keynote speaker with lunch. And a formal Gala on Saturday Night. For 2021 Annual Conference, with going along with our "ACHI On the Seas" theme, we will give our ladies an interactive and fun virtual cruise experience since we have been quarantined and have not been able to travel. As women, we have added even more responsibilities and experienced major interruptions within our lives with assisting children with virtual learning, working from home, and more. We will create a time where ladies can take a break and love themselves. Have some cocktails, sing along with karaoke, inspirational and motivational session, good food, fellowship, laughs, and most of all Sisterhood.
On Saturday morning, May 1, 2021 from 9am-1pm, we plan to have a full agenda of activities planned from different "destinations". Your virtual cruise experience will include LIVE presentation from Mixologist, Angela Alston. A Karaoke experience like no other led by Christian LIFE Radio host, Lakia Perez. We will be motivated and inspired by our keynote speaker, Sima Ytina Clark. Following with a LIVE presentation from personal Chef Nikki Knox of XtraSugar Cooking in the Kitchen. Our founder and visionary Dr. Juanita Fletcher will close out our conference with her words of wisdom, introducing new members, announcing organization promotions and more.
This event is FREE for all current active members of ACHI Women Supporting Women Inc. A $10 registration fee is required for all public and non-members. You must register to attend. Open to all women. Feel free to invite your household to participate along with you or you can experience your virtual cruise alone.
Please join us in wearing your cruise attire for our Zoom experience. Loungewear, Bathing Suit with Cover, Beach hats, Flip Flops, Sunshades and more.