ACHE Western Florida Chapter Education & Dinner - April 29, 2014

Tuesday, April 29, 2014 at 5:30 PM (EDT)
Event Details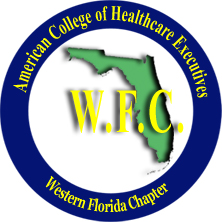 The Western Florida Chapter of
American College Healthcare Executives
An independent, officially designated healthcare executive group of ACHE for Western Florida
Please join us for a special evening of dining, networking, and professional  development program, hosted by WFC-ACHE.
Event:             ACHE WFC Education and Dinner Event
Title:                Implementing Strategic Plans for Successful Operations
When:             Tuesday, April 29, 2014 
Time:               5:30pm - 6:30pm (Registration, Networking & Dinner)
                         6:30pm - 8:00pm (Panel Program)     
                         HCA West Florida Division Office         
                         3031 N. Rocky Point Drive, West, Suite 400
                         Tampa, FL  33607
Parking:
HCA West Florida Division Office is located 10 minutes from the Tampa International Airport in Tampa, Florida.  The conference room is located in Suite 400 on the fourth floor of the Harborview Building. Free visitor parking and handicapped parking is available in front of the building or in the parking garage to the right of the building.
Program:
Once the strategic plan is developed, the work is only half done. Without effective implementation, a strategic plan may be no more than a fancy binder on a shelf. Leaders face many challenges in getting organization-wide buy-in of the goals and plan and in setting up a system of accountability to ensure that the strategic plan is followed. This program will review common situations and concerns addressed by the panelists when implementing their strategic plans. The program will conclude with a question-and-answer period.
---
Sharon L. Roush                                    CEO, South Bay Hospital                                   Sharon Roush brings to South Bay 20+ years of healthcare leadership focused on providing the most current technology and high quality healthcare while maintaining a caring and professional relationship with patients and their families. As a reflection of that commitment, South Bay Hospital has received The Joint Commission's Top Performers on Key Quality Measures™ Award for three consecutive years. Under her leadership, South Bay has also achieved disease specific certification in Stroke, Chest Pain, Heart Failure and Total Hip and Knee Replacement.
Ms. Roush currently serves on the Board of the Riverview Chamber of Commerce and actively supports the American Heart Association and American Cancer Society. In the spring of 2002, she was awarded the ACHE Regents Award for the Early Career "Up and Comer". In 2007, she received the Women of Distinction Award by the Girl Scouts of America.
Panelists:
Cheryl Eagan, FACHE     Senior VP Support Services, Tampa General Hospital
Cheryl Eagan has over 20 years of healthcare management experience and has proven success in delivering cost effective services. She has been with Tampa General Hospital for seven years as the Senior Vice President of Support Services. Ms. Eagan has also held leadership positions at two major healthcare systems; William Beaumont Hospital in Michigan and Atlantic Health System in New Jersey.  
Michael H. Kreitzer            President, Michael H. Kreitzer & Associates               For over 30 years, Michael. Kreitzer has focused on strategic information systems issues, interim IS management, directing large system implementations, Regional Health Information Organizations(HIEs/RHIOs), EMR selection and implementations, ARRA/HITECH readiness assessments and actualizations, and large workflow re-design projects.
In 2000, he founded his firm, Michael H. Kreitzer & Associates, Ltd., which focuses on the full range of healthcare information management and process re-design challenges of today's large providers. Recent consulting assignments include: interim CIO; interim RHIO program director; information systems strategic and tactical planning, information systems selection; system vendor contract negotiations; I/S department re-organization; I/S cost allocation analysis; I/S best practices; process re-design; system implementation management, and meaningful use assessment and guidance.
David Verinder                        COO, Sarasota Memorial Healthcare System
David Verinder joined Sarasota Memorial in 2006 as Chief Financial Officer. In July, 2010, he was named Sarasota Memorial's Chief Operating Officer. He oversees the health system's Ambulatory Services, Radiology Department, Laboratory Services, Supply Chain Management, Biomedical Engineering, Hospitality Services, First Physicians Group's Operations and the Physician Hospital Organization. He also is responsible for the organization's architecture and construction projects, group purchasing and distribution company (Leesar) and several additional joint ventures.                                               
 This program has been developed and is presented locally by the Western Florida Chapter of ACHE.  The American College of Healthcare Executives has approved 1.5 Face-to-Face  (formerly Category 1) credit hours for this program.
When & Where

HCA West Florida Division Office
3031 N. Rocky Point Drive, West
Suite 400
Tampa, FL 33607


Tuesday, April 29, 2014 at 5:30 PM (EDT)
Add to my calendar
Organizer
ACHE- WFC (Western Florida Chapter)
ACHE Western Florida Chapter Education & Dinner - April 29, 2014