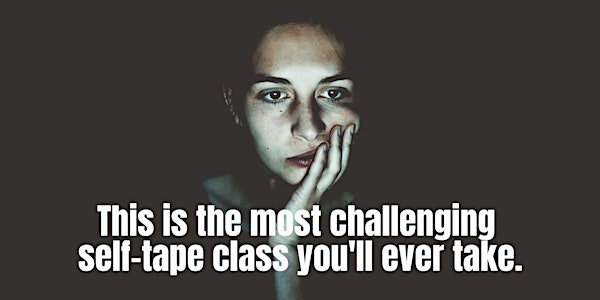 ACE YOUR SELF-TAPE: THE "OH SH*T" CLASS
Join Erica S. Bream for this special ACE YOUR SELF-TAPE CLASS, focused on weird, confusing, and wildly challenging audition experiences.
Refund Policy
Contact the organizer to request a refund.
Eventbrite's fee is nonrefundable.
About this event
You've experienced this before. You open your audition sides and see a scene with:
heavy kissing
a chase, car wreck and gun battle
two lines amidst TWO FULL PAGES of stage direction
an endless torture sequence (aka warn-the-neighbors-so-they-don't-call-the-cops-on-you scene)
10 pages and a five-hour turnaround time
a note that your character is drunk AND high...
These are the auditions where you look at them and your first reaction is:
"Oh, sh*t."
This four-week class will take actors through some of the major "what the heck am I supposed to do with this?!" audition hurdles, helping you focus your energy and efforts so you can perform these weird and wild audition scenes un-self-consciously, showing your best work and your highly professional composure.
CURRICULUM WILL INCLUDE:
Physical Action
Intimacy
Heavy (HEAVY!) emotion
Super-fast-turnaround deadlines
Self-Tapes AND Zoom Auditions
CLASS REQUIREMENTS:
A good internet connection
The ability to self-tape
WHY SHOULD YOU TAKE THIS CLASS?
Even though it feels like Casting Directors are purposefully trying to torture you with these kinds of audition scenes, we're not. In fact, we expect you to be able to look at these scenes, discern what's important and make choices that support what's on the page in a smart, audition-style way.
This class will help you pick these scenes apart, see what works, what doesn't (and why,) and teach you how to break things down so that you can make choices that work for both you AND the scene.
CLASS SCHEDULE:
MONDAY, FEB. 27 - Final day to register or request a full refund
WEDNESDAY, MAR. 1 - First set of sides and instructions are sent to participants
WEDNESDAY, MAR. 8 - 12pm PT / 3pm ET - Class Zoom
WEDNESDAY, MAR. 15 - 12pm PT / 3pm ET - Class Zoom
WEDNESDAY, MAR. 22 - 12pm PT / 3pm ET - Virtual Callback Week (one-on-one scheduled appointments)
WEDNESDAY, MAR. 29 - 12pm PT / 3pm ET - Class Zoom
**All classes are fully recorded and available for playback
WHAT ARE PEOPLE SAYING ABOUT ERICA'S CLASSES:
I can't even begin to tell you how grateful I am for this class. Obviously, I wasn't surprised by the incredible amount of information and gems received because it's just innately who you are as an "actor's casting director"... There's just a way that you are able to give us all constructive criticism while always being positive, motivating and highlighting our strong points. My goodness, it's needed in this industry, and you. just . get . it.
- Brittany G.
I applied what you taught us... and just got an offer for a show I have auditioned for 19 times 😭. I felt that using your advice really made it finally click - and it feels like such a huge win.
- Melissa H.
I just wanted to reach out and thank you for such a wonderful class. Honestly, I was hesitant to take a zoom class, because acting seems like something that requires in-person training. However, you sure did prove me wrong. Not only did I learn more than I expected was possible, but you've also changed my view on online acting classes moving forward. Thank you for your time and willingness to share your knowledge and insights with the acting community both via classes and on social media. I know I speak for many when I say it really means the world.
- K.K.
I just received a zoom callback for Monday, and I smiled because I was like, oh, I know how to do this! I know how to show up technically and otherwise! This is because of your class. You provided a safe, warm, collaborative, and supportive atmosphere, and I value our time together. You've really helped me. Thank you.
- C.C.
I really appreciate all the individual attention you gave to all of us and absolutely loved the format of the class. The fact that everything was online made it so easy to incorporate into our schedules and I found it really helpful to see everyone's work, especially since we were all doing the same scenes.
- Paige S.
Just a quick note to say I have finally booked my first episodic co-star! Thank you so much for all of your help and advice over the last year. Thank you, too, for offering the co-star class with Cara. That class helped keep me grounded when this opportunity came up, and I know it helped me tape with confidence!
- Amy R.
I had been feeling so uneasy and self conscious about my self tapes before taking your class, and now I feel out of my head, and way more free to just play! So much so that I recently got pinned for a great guest star from one of the tapes I put together while taking your class!
- Ryan S.
Just wanted to quickly say thank you for the past four weeks of self-tape classes! I looked forward to the feedback and seeing everyone's tapes every week, and I appreciate that you both made it super fun, too. I definitely now have a more confident approach not only in the technical aspects of taping, but how I look at all the sides as well. Plus, getting a chance to learn from and connect with our fellow actors was invaluable.
- Jonathan K.
FREQUENTLY ASKED QUESTIONS
What happens if I can't make it to a Zoom?
All feedback sessions will be taped and stored in the class's shared folder! If you have to miss class, your tape will still be screened for the other students. Much like Erica's other classes, actors will receive personalized feedback videos for anything not addressed in the live Zoom.
How intimate is this class, really?
There will be no more than 12 participating actors in this class.
Are there ID or minimum age requirements to participate?
Due to the subject matter of this class, actors ages 18+ are welcome to join.
How can I contact the organizer with any questions?
Contact Erica's team by emailing breamassistant@gmail.com.
What's the refund policy?
Full refunds will be honored up until Monday, Feb. 27, 2023. Due to the nature and timing of this class, no refunds (full or partial) will be paid out past this deadline.
Is my registration fee or ticket transferrable?
Sure! As long as you let Erica know who the new participant is by Feb. 27, you are welcome to transfer your registration to anyone else.
I need to discuss a payment plan... is that possible?
Absolutely. Contact Erica's team directly (breamassistant@gmail.com) to discuss details.