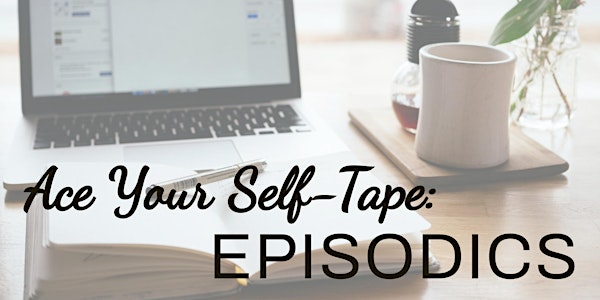 ACE YOUR SELF-TAPE: EPISODICS!
Join Casting Director Erica S. Bream for this special class, all about self-taping for EPISODICS!
By Erica S. Bream Casting + Consulting
Refund Policy
Contact the organizer to request a refund.
Eventbrite's fee is nonrefundable.
About this event
WHY SHOULD I TAKE THIS CLASS?
Episodic season is long but it also moves VERY fast, which often means that any opportunity for feedback has to wait... sometimes indefinitely.
The turnaround time for episodic self-tapes can be a couple of hours. (Erica will explain why!)
The roles in episodic television can range from one-line to a major recurring guest star. No matter the size, it can be easy to overthink what your character is there to do.
Erica will take actors through a range of exercises, using a diverse set of sides from different genres, providing feedback and tips along the way.
WHAT'S THE SCHEDULE FOR THIS CLASS?
Thursday, April 13 - Erica sends welcome and first set of sides
Thursday, April 20 at 12pm PT / 3pm ET (WEEK 1) - Live Zoom class with Erica
Thursday, April 27 at 12pm PT / 3pm ET (WEEK 2) - Live Zoom class with Erica
Thursday, May 4 at 12pm PT / 3pm ET (WEEK 3) - Live Zoom class with Erica
Thursday, May 11 at 12pm PT / 3pm ET (WEEK 4) - Live Zoom class with Erica
Thursday, May 18 at 12pm PT / 3pm ET (WEEK 5) - Virtual Callback week! Individual appointments with Erica during this class window
Thursday, May 25 at 12pm PT / 3pm ET (WEEK 6) - Live Zoom class with Erica
REQUIREMENTS FOR THIS CLASS?
The ability to self-tape
A solid internet connection
Space is VERY limited! Register today!
Here's what other actors have said about Erica's online self-taping classes:
I booked! This is the first self-tape I've ever booked from and I honestly think currently being in your class helped me with that. - Angel G.
I can't tell you how much I enjoyed your class. The generosity you showed us with both your time and your feedback was greatly appreciated. Not only was it nice to get to know you a little bit, but the lessons learned—both what to do and what not to do—were truly invaluable. - Michael C.
I got some good news yesterday- I booked a series reg role! ... your class was a big reason as to why I got the part. I learnt so much in those 4 weeks in quarantine and applied all the things we worked on throughout the audition/callback process. Thank you for being so generous to actors during this weird time- I'll never forget it. - Anonymous Student (privacy protected due to the show's NDA)
Thank you for another great class. I've taking a few since quarantine and this has been my favorite by far. I feel like I have gained so much from your honest and thoughtful feedback. - Samantha S.
Thank you so much for giving us all of your time and wisdom over the last four weeks in class. It's not an exaggeration to say that this class has been a real highlight for me and, honestly, a game changer. There have been so many light bulbs going off in my head and I CANNOT wait to get to apply all of my new knowledge to some real auditions. - Jennifer D.
I just wanted to say thank you for a superb class! The notes and feedback you gave were bang-on and very individualized to each actor. The online format of the class was surprisingly awesome. In a lot of ways, I think it's a better format for an on-camera class because we're watching in the same medium which casting is viewing our tapes, so you're able to observe finer details that you'd likely miss if it were an in-person group class. And I liked how intimate the class size was - it made it feel personal and it was beautiful and educational to watch everyone play and grow each week. - Autumn W.
I really loved this 4 week Self taping class! As our industry is moving so quickly and constantly changing and growing this course was extremely helpful. I have already started using and applying what I have learned to my auditions. - Austin B.
Thank you for being such an incredible teacher. I had so much fun in your class and learned A LOT! I have taken many classes over the years and you are by far the most positive and wonderful teacher to work with. I always looked forward to class and taping because I knew it was a safe environment to learn in. I loved your feedback as it was honest and constructive without ever tearing someone down. You truly have a gift for focusing on the good but also guiding us to be better. - Grace Y.
'Ace Your Self-Tape' was SO helpful to me -- I loved the material that you chose for me to read (it was well suited to my "brand" and I could tell you took the time to be thoughtful about your selections) and I really, really love the way you submit feedback. I felt very *seen* by you. It made me proud when you celebrated my successes and I learned so much through your adjustments and critical feedback. You're an excellent instructor with very helpful feedback that's easy to understand. Every time you gave an adjustment, it made me feel excited to try the material again. - Shannon C.
I've been cast in something! There's no doubt your class helped me. - Jeff B.
FAQs
What's the difference between this class and Erica's other classes?
This class is all about episodic television. We'll cover multiple genres, major audition traps and roles from small to big, and everything in between.
What happens if I can't make it to a live feedback session?
All feedback sessions will be taped and stored in the class's shared folder! If you have to miss class, your tape will still be screened for the other students. Much like Erica's other classes, actors will receive personalized feedback videos for anything that isn't discussed in class.
How intimate is this class, really?
There will be no more than 12 participating actors in this class.
Are there ID or minimum age requirements to enter the event?
Actors ages 18+ are welcome to join!
How can I contact the organizer with any questions?
Contact Erica's assistant: breamassistant@gmail.com
What's the refund policy?
Full refunds will be honored up until Friday, April 7, 2023. Due to the nature and timing of this class, no refunds (full or partial) will be paid out past this deadline.
Is my registration fee or ticket transferrable?
Sure! As long as you let Erica know who the new participant is by April 7, you are welcome to transfer your registration to anyone else.
I need to discuss a payment plan... is that possible?
Always, and without penalty. Contact Erica's team (breamassistant@gmail.com) to discuss details.
Please note: this class is an educational opportunity only. Your participation in this class does not constitute a pre-read or real audition. All materials used in class are from previously produced and aired projects. Erica and her co-teachers provide a safe, constructive learning experience for all her students.
About the organizer
ERICA S. BREAM, CSA started working in Casting when she was 18 years old. Since then, she has worked on projects across all mediums, including on titles such as ECHOES (Netflix), TELL ME YOUR SECRETS (Amazon), ALTERED CARBON (Netflix), CRIMINAL MINDS (CBS), STAR TREK: INTO DARKNESS (Paramount), 11:22.63 (Hulu) and many others, including the upcoming DOLLY PARTON'S MOUNTAIN MAGIC CHRISTMAS (NBC), PANHANDLE (Spectrum) and THE WINCHESTERS (CW). Notably, Bream has co-cast thirteen seasons of the prestigious Young Playwrights Festival for The Blank Theatre Company. Over the years, Bream's work in theatre, short film and television casting has garnered her nine Artios nominations and a win in the Los Angeles Theatre category.