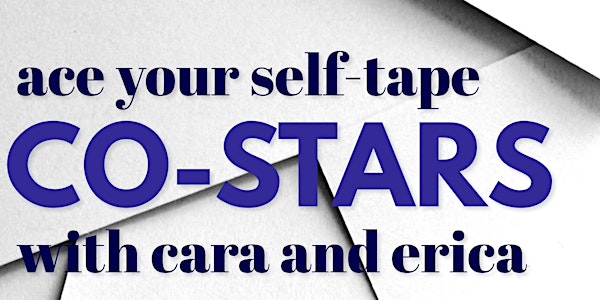 ACE YOUR SELF-TAPE: CO-STARS! with Cara + Erica!
Join Casting Directors, Erica S. Bream and Cara Chute Rosenbaum in a self-tape class that is all about self-taping for Co-Stars!
By Erica S. Bream Casting + Consulting
Refund Policy
Contact the organizer to request a refund.
Eventbrite's fee is nonrefundable.
About this event
WHO SHOULD TAKE THIS CLASS?
ADULT ACTORS (ages 18+) who are looking for a thorough, practical, and informative acting class that fits into their busy schedule. This is a great class for actors who want to focus on improving the performance quality and interpretation of their self-tape auditions.
WHAT'S THE DIFFERENCE BETWEEN THIS CLASS AND OTHERS?
This class works with YOUR schedule! Other than a specific self-tape deadline, you can watch, read, meet and review all course materials according to your availability.
It's very hard to receive real-time feedback on your tapes. This class will be CHOCK FULL of SPECIFIC, written feedback with actionable skills to work on and apply to your future auditions in order to set you up for success.
This class is JAM-PACKED but in a condensed amount of time! Informative videos from Erica and Cara on a range of different self-taping topics, four co-star exercises over the course of 10 days, extensive written feedback from both Erica and Cara, access to your peers' tapes and notes, a wrap-up Zoom with Erica and Cara... all in less than four weeks' time!
WHAT'S THE SCHEDULE FOR THIS CLASS?
FRIDAY, APRIL 28th - Welcome video and sides are sent to participants
FRIDAY, MAY 12th - Assigned Self-Tapes are due
FRIDAY, MAY 19th - All feedback is posted for review
MONDAY, MAY 22nd at 10am PT / 1pm ET - a group wrap-up Zoom with Erica and Cara (don't worry - this will be recorded and available for playback if you miss it!)
WHAT ELSE SHOULD I KNOW?
Actors will self-tape FOUR different roles at home (with material especially selected by Erica and Cara.)
Erica and Cara provide specific written feedback on all tapes and general food for thought.
The wrap-up Zoom will be recorded and available for re-watching or later-watching, as needed.
Actors will have access to an online folder where all class work can be accessed. Erica and Cara will also post helpful clips, articles and references
Requirements: 1. A way to self-tape and 2. A good internet connection!
A little about Cara:
CARA CHUTE ROSENBAUM, CSA is a Casting Director based in Los Angeles, CA. Notable credits include the features JUMANJI: THE NEXT LEVEL and STUBER, and television series THE MINDY PROJECT, THE PEOPLE VS OJ SIMPSON, THE CARMICHAEL SHOW, and THE LEAGUE. She and Erica S. Bream are the Casting Directors for the main stage productions at THE BLANK THEATRE in Hollywood, including The Blank's prestigious Annual Young Playwrights Festival for which they were awarded the 2017 Artios Award for Outstanding Casting for Los Angeles Theatre. Cara is a proud member of the Casting Society of America, a mama, and an aquarium lover.
A little about Erica:
ERICA S. BREAM, CSA is a long-time Casting Director, now based in the Southeast. She has worked on a wide range of projects across all mediums, including the following titles: the upcoming DOLLY PARTON'S MOUNTAIN MAGIC CHRISTMAS, ECHOES, THE WINCHESTERS. And previously titles such as: STAR TREK: INTO DARKNESS, ALTERED CARBON, CRIMINAL MINDS (and it's spin-off), WORKAHOLICS, HOUSE OF LIES and many more. She is a long-time Casting Director for THE BLANK THEATRE COMPANY's main stage productions as well as its prestigious YOUNG PLAYWRIGHTS FESTIVAL, for which she and her Casting/Life Partner, Cara, won an Artios Award (CSA) in 2017. Erica is also a long-time teacher, focusing on audition technique. Her most important title is "Harrison and Martin's Mom."
The word from former students and parents:
So I'm finally able to share that I booked a co-star (my first!) on [REDACTED], opposite [REDACTED REALLY COOL ACTOR.] The episode aired this past Monday, and was directed by [REDACTED AWESOME DIRECTOR.] Thank you SO SO MUCH for your coaching and your classes in co-star booking.I went in confident in my ability to do the work! I could never have imagined that my first co-star would be on a show as amazing as this.
- Amy R.
Direct feedback was incredible. Sadly, as the parents of young actors, we rarely get feedback once a self-tape has been submitted. The opportunity to receive feedback straight from the decision makers is priceless.
- Parent from recent Teen Class
I just wanted to say thank you again for everything you shared in the class. It was SO helpful. I just booked a co-star role on [redacted] and I shoot tomorrow! I can't thank you two enough for the class!
- A. Miranda
Thank you and thank you again for the excellent guidance in your one-liner class. I think as actors we know that staying in practice is essential but doing so is just a joy when your teachers are such lovely people. And the proof is in the pudding- I ended up booking the very next one-liner I taped: it aired last night. Woop!
- Jenn V.
Wanted to take a moment to say a huge THANK YOU to you both for such an incredible class the past two weeks. Before this class, I had never done a one liner audition, and woah I did not realize how tough they are. I am SO glad I got the opportunity to work through so many of the nitty gritty details with both of you. I have gone to a handful of workshops and classes with casting directors, and I have never left with my notebook so full of notes. You were both incredibly gracious with your feedback and thoughts, and they were SO HELPFUL.
- J. Lang
It was such a fun and informational 4 weeks. You both have such an amazing breadth of knowledge that I came away with something new every week. Also, I've taken several Zoom classes since going online became our new normal and this was, hands-down, the best use of the Zoom medium I've taken part in.
- Scott C.
I want to thank you SO MUCH for the awesome self-tape class. It was SO REFRESHING to get feedback on the self-tapes and to be able to ask questions in such a warm and friendly zoom room. We had such a great group, too. Seeing everyone's work was really inspiring. Thank you for putting it all together and running such a great room. I leave class with a huge adrenaline shot of energy, excitement and inspiration.
- Sara G.
Just wanted to send an extra thank you to you absolute QUEENS of casting! You woke me up in ways that I wasn't expecting. My brain is on fire and I'm happily uncomfortable!! Feeling inspired, awake and ready for more. Bring on the learning! THANK YOU.
- Jen E.
What a great class this was! Very different from the acting classes I've taken so far. Even the audition classes. Or better yet, a very eye-opening and up-to-date extension of what is generally being taught. I loved every bit of it and I was also very impressed by my class mates.
- Joerg K.
Thank you so much for a phenomenal class the last four weeks. I know you both have very busy lives between projects and family, so I am very grateful for the time I got to spend with you. I also wanted to note how unique I found your class, and not just because of the self tape format. Taking class with people who are engaging week after week, speak candidly about the industry, and offer genuine constructive feedback was such a treat!! So, thank you. Honestly, it tops my list of classes, and... it was on Zoom!
- Z. Bond
Space is VERY limited! Register today!
--------------------------------------------------------
FAQs
What kind of material will we be working on? Do I need to provide my own?
Cara and Erica will provide all material. Actors will be self-taping FOUR different co-star roles, from both comedy and drama.
Are there ID or minimum age requirements to enter the event?
All actors ages 18 years old and up are welcome to join!
How can I contact the organizer with any questions?
Contact Erica's team at: breamassistant@gmail.com
What's the refund policy?
Full refunds will be honored up until April 17, 2023. Due to the nature and timing of this class, no refunds (full or partial) will be paid out past this deadline.
Is my registration fee or ticket transferrable?
Sure! As long as you let Erica know who the new participant is by April 17, you are welcome to transfer your registration to anyone else.
I need to discuss a payment plan... is that possible?
Always. Contact Erica's team to discuss details: breamassistant@gmail.com
Please note: this class is an educational opportunity only. Your participation in this class does not constitute a pre-read or real audition. All materials used in class are from previously produced and aired projects. Erica and her co-teachers provide a safe, constructive learning experience for all her students.
About the organizer
ERICA S. BREAM, CSA started working in Casting when she was 18 years old. Since then, she has worked on projects across all mediums, including on titles such as ECHOES (Netflix), TELL ME YOUR SECRETS (Amazon), ALTERED CARBON (Netflix), CRIMINAL MINDS (CBS), STAR TREK: INTO DARKNESS (Paramount), 11:22.63 (Hulu) and many others, including the upcoming DOLLY PARTON'S MOUNTAIN MAGIC CHRISTMAS (NBC), PANHANDLE (Spectrum) and THE WINCHESTERS (CW). Notably, Bream has co-cast thirteen seasons of the prestigious Young Playwrights Festival for The Blank Theatre Company. Over the years, Bream's work in theatre, short film and television casting has garnered her nine Artios nominations and a win in the Los Angeles Theatre category.