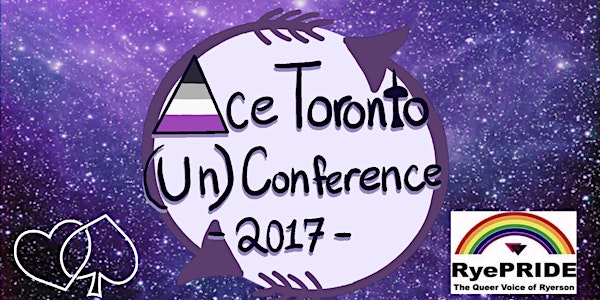 Ace Toronto (Un)Conference 2017
When and where
Location
Ryerson Student Centre 55 Gould Street Toronto, ON M5B 1E9 Canada
Description
Hello! Thanks for your interest in attending the Ace Toronto (Un)Conference, 2017!
Location:Ryerson Student Centre (55 Gould St., Toronto, ON)
Date/Time: Saturday, January 21, 2017 (10am-6:30pm; 9:30am check-in; 7pm post conference social)

This conference is for people who are on the ace and/or aromantic spectrums or questioning whether they might be, and for their friends, partners, and family.

The goal of this conference is to create a space for more in-depth conversations among ace and/or arospec community members. (It is not specifically a space to educate non-ace/non-arospec people about asexuality and/or aromanticism. If you are interested in an educational workshop or training for your organisation, please e-mail us at ace.toronto.outreach@gmail.com.)

This conference is a "pay what you can" event with a suggested donation of $5-$30 to help cover some of the costs of the conference. This money will go towards covering the costs of the ASL interpretation, food provided, and other supplies needed to make the conference run smoothly. Most of the money that we need to raise in order to make this conference happen will come from private donations, both through tickets and from our online fundraiser.
NOTE: No one will be turned away for lack of funds.
Please keep in mind that Eventbrite does have its own processing fee that will be added to whatever you choose to donate ($0.60 + 6% of your donation).
Registration by Eventbrite has two limitations: firstly, it requires payment by credit card and secondly, Eventbrite does not allow registration without a minimum payment of $1. If you would like to donate by cheque and/or cash, please fill out the "no-fee registration" and then email ace.toronto.events@gmail.com for information about how to contribute financially.