The first all-female psychedelic rock band
About this event
Our 'Cups runneth over! Watch Ace of Cups in the film You Say You Want a Revolution?, screening at the Sequoia in conjunction with this live show.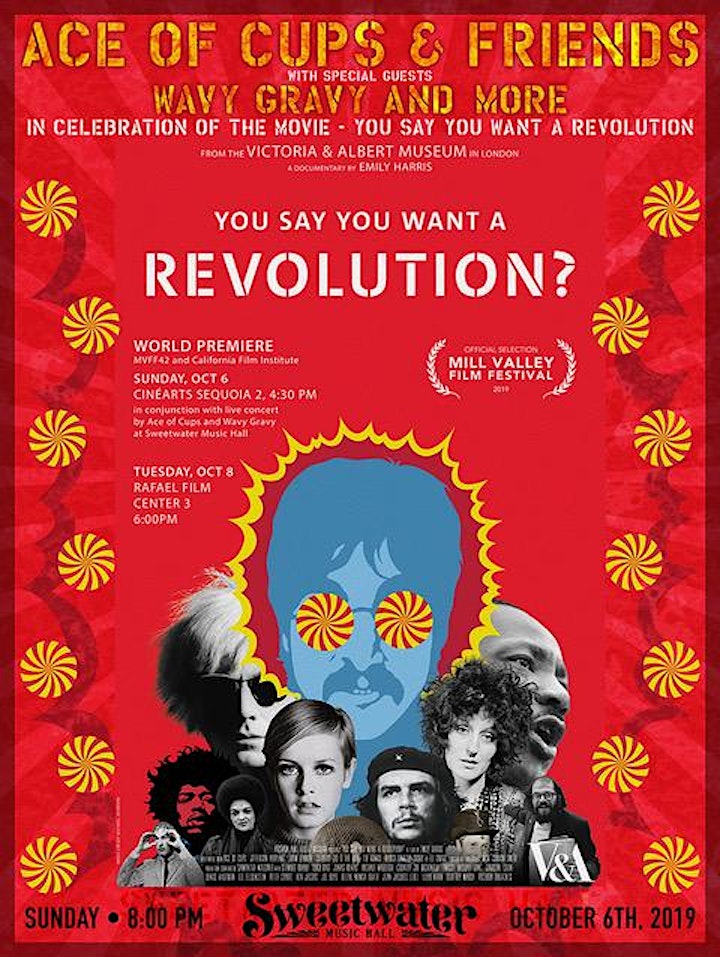 The Ace of Cups formed in San Francisco in 1967 and has been described as one of the first all-female rock bands. The members of the Ace of Cups were Mary Gannon (bass), Marla Hunt (organ, piano), Denise Kaufman (guitar, harmonica), Mary Ellen Simpson (lead guitar), and Diane Vitalich (drums). Making their mark in the burgeoning counterculture of the 1960's, they shared stages with Jimi Hendrix, Jefferson Airplane, and the Grateful Dead.
Marla, Denise, Mary Ellen, Diane and Mary found each other during the 60's as the San Francisco scene was just beginning. They were in the middle of it: Haight Ashbury and Waller St. where they played their first few notes, in Golden Gate Park's Panhandle where the Diggers fed those who were hungry , where artists made paintings, where jewelery was made from acorns, where children played ball with the smell of patchouli oil in the air, and where they opened for Jimi Hendrix. It was a creative time when you could choose to pursue anything that was new. This was a new beginning and people could be anything that they wanted. The music was the most important thing and the most fun.
The Cups played for the sake of the music, not for the possibility of stardom, although there were no other girl bands around during that time in San Francisco and the possibility was there. The Ace of Cups' name came from the Tarot card: 5 streams of water flowing from the hand of the Almighty and the 5 girls going with the flow to see where this music would take them. It took them to the Straight Theater on Haight St., the Avalon Ballrom, the Fillmore, where Bill Graham introduced their opening, the Carousel Ballroom, on the road with Jefferson Airplane to Vancover, Canada and to Winterland opening for The Band. In Chicago, where they opened for Muddy Waters and Michael Bloomfield, they went to the south side with renowned drummer Sam Lay where he had the Ace of Cups play at his club. Not bad for a girl group just wanting to write and play their songs!
Performers
Date and time
Location
Refund policy