Description
Ace Girls Professional Swim Workshop presented by Lisa Blackburn with the Nepean Sport Hall of Fame is thrilled to host an interactive, motivating and educational swim workshop for girls.
Lisa Blackburn has 30 years of athletic leadership experience as a professional swimmer, 3x Pan American Games Medalist, USA Level 1 Swim Coach, Certified Teacher, Certified TRX Trainer and personal trainer. Lisa is a 3-time Masters World Record holder, a 10-time Bermuda National record holder and has represented both Canada and Bermuda in all of the major international swimming competitions and Games around the world. Lisa will share her personal stories of determination, grit and perseverance in order to reach the top echelons in the sport of swimming while being the best you can be both in and out of the pool. Any up and coming athlete will benefit from learning the skills and techniques that will be shared in our 3-hour workshop including freestyle & breastroke drills, starts and turns and I.M. tips and tricks. Improve your strokes and swimming performance with specific drills, stroke correction and positive feedback. Clinic will conclude with a 45 minute classroom and group discussion on mindset, peak performance, nutrition recovery and Q & A. The opportunity to take pictures with Lisa and her medals will also be available.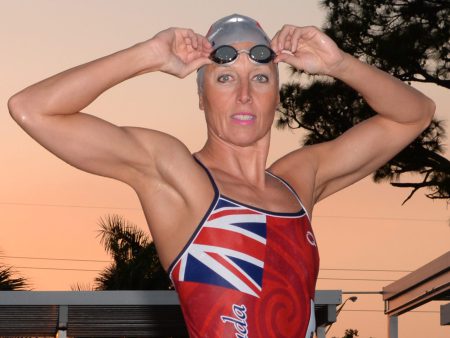 Coaches of swimmers who are registered and participating are welcome to join the session free of charge. Please email swimminglisa@hotmail.com to confirm your attendance.
This clinic has space for 16 girls only. We keep our clinics small in order to increase value and feedback opportunities for each swimmer, including one-on-one instruction. Lisa will provide in-water instruction and demonstrate strokes and skills.
I look forward to sharing and teaching younger generations how to aquire and implement a positive, strong, ethical and meaningful skill set in order to pursue their dreams and goals in sport and life.
The Ace Girls Foundation values the acronym R.E.S.P.E.C.T.
Responsibility, Equity, Support, Passion, Encouragement, Community, Teamwork
We also strive to create a fun environment for all of our members, while building lifelong friendships along the way!
***Must be a registered swimmer with Swimming/Natation Canada and a local swim club***
***You will receive an email in early September once registration is closed/completed on Eventbrite. The email will contain the Schedule of Events and all forms (including participant info., liaibility, etc.) that must be completed and returned at registartion/check-in on the day of the clinic September 21.***