Accredited Infection Prevention Expert * 11/30 * LIVE Remote Learning
Event Information
Location
ACE Academy
Remote Learning
Remote Learning, 32805
LIVE REMOTE LEARNING Join us from your computer or smart device from anywhere! Class Time is Both Afternoons
About this event
LIVE REMOTE LEARNING
Join us from your computer or smart device from anywhere!
Class Time is Both Afternoons
1 PM - 5 PM Eastern
This course focuses on commercial facility maintenance. 
Infection prevention happens every day, in every facility, no matter the type of facility, and requires a focus on protect the health of the individuals and the business as a whole.
MRSA, Influenza, Norovirus, COVID, VRE and many other illnesses are all around us and preventing them from infecting the public is the reason why you are a key part of the Risk Management team of ANY facility.
Knowing the 'whys' of environmental health services advances the abilities of not only the individual but the operation providing these specialized services.
This certification course is designed to inform the student on the particulars required to provide services for daycare, schools, doctor's clinics, and many other locations.
Yes, we will talk through COVID-19 issues and "Best Practices"!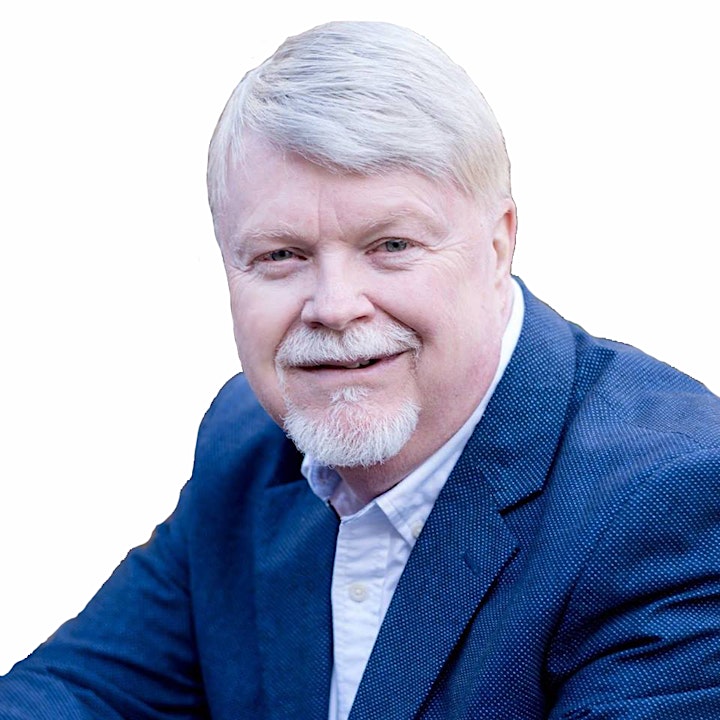 Darrel Hicks has been an EVS Director of several major hospitals around the U.S. and is a co-instructor of this course.

LIVE Remote Learning Class
Each Afternoon 1 PM - 5 PM Eastern  Learn from Subject Matter Experts J. Darrel Hicks, David Thompson 
Sessions
November 30
 The Challenges We Face
 What Is Being Done Now?
 The System
 Terms to Know
 Assessing Exposure Risk & PPE
 Bacteria and Virus Movement
 Dust - What is in it?
 Understanding Benchmark Microbes
 Pathogenic Organisms
 Influenza
December 1st
 MRSA and Facilities
 Healthy Infection Prevention
 Chemical Solutions
 Prevention Options to Chemical Killers
 Employer Considerations from the CDC
Measuring and Monitoring Outcomes
Donning and Doffing PPE
 Conclusion, Exam, and Final Thoughts
** To earn your Accredited Infection Prevention Expert certification you will need to attend all sessions and pass the final exam. **
This is a third-party certification course and instruction is product agnostic. Registered students who pass the required exams will receive a certificate of graduation.
Your instructor, Dave Thompson is an ISSA  Accredited Certification Trainer with over 50 years in the industry.
He will be demonstrating best practices during these LIVE remote learning sessions each afternoon.  We encourage you to have a webcam in order to have two-way communication for the best outcomes.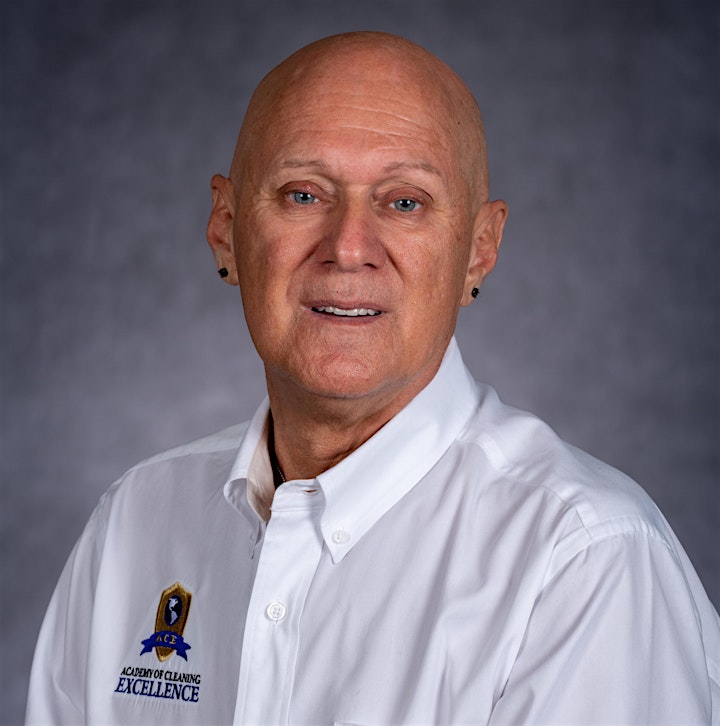 "Excellent material and focused! The training and materials afford you the opportunity to change your vocabulary for a more professional approach to your clients or facility! Planning our jobs not just walking in! A process for the appropriate outcome!" Todd Oxenford 9/2020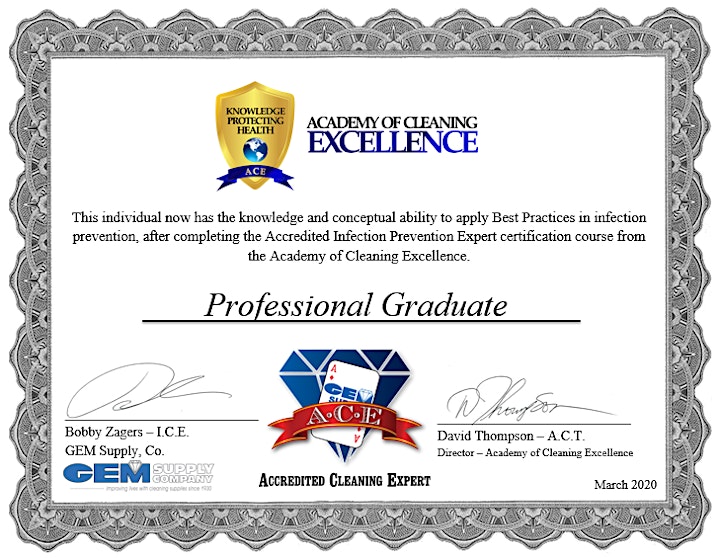 Date and time
Location
ACE Academy
Remote Learning
Remote Learning, 32805
Refund policy
Organizer of Accredited Infection Prevention Expert * 11/30 * LIVE Remote Learning
The Academy of Cleaning Excellence is now offering classes through
Greenville Technical College in South Carolina and
has regional campuses across the U.S.
Creators of the "Rock Star Custodian" Series - keynote address for the cleaning industry.
Each week there is a class being provided at one or more of our campuses, on such topics as: 
Accredited Cleaning Technician 
Accredited Infection Prevention Expert
Accredited Carpet Care Expert
Accredited Floor Care Expert
Restroom Care plus Tile & Grout
Stone Floor Care
Job Bidding and Workloading
Concrete Cleaning and Polishing
ISSA/CMI MASTER
Accredited Green Master Technician