Accounting Principles and Intermediate Accounting - March 24 - 26, 2020
About this Event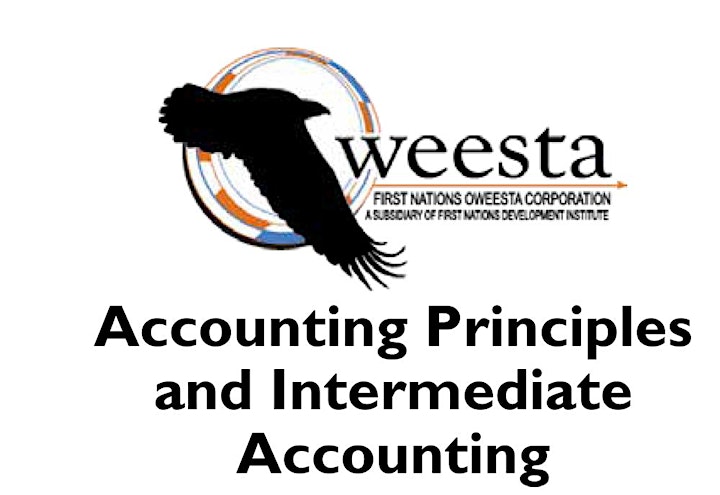 Registration will be open at 8 am. The training starts at 9 am and ends at 4 pm.
This training will focus on the needs of Native Community Development Financial Institution (CDFI) and Native American Financial Institution (NAFI) practitioners or those seeking to start a Native CDFI or NAFI. Specifically, those practitioners working in finance/accounting, Board members (who may need to review/provide oversight to organizational finances), and executive directors or management tasked with reviewing/understanding accounting/finances for their organization.
Course Description:
This interactive course will introduce accounting principles with respect to the preparation of accounting information, its use in the operation of the organization and financial reporting. Focus will be on understanding the fundamentals of accounting, debits and credits, accounting transactions and the preparation of financial statements.
Course Objectives:
Understand debits, credits and the use of T accounts.
Understand the difference between assets and liabilities and how to determine net assets.
Learn how to analyze your organization's transactions and determine which amounts go into which accounts.
Create chart of accounts and enter transactions into accounts.
Practice journalizing transactions.
Practice transferring data from general journal to trial balance.
Hands on experience preparing financial statements from trial balance.
Instructor biography:
Florence Sterling Ludka, Chief Financial Officer
First Nations Oweesta Corporation
Florence Ludka is the Chief Financial Officer (CFO) for First Nations Oweesta, responsible for the oversight and management of all finance and lending related activities and staff.
Prior to joining the First Nations Oweesta team, Ms. Ludka worked for a non-profit organization in Traverse City, Michigan for over 16 years as the Director of Finance and Technology. During her tenure, Florence procured expertise and experience in non-profit accounting, compliance, auditing practices, budget development and management, CRM/database management, administration, and training.
Ms. Ludka obtained a Master's in Business Administration (MBA) with an emphasis in accounting from the University of Michigan. Ms. Ludka completed her undergraduate studies at Lake Superior State University (LSSU) earning a Bachelor of Science in Public Accounting and an Associates of Science in Technical Accounting. After completing her MBA, Florence returned to her alma mater as an adjunct accounting faculty member teaching accounting principles, intermediate accounting, auditing, advanced accounting and federal taxation. Currently, Ms. Ludka is in her third year of a six-year Ojibwe language pane immersion program.
Ms. Ludka splits her time between her Colorado and Michigan homes where she enjoys spending time and engaging in outdoor activities with her twin daughters and family pets. In her spare time Florence can be found crafting, kayaking, hunting, fishing, horseback riding, or out in the woods viewing and photographing wildlife.
Ms. Ludka is an enrolled member of the Sault Ste. Marie Tribe of Chippewa Indians in Michigan.
Tawny Wilson
First Nations Oweesta Corporation
Sicangu Lakota
Tawny Wilson, Programs Officer at First Nations Oweesta is an enrolled member of the Sicangu Lakota Oyate (Rosebud Sioux Tribe), and was born and raised on the Rosebud Indian Reservation in Rosebud, South Dakota. She began her non-profit career with First Nations Development Institute in June 2014 as a member of First Nations' Native Agriculture and Food Systems Initiative (NAFSI) team and worked with other staff members on projects that aimed to strengthen local food-system control; increase access to local, healthy and traditional foods; decrease food insecurity and food deserts; expand knowledge of the linkages between foods and Native cultures; and/or contribute to tribal economic growth and development of entrepreneurially-related food ventures.
In October of 2018, Tawny joined the First Nations Oweesta Corporation to continue in supporting and building economic growth and development, providing culturally appropriate training programs to help Native organizations establish and sustain financial education and capacity-building in Indigenous communities. She is certified as a ToPs facilitator and a trainer in the Building Native Communities: Financial Skills for Families and Business of Indian Agriculture curriculums. Prior to joining First Nations Development Institute and First Nations Oweesta Corporation, Tawny spent over a decade in various roles in the finance industry as a licensed mortgage broker, banker and sales manager. She received her Master's degree in Public Policy from the University of Massachusetts Dartmouth in May of 2013, with a concentration in Environmental Policy, and a Bachelor of Science degree from the University of South Dakota in 2002, with a major in Business Administration and a minor in American Indian Studies. She resides with her husband and six children in Denver, Colorado, and in her one hour of spare time enjoys reading and taking short walks along the creek.
Travel Accommodations Details
Below is a list of hotels that are within driving distance to the Native Learning Center Training Facility. For reservations, call or book online. A guest room block is not available for this training: however, any one of these hotels will honor the GSA rate. Guests will need to show their government ID upon check-in.
*All listed hotels are within 9 miles of the Native Learning Center.
Hyatt House| 954-922-0217
90 SW 18th Ave, Dania Beach, FL, 33004
Click here for the Hyatt House Website
Hyatt Place| 954-922-0436
91 SW 18th Ave, Dania Beach, FL, 33004
Click Here for Hyatt Place Website
Comfort Suites Fort Lauderdale | 954-771-4800
191 SW 19th Court, Dania Beach, FL, 33004
Click here for Comfort Suites Website
Hampton Inn Suites Fort Lauderdale | 954-922-0011
2500 Stirling Road, Hollywood, FL, 33020
Click here for Hampton Inn Suites website
Best Western Plus Fort Lauderdale ARPT | 954-926-7300
1900 Stirling Road, Dania Beach, FL, 33020
Click here for Best Western Plus website
Holiday Inn Airport | 954-925-9100
2905 Sheridan Street, Hollywood, FL, 33020
Click here for Holiday Inn website
Extended Stay America Suites | 954-476-1211
7550 State Road 84, Davie, FL, 33317
Click here for Extended Stay America Suites website
Hampton Inn & Suites by Hilton | 954-922-0011
2500 Stirling Road, Hollywod, FL, 33020